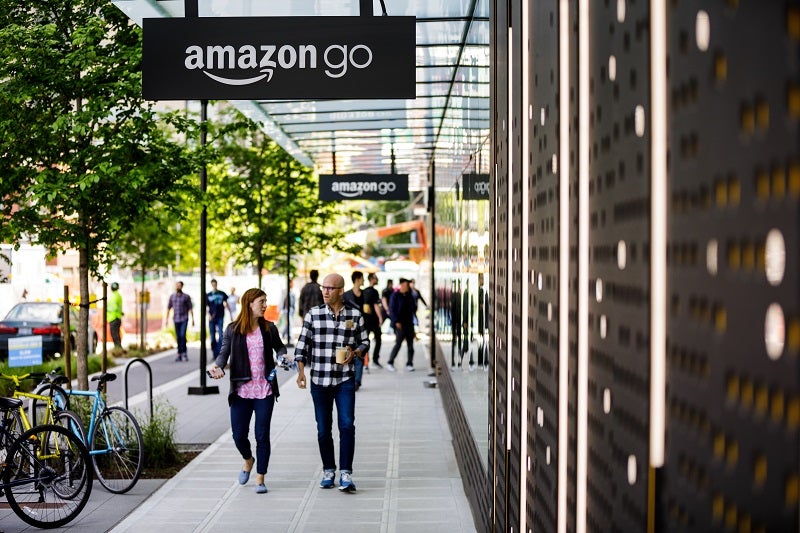 When Amazon opened its first cashierless shop to the public in January 2018, the world didn't know what to think. In-store technologies that automatically charge consumers for items certainly look like a major boon for convenience. However, many still see the model as a major security issue, an attack on workforces, and ultimately limited in its scope.
Rumour has it that Amazon isn't worried. RBC Capital Market analysts estimated that the Amazon Go concept could be worth $4.5bn in sales by 2021. At the time of writing, 10 Amazon Go stores are currently open in the US, but by 2021 the overall number is expected to hit 3,000 worldwide. In February, further reports alleged that a new Go store could open in London's Oxford Circus this year.
The question now is whether other brick-and-mortar retailers will switch to cashierless stores to capitalise on consumer demand for convenience while cutting labour costs. Supermarkets such as Walmart, Tesco, Sainsbury's and Asda have all deployed their own variations on the 'shop and go' payment model, while retailers across France, China and South Korea are racing to develop and trial their own versions of the cashierless concept. Could this be the future of high street retail?
Will more retailers go cashierless in the future?
Experts across the retail industry largely agree that cashierless stores will become more prominent in the future, but the types of retailers that adopt the model will depend on a number of factors. These include the sizeable cost of investment, the current limits on technology, and whether consumers are willing to change the way they shop.
Hugh Fletcher, global head of consultancy and innovation at ecommerce company at Wunderman Thompson Commerce, says that cashierless stores tap into a consumer craving for seamless shopping. The trend of 'legal shoplifting', he says, is likely to grow substantially in the years to come.
"For retailers in highly price-competitive markets, cashierless stores could provide consumers with more convenience and lower costs."
"The simple truth is people don't like to pay, but accept that they have to, and the more you can make the purchase 'free at the point of delivery' the better," says Fletcher. "By hiding the interaction and allowing customers to suspend their disbelief that what they're getting is free, the more interactions you are likely to have."
Meanwhile, Duologi credit director Rob Cottingham says that cashierless stores have the potential to create an entirely new high street experience, and that where Amazon goes, others tend to follow. "Ongoing closures have forced high street retailers to offer a unique point of difference to online in order to survive, and Amazon Go exemplifies this perfectly," he says.
For retailers in highly price-competitive markets, cashierless stores could provide consumers with more convenience and lower costs.
"Some retailers will use what they save in labour to provide richer experiences in the aisles – through wine or nutrition experts, for example," says Nikki Baird, VP of retail innovation at retail technology company Aptos. "But some will use the savings to reinvest in discounts for consumers."
Nevertheless, National Retail Research Knowledge Exchange Centre research associate Nelson Blackley claims that Amazon's foray is unlikely to prove profitable, and that a more realistic business model for retailers is a store where employees can use handheld devices to check out customers on the spot – similar to mobile checkout systems already seen at Apple, Walmart and Target.
"An alternative is that retailers will start to invest in 'in-aisle' mobile checkout devices and all-in-one payment solutions – taking pressure off the customer queues at the front of the store," says Blackley.
Investment challenges and technology limits
There is a general consensus among experts that convenience, grocery and discount chains would be the most likely to benefit from cashierless technologies, not least because current technology simply isn't designed to accommodate larger stores. However, opinions differ over whether cashierless stores would be better suited to larger or smaller-margin items, and which segments of retail could benefit.
"For many retailers, for the time being, the sheer cost of the in-venue/store technology will outweigh the potential sales benefits to them," says Elastic Path chief marketing officer Darin Archer.
"At present the technology just wouldn't work for larger grocery stores."
"If you look at how products have to be merchandised on the shelf at an Amazon Go store, it creates an operational cost that is way too high. Your restocking fees alone would be far too intense. So, cashierless stores will be better suited to larger-margin items, such as electronic stores like Curry's or warehouse shopping stores like Costco."
A typical Amazon Go store is fitted with hundreds of ceiling-mounted cameras and electronic motion sensors used to identify customers and track items. This is just for scanning around 1,000 stock keeping units (SKUs) instore – all of which are deliberately packaged in different sizes so the computer vision technology can pick it up.
"At present the technology just wouldn't work for larger grocery stores which have perhaps around 80,000+ SKUs and certainly not the out-of-town 'big box' grocery stores that may have 300,000+ SKUs with many items that look exactly the same," says Blackley.
"There are also related operational challenges – for example, the impact on store air conditioning systems caused by the heat generated from all these cameras, plus the significant collective weight of all this ceiling-mounted monitoring equipment."
Which retail segments could benefit?
ShopAppy founder Dr Jackie Mulligan says that developing automation, radio frequency identification (RFID) and artificial intelligence technologies make will make cashierless stores feasible, but that the business model wouldn't work for stores where customer service is an integral part of their branding, such as luxury stores.
"Just because businesses can do this, doesn't mean they should," she says. "It could actually have detrimental effects on their business in terms of reputation and sales because the future of sales is experiential and this is taking that away from the shopping experience. Experience is one aspect of shopping that separates buying on the high street to shopping online."
"Experience is one aspect of shopping that separates buying on the high street to shopping online."
Christopher Baird is the managing consultant in retail customer engagement and loyalty at Capgemini Invent. He says that quick-service restaurants could be a beneficiary of the cashierless model. Salad bar chain Tossed has already introduced self-pay kiosks, allowing it to redistribute staff to open kitchens where customers can watch their food being made.
In addition, health and beauty shops, which provide smaller goods and offer opportunities for visual recognition and RFID technologies, could also be a good start.
"Much of it will come down to the level of human service interaction that's typically offered during a customer journey," says Christopher Baird. "If it's high (for example luxury, retail, or automotive), then the advantages of scan-and-go technology are limited. So, for the moment, low-value, highly transactional retail feels like the right place for this to succeed."
Tackling security challenges
Beyond technology cost and limitations, the advent of cashierless stores will present a range of other logistical challenges. Since Amazon Go launched in 2018, numerous YouTube videos have marked a trend of consumers demonstrating loopholes in the stores' security (read: nicking stuff).
Current technologies such as self-service are able to prevent shoplifting, but retailers will need to ensure the same level of care is brought into cashierless stores. Fletcher says retailers will also need to bear security issues surrounding the collection of customer data in mind.
"Retailers need to ensure that their cybersecurity systems are constantly being updated and are protected against hackers."
"The 'shop and go' model relies on retailers having enough information for the customer's card to be automatically charged, meaning there is a bigger risk of that data being hacked and used maliciously," he says.  "Therefore, retailers need to ensure that their cybersecurity systems are constantly being updated and are protected against hackers."
Mulligan says that the loss of human interaction and the socialising aspect for shoppers could be an issue – one that technology could not overcome. Another potential problem is customers' willingness to download and retain relevant store-specific apps on their phones. An online e-commerce behemoth like Amazon already has a billable account system in place, but the same can't be said for most brick-and-mortar retailers.
"Those retailers and brands that we frequent less will need to work out how to encourage more regular interaction to aid automated purchasing," says Fletcher.
The labour issue
Amazon Go has been plagued by arguments that cashierless shops will contribute to retail workers being replaced by machines. This has been a particular point of contention in the US, and has led some politicians to call for an outright ban on the stores.
However, Jisp CEO Julian Fisher points out that cashierless retail could actually facilitate the workforce moving into different areas. He gives the example of Apple, which has seen a massive uptake in customer service staff in stores where it has eliminated tills completely.
"Conversely and perversely, getting rid of those pay areas has increased the workforce."
"As we move forward, technology comes in and delivers a convenient solution that bypasses what used to require one or two people, but the workforce will move into other areas," he says. "So conversely and perversely, getting rid of those pay areas has increased the workforce."
Maginus industry principal Gavin Masters agrees, saying that cashierless stores will require more, and increasingly specialised, staff. "As such, there may not be a rush to implement cashierless experiences until the retail outlook improves, or customer demand becomes overwhelming," he adds.
Cashierless stores have certainly captured consumers' attention, but clearly, a number of hurdles remain. Christopher Baird says that before shifting towards the cashierless concept, it's important that retailers understand why they want to move in this direction.
"For the most part it's not the technology itself that would make this a success for retailers who invest," he says. "It's more about the way they implement it, what the shopping experience is like for the end consumer and having a clear understanding of the problem they're trying to address."
"Profit protection and service intervention are also operational points which retailers will need to bear in mind as they venture into this. Even then, sophisticated technology doesn't necessarily create a memorable customer experience – and it is just that which will ultimately tip the scales in a retailer's favour."