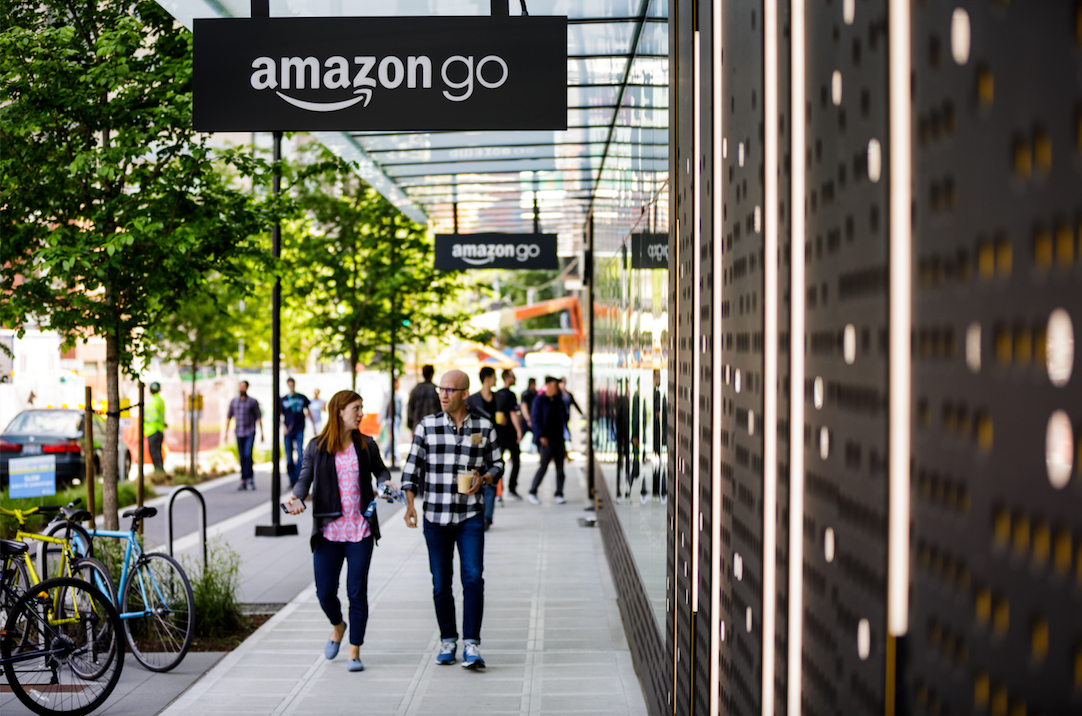 Amazon's checkout-free convenience store Amazon Go is set to open 30 shops in the UK, starting in London.
The company said it is interested in opening stores near transport hubs to target busy commuters who would not have time to queue and pay at a checkout. It has already secured deals on 10 shops, according to The Sunday Times , with the first store rumoured to open in Notting Hill, London.
Amazon Go sells groceries including fresh produce, meat, bakery items and household essentials. It uses cameras to track what customers take from the store and consumers are charged through their Amazon account, removing the need for queuing and checkouts. There are currently 26 Amazon Go stores in North America, with the first having opened in Seattle in 2016.
Amazon has also been promoting its grocery delivery service and last week began offering free delivery on its grocery delivery service at a lower minimum spend.
Retail Insight Network reached out to Amazon but the company declined to comment.
Industry responds
London-based producer and influencer marketing campaign manager Marcio Delgado told Retail Insight Network: "Amazon Go stores are long overdue in the UK. I thought it was coming last year, then I didn't hear about it for a long time. Any retail initiative that makes customers' lives easier should be welcomed – not to mention the jobs it will possibly create in times when our economy could do with some boosting."
Focus Business consultancy lead Danny Denhard told Retail Insight Network in a tweet: "Amazon Go will be an important step in the UK; improved contactless tech ensures better tech innovation, encourages more people [to] come to highstreets – local confidence is essential – and offers other competitors to step up and build a 'people first' pillar of their strategy."
Amazon Go will be an important step in UK,
improved contactless tech ensures better tech innovation,
Encourages more people come to high streets (local confidence is essential)
&
Offers other competitors to step up & build a 'people first' pillar of their strategy.

— Danny Denhard (@dannydenhard) August 3, 2020
E-commerce experience specialist Bloomreach UK MD Michael Schirrmacher told Retail Insight Network that Amazon Go comes to the UK at a time where the global lockdown is having a "huge impact" on the grocery industry.
Schirrmacher said: "The global lockdown has had a huge impact on the grocery industry – arguably more than any other. From Ocado prioritising vulnerable customers in its algorithm to Sainsbury's launching a queuing app last week to help Britons figure out when to visit stores, the past few months have led to leaps in retail tech. While so many brands are shifting their investment to their online channels, it's interesting to see retail giants blurring the lines between the physical and virtual worlds – and opening stores without checkout is yet another step in that direction."
Amazon thriving amid Covid-19 pandemic
Last week, Amazon's second-quarter global sales rose 40% to £67.9bn ($88.9bn) and profits doubled to $5.2bn. According to stock market analysis company Seeking Alpha, Amazon is the fastest-growing "mega-cap" – a company with a large amount of market capitalisation – and the Covid-19 coronavirus pandemic has led to the company's accelerated growth in e-commerce and cloud computing areas.
Unlike many other retailers, which have seen plummeting value since the start of the Covid-19 coronavirus pandemic, Amazon's stock price has increased exponentially since the end of March. The company hit a low of 1650.98p per share on March 12 and, as of today, has stocks valued at roughly 3151.00p per share.
Last month, Amazon acquired self-driving start-up Zoox for $1.2bn and was provisionally cleared by The Competition and Markets Authority (CMA ) to purchase a 16% interest in food-delivery app Deliveroo. It was also rumoured to have approached Russian e-commerce platform Ozon for acquisition.