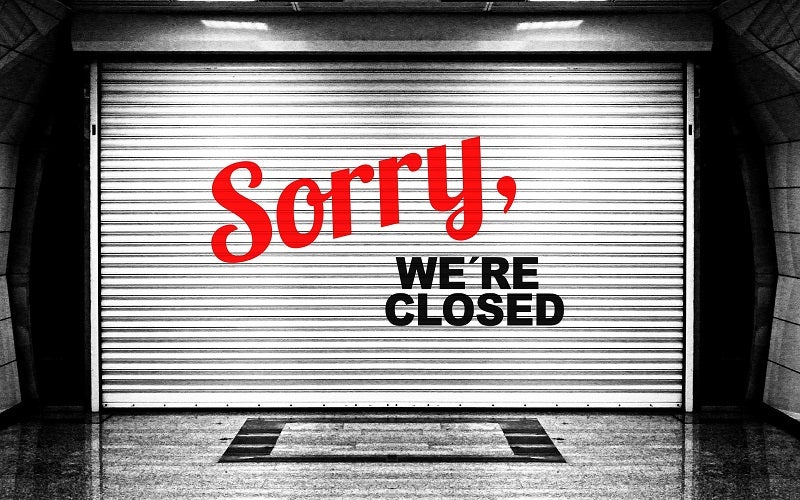 The first half of 2019 saw 2,868  British store closures, the highest number in five years and up more than 6.5% from last year, according to the latest Store Openings and Closures: January – June 2019 report by Pwc . However, not all retailers are giving up the fight against closures, with some using CVAs, financing and product line switching as part of rescue plans to turn around their brick-and-mortar empires.
1) Arcadia Group
Fashion retail group Arcadia topped PwC's list of chains with the most store closures for the first half of the year, with 262 closures and a net loss of 118 stores. And it wouldn't be a reach to say that Sir Philip Green's Arcadia Group may have contributed to this.
In March this year, it was revealed that Green was in the process of exploring a CVA as part of the Arcadia turnaround plan. The plan included the closures of underperforming stores and the halving of payments for its pension fund.
A month later, the company re-acquired a 25% stake in its fashion retail brands Topshop and Topman from US private equity firm Leonard Green & Partners as part of its plans.
The group agreed terms of a £25m pension scheme with its trustees and The Pensions Regulator (TPR ) in June this year. Arcadia agreed to provide £210m of security for the schemes, which includes the additional £25m agreed with TPR. The group also said that Green's wife, Lady Green, will provide a voluntary contribution of £75m over three years plus an additional £25m, bringing the total to £100m.
In the same month, Arcadia announced all seven of its CVAs have been approved by the group's creditors. However, days after the approval, US retail landlords filed a legal challenge. In August this year, the struggling retail business announced it would move forward with its CVA restructuring plans after the legal challenge was withdrawn.
Some of Arcadia's largest store closures include its Miss Selfridge flagship store on Oxford Street, London.
2) Marks and Spencer
In November 2016, M&S revealed its UK store estate programme which set out plans to close 60 clothing and home stores and open 200 new food-only stores over a period of five years.
A year later, the company announced it would accelerate its closure programme after experiencing a decline in sales and open 36 new stores in the UK over six months, creating more than 1,400 new jobs.
Last year, M&S experienced a 2% profit rise on the first half of the year. However, sales for clothing and food declined. The retailer said trading conditions remained challenging but the company was on track to restructure its store portfolio with over 100 full-line closures.
The retailer's struggles came about as it faced tough competition from the growth of online retailers. However, M&S has since partnered with UK online grocery retailer Ocado Retail in a joint venture that will enable customers to shop for over 6,500 M&S food products via Ocado.com, starting from September 2020.
Last month, it was reported that M&S could be relegated from the FTSE 100 index of Britain's biggest listed companies after its shares dropped by 40%. However, the retailer is still continuing with its UK store estate programme, although it recently admitted it is 18 months behind schedule.
3) House of Fraser
One of the main British department store chains to have experienced the struggling retail climate, Houser of Fraser was bought out of administration in August 2018 by UK retailer Sports Direct for a cash consideration of £90m ($115m).
However, before the rescue deal, the department store chain had revealed plans to close 31 locations, under a CVA, in June 2018. House of Fraser's CVA was later approved by its creditors in the same month.
Later in 2018, British general trade union GMB issued a warning to Sports Direct owner Mike Ashley over the loss of 627 jobs involved in the acquisition of House of Fraser . Only a few days after the warning, House of Fraser was reported to be reopening two of its distribution centres in Milton Keynes and Wellingborough.
Fast forward to 2019, and Ashley had reportedly agreed to open 31 rebranded House of Fraser stores over the next five years. Recently, it was reported that Sports Direct was getting ready to close almost all House of Fraser stores after the Christmas trading period, according to The Sunday Telegraph. However, uncertainty still surrounds the future of House of Fraser as the closure news has not been confirmed by the retailers.
4) Debenhams
At the start of the year, British department store chain Debenhams announced it would push forward a new redesigned company strategy for its 50 store closures, announced in October 2018. This included investing in 100 stores.
However, after a string of profit warnings, a £40m refinancing loan, a £200m fund from its existing lenders, and a proposal by Sports Direct, Debenhams fell into administration in April this year.
The chain also announced plans to close up to 22 UK stores in 2020 as part of a CVA to reshape the business and keep trading through the current tough trading environment.
Previously, Sports Direct offered Debenhams a £150m unsecured term loan in a move to take control of an additional 5% share and appoint Mike Ashley as the chain's CEO. This move followed Ashley's Debenhams boardroom coup, which aimed to remove all its current board members.
All 166 Debenhams locations will continue to trade for now, but 50 are still expected to close.
 5) Thomas Cook
The most recent company to issue closures, Thomas Cook collapsed last month, leaving around 9,000 UK staff redundant and more than 150,000 holidaymakers stranded abroad.
Since then, all holidaymakers have been flown back under the UK's largest-ever peacetime repatriation operation run by the UK's Civil Aviation Authority .
However, it was announced earlier this month that Thomas Cook's entire UK retail estate was sold to the UK's largest independent travel agent Hays Travel . This acquisition will lead to the reopening of its 555 UK locations and the rescue of around 2,500 jobs.