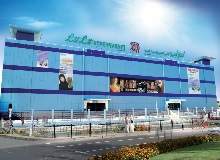 UAE-based hypermarket operator Lulu Group announced plans to invest Rs50bn ($751m) in India over the next four years.
It intends to open shopping malls across major cities by 2020.
Among the cities that the firm shortlisted include Chennai, Thiruvananthpuram, Bengaluru and Hyderabad, reported Press Trust of India.
UK-based high street chain British Home Stores (BHS) reportedly filed for administration, risking roughly 11,000 jobs.
Duff & Phelps were appointed as administrators, reported BBC. Last March, Retail Acquisitions acquired the chain stores from Sir Philip Green.
The company was reported to have been contemplating the closure of around 52 unprofitable BHS stores across Manchester, Leeds and Birmingham.
Ireland-based fashion retailer Primark launched its first store in Italy, in the city of Milan.
The new store is located in the Il Centro shopping mall in Arese and has 56,000ft² of retail space spread across two floors.
It offers clothing for men and children, as well as separate sections for health and beauty, and gifts.
Primark recruited 400 people for its new Italian store.
US-based online fashion retailer RealReal raised $40m in a new funding round, taking the total raised since its inception five years ago to $123m.
This funding round was led by Greenspring Associates.
Greenspring Associates invests in private firms and venture capital funds.
The retailer intends to use the fund to bolster its overseas expansion and open warehouses, reported Internetretailer.com.
Canadian food and pharmacy company Loblaw will invest $1bn ($775m) into its retail operations this year, while the remaining $300m will be invested by its real estate unit Choice Properties Real Estate Investment Trust.
The investment will be used to construct approximately 50 new stores, renovate 150 stores, expand its e-commerce business and bolster supply chain.
Apart from this, Choice Properties REIT expects to make an investment in the growth, development and quality of its retail real estate portfolio, which includes construction of a gross leasable space of around 730,000ft².
This investment is expected to create nearly 20,000 jobs through store staffing and construction.
Conforama Investissement 2 SAS purchased a 19.5% stake in Darty, as well as raised its cash offer for the remaining shares to 138p for each share.
The offer values Darty at around £742m. The closing date of this raised offer will be on 10 June, reported Financial Times.
The latest offer is an improvement from the previous offer of 125p a share made earlier this year.
Conforama acquired the 19.5% interest from Schroder Investment Management, Standard Life Investments, UBS Asset Management and Majedie Asset Management.
Lulu Hypermarket revealed plans to expand its footprint across the Middle East.
As part of the strategy, Lulu Hypermarket entered into an agreement to open a new store in The Mall at World Trade Centre, Abu Dhabi.
Owned by Aldar Properties, The Mall also features Middle-East based supermarket chain Spinneys.
Lulu Hypermarket corporate communications head Vijay Nandakumar was quoted by The National as saying: "We saw this as a fabulous opportunity to get into one of the best malls near the Corniche.
"It does not concern us about Spinneys being in the mall as we have our full product range on offer and can meet every requirement. To have two major retailers in the mall can only be good for the customer and the mall itself."
UK supermarket chain Asda agreed to change its promotions after being singled out in a Competition and Markets Authority (CMA) investigation into misleading pricing tactics.
While all major grocers had agreed to amend their pricing, the regulator particularly asked Asda to provide a written assurance to industry guidelines.
CMA enforcement executive director Michael Grenfell said: "The CMA's examination of the market, following the super-complaint, found that supermarkets generally take compliance seriously, but there were some promotional practices that could mislead shoppers.
"We welcome the commitment we have received from Asda, as well as the engagement from other supermarkets, and expect them all to ensure that their practices are not misleading and that shoppers are better informed and able to choose the products that most suit their needs."
Nordstrom announced plans to cut between 350 and 400 jobs by the end of Q2 this year.
The company stated that it is making several changes in its operating model in order to continually evolve with the expectations of its customers, to respond to the current business environment, and meet long-term growth plans.
The job cuts will be made primarily in its corporate centre and regional support teams.
In an effort to minimise impacts on current employees, the company will first look at options such as closing unfilled open positions.
Employees whose roles are eliminated will receive separation pay and benefits.