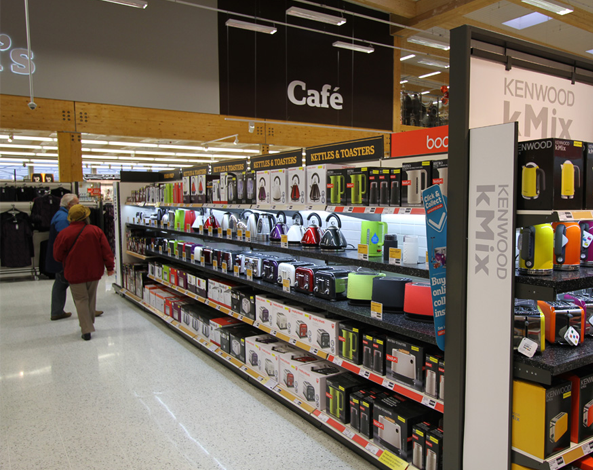 There's now far more to buy at supermarkets than a tin of baked beans and a pint of milk. Over the last five years, grocers have offered consumers everything from artisan coffee to premium homewares. Supermarkets argue they're simply meeting consumer demand for choice and convenience, and while that might be the case, could this shift in strategy put department stores under threat?
Unused space drives non-food expansion
A decade ago supermarket chains were in what appeared to be an unending race to win market share – the strategy was to open more and bigger stores. However, as the recession hit, consumers changed how they shopped for food. Many moved to discounters Lidl and Aldi for the bulk of their shopping and only topped up at the likes of Tesco and Sainsbury's. The grocers, keen to meet new consumer demand for 'little and often', responded by opening a plethora of small convenience stores; sales in large stores were cannibalised and store space became unused.
Grocers were once again forced to revise their strategy; this time by cutting back store opening programmes and reallocating space in large stores. The intention was to drive more consumers to store, encouraging spend in non-food and also food departments. Large stores became part supermarket, part gym, restaurant, post office, crèche and anything else you can think of.
Leading supermarkets trial expansion into home and leisure
Tesco was the first of the big four to broaden its offer beyond food, including leisure and dining out, in a bid to attract shoppers back into underused stores. The supermarket acquired the restaurant chain Giraffe in 2013 with plans to open restaurants inside larger stores, and took a 49% stake in artisan coffee chain Harris + Hoole the year before. Tesco's strategy was short-lived and now just over four years on, the grocer has sold Giraffe and Harris + Hoole to refocus the business. What the business decides to do with these now vacant areas instore is still unknown.
More recently, Sainsbury's has broadened its non-food offer through the acquisition of Home Retail Group last year. With plans to open 250 Argos shop-in-shops over the next three years as well as Habitat concessions instore, Sainsbury's is testing the waters as a one-stop shop with consumers. Sainsbury's aim – in Coupe's own words – is to create a 'true destination store for [customers] … where they can get everything they need under one roof.'
Differentiation key for department stores to survive
It's early days, but so far the Sainsbury's Argos integration shows signs of success, and where Sainsbury's has put in an Argos, grocery sales have gone up; in the group's latest Christmas results, food and grocery sales fell in established supermarkets and rose 1-2% in stores that contain an Argos. This is positive news in some sense, though in another it only highlights Sainsbury's weakness as a food retailer – unable to pull consumers in unless there's an Argos. And perhaps Tesco, having been there before, is wiser to the challenges of trying to be all things to all people.
While Tesco may be refocusing its business back to food, there is no doubt a fundamental shift in strategy among UK supermarkets to offer consumers something broader. This ongoing change to be 'less supermarket, more department store' shouldn't necessarily be a concern for department stores. And department stores can always swing the other way – M&S recently announced it would be devoting more space to food halls and less to its struggling general merchandising business.
While supermarkets, with far larger stores estates, have accessibility on their side, department stores have superior quality and service on theirs. Differentiation will be the key to department stores' continued success, and so long as M&S et al retain their identity as quality retailers with broad product ranges, competitive prices and unparalleled service levels, there is no risk to their existence.