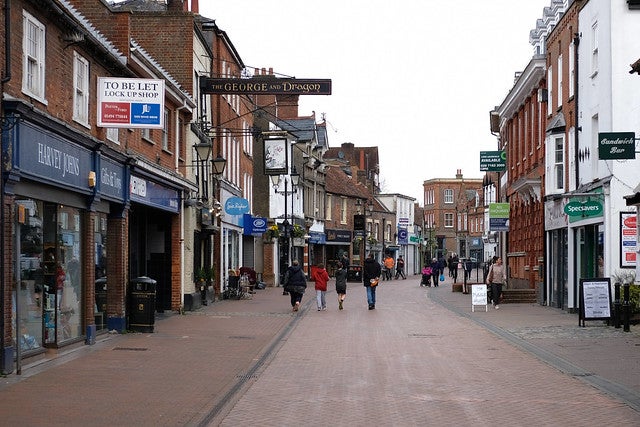 Dues to a combination of factors, the UK high street has experienced a sharp decline. An estimated 29,000 physical retail units have been abandoned for more than 12 months.
Retail Insight Network spoke with industry professionals about what the government needs to do to help retail on the high-street.
Greenlight Commerce managing director Kevin Murray
"The biggest threat to the high street is the antiquated approach to rent and leasing. Landlords are currently charging very high rent and would rather leave a building empty than lower their price. This is really damaging the high street and needs to be looked at.
"Bricks and mortar retailers also face a number of costs that online retailers don't. Infrastructure and staff costs can be very difficult to manage and this is completely out of their hands. It would be great to see the Government support these retailers and attempt to alleviate some of the problems they are facing, this is the best way to ensure the high street survives and flourishes."
ONVU Retail president Nigel Ashman
"We have seen an influx of technology used as the basis for the bettering of the retail experience. Whilst we are unlikely to see a bill that dictates that neo-retailers must use a percentage quota of technology within their physical outlets, the government may look to increase footfall on the high street by offering incentivised rent for physical retailers.
"In light of the number of online outlets that have come to the fore as retailers have shut down, a government-led strategy to reduce rent on high-street plots may bring footfall back. This would give retailers an opportunity to use the increased footfall and customers to better their in-store customer experience using technology as the centre.
"Similarly the government may look to bring the bustle back to the high-street by reducing the debts racked up by retailers during the economic downturn. Allowing companies to enter into Company Voluntary Agreements, ergo subsidising the amounts owed to creditors, should see retailers being to invest more into satisfying customers on a more personal level.
"Even after the downturn of retailers in physical plots, the most successful retailers are those who are technologically up-to-date, thus the prioritisation of this on a wider level should see more retailers continue to implement the lessons they have learned operating online and in-store."
BJSS head of retail David Gore
"The high street isn't going anywhere, and it is certainly not dying. Social media hasn't killed email, and neither will Amazon see off the high street. However; it's clear retailers need to step-up, to innovate and compete, but there are also broader factors which will help both shape and determine the future of our high street.
"Simply, as an industry, we need to completely rethink how our infrastructure works. Local authorities: Town centres can no longer solely survive on antiquated, defensive commercial constructs in exchange for below-average experiences. So, local councils should be looking to incentivise consumers to shop across peak trading times via creating a stronger, optimised mix of retail offerings and propositions to drive experience, differentiation and a commercial return for all.
"Leases – flexibility is the key. Landlords have long been wedded to fixed, multi-year tenancy agreements. Building out partnerships with companies such as StreetDots could be a viable option, particularly in city centres, to drive tenancies across independent, pure-plays and pop-ups to fill empty retail space.
Lifestyle app jisp CEO and founder Julian Fisher
"Reducing taxes with tax breaks is always welcomed but this alone will not be enough to plaster the wounds from years of losses and mounting debts. It seems as if all the retail giants are collapsing. Consider Thomas Cook, who fell foul of insufficient funds as it headed into the lean winter months. Was there anything a government could do? Apparently not as yet again, they were unwilling to single out this or any company for a special treatment.
"Whilst the worst 'retail event of the year' – Black Friday, lends itself to driving more retailers to pit themselves against online, and lose, the answer to the regeneration of the High Street must come from funding councils to create the spaces we want to visit. We need a minister and a department to properly adopt a strategy to re-energise the High Street. Fund prosperity, don't tax success! Make this the driver with businesses left to trade freely and openly. The market will determine who wins and who doesn't. Free enterprise will always find the shopkeepers and entrepreneurs who make a success down the high street avenue."
Sheridan&Co chairman of retail strategy and brand design Michael Sheridan
"The decline of the high street is driven by various factors, principally consumer preferences mainly around value, quality and accessibility. Contrary to popular argument, it's not just because online shopping is accelerating or causing change.
"Any intervention the government takes to prevent the decline of the high street is reactive to how consumers behave in the here and now. This makes any solution derived from this rationale ultimately impermanent.
"The government must conceive plans that preserve those streets and fringe areas affected otherwise have thought of an alternative specific use for them. Also, much like the unpredictability of consumer behaviour I mentioned earlier, who is to say that the 'future' resides in cities. In the near future, it's possible we could see an exodus of people leaving urban areas for the community of the countryside – and that too will ultimately affect retail. Such dramatic changes can happen in as little as in a single generation.
"I believe that large retailers can learn a lot from such 'fringe' businesses and, in actual fact, village areas centred on a cohesive community offer more opportunities to bring their retail propositions to life. Successful village businesses listen to what their customers want and tailor their offering accordingly."