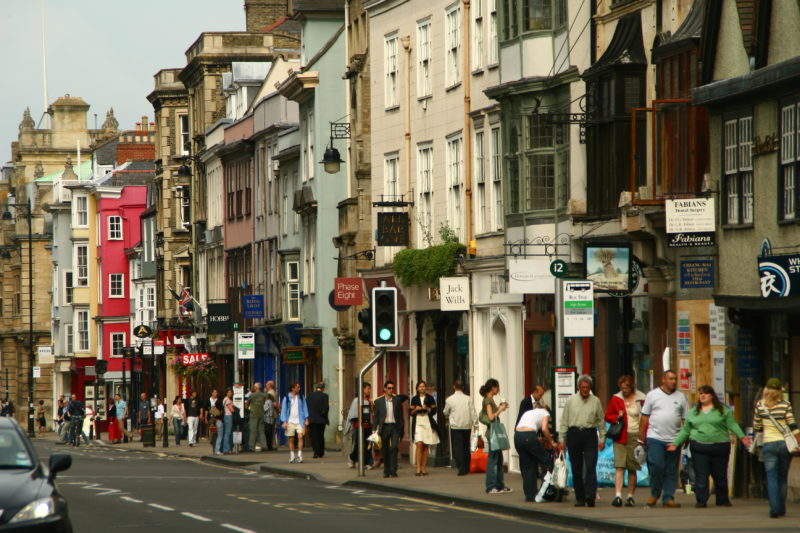 High street closures in the UK have resulted in the loss of a colossal 50,000 jobs. According to the Grimsey Review 2 an influential report published by form Wickes and Iceland Chief Executive Bill Grimsey, in order to save what is left of the high street, the UK must accept there is currently too much retail space for Britain's shopping habits. And in order to thrive, town centres need to be 'repopulated and re-fashioned'.
High street closures
However, according to the report, there is currently no sign of a slowdown in the rate of retail high street closures. The review predicts that the current high street crisis could leave 100,000 shops empty within a decade.
So which major retailers have disappeared from the UK high streets in 2018?
New Look
In February UK fashion chain New Look confirmed that store closures could be on the cards as the management team battled to arrest falling sales. The retailer's executive chairman, Alistair McGeorge, said the company was weighing up restructuring process known as a company voluntary arrangement (CVA), which would allow the retailers to seek rent reduction on loss-making stores. However, in March New Look decided to close 60 UK stores, scrapping up to 1,000 jobs as part of the plan. Closures will take place throughout the year.
Warren Evans
Mattress and furniture retailer Warren Evans entered administration in February after failing to find a new investor. The company which operated in London and the South East appointed Allan Graham and Geoffrey Bouchier as joint administrators of Designer Ideas, which trades as Warren Evans, to wind down the company's operations. They issued a statement on the company website saying no new orders or existing orders will be fulfilled as the company has now ceased to trade.
Toys R Us
Following unsuccessful Christmas trading, toy retailer Toys R Us started the year fearing for its future. Just a couple of months later, the retailer announced bankruptcy. The same month, the US parent company Toys R Us US started looking for a buyer for its British business after it was saved from collapse by reaching an agreement with Pension Protection Fund (PPF), which agreed to a restructuring plan that would secure around 2,500 jobs and allow the retailer to close 30 of its loss-making stores. However, in March it appointed administrators Moorfield Advisory to wind-down all its stores, putting 3,000 jobs at risk.
Maplin
In February, electronic retailer Maplin reached a critical point and collapsed into administration after talks with buyers failed to secure a sale. In March, Maplin administrator PwC announced 63 redundancies and warned that unless a buyer was found soon the stores would begin to close down. After not securing a sale, administrators commenced a store closure programme in May, with the last branch officially closing in June.
Mothercare
Mother and baby products retailer Mothercare began rescue talks with creditors in March. The company announced an initial closure of 50 stores in May, but after creditors agreed to a restructuring plan and backed a CVA the number of stores facing closure rose to 60 in July.  These stores will shut by June 2019 putting 900 jobs at risk. Mothercare subsidiary Children's World went into administration in July, with all of the stores closing down the same month. By June 2019 Mothercare expects to only have 77 UK stores, with the number falling to 73 by the end of the 2021-22 financial year.
Carpetright
In April home furnishing chain Carpetright confirmed plans to close 92 stores with a potential loss of 300 jobs in a restructuring process designed to stave off administration. The retailer also revealed it would be asking a landlord for rent reduction of up to 50% on 113 sites under CVA. However, later on in the month, after talks with creditors and landlords, it decided to close 92 outlets. While 11 stores have already stopped trading, the remaining 81 stores are expected to close at the end of September.
East
At the end of January, fashion chain East slipped into administration placing more than 300 jobs at risk. The retailer, which had 34 stores and 15 UK concessions, announced the news two years after initial warnings of its collapse. The business first fell into administration in June 2015 but was rescued by Indian chain store Fabindia. After failing to find a new buyer in April, the retailer ceased trading in May.
M&S
In May, M&S announced it would be closing one in three of its core clothing and home branches in a dramatic retreat from the UK high street. The retailer plans to close 100 of its shops by 2022, which will help the retailer tackle years of falling sales and profits. In July, M&S chairman Archie Norman said that most of the 100 stores would be shut within the next two years, before the original deadline set for 2022, as a part of the retailer's five-year turnaround scheme, and that there could be even more store closures on the cards.
Homebase
DIY chain Homebase was sold to restructuring experts Hilco in May for £1, after its previous Australian owner, Wesfarmers, pulled the plug on its UK venture. The new owners appointed specialist adviser on corporate insolvencies Alvarez & Marsal to handle its CVA. Homebase has already shut 17 unprofitable stores and confirmed plans to close at least 23 more. Reportedly, the 23 stores would be part of a CVA involving between 60 and 80 stores in total.
Poundworld
In June discount retailer, Poundworld collapsed into administration and at the beginning of July announced the closure of 25 shops by 15 July. However, in the same month administrators Deloitte said Poundworld's entire 335 stores will likely close by 10 August, affecting 2,339 staff. On 9 August, Irish discount retail business specialists the Henderson family rescued the chain with plans to keep around 50 branches open across the UK. The Henderson family founded Irish company Poundworld, which is unrelated to the UK firm, in 1984 and sold it in 2007.
House of Fraser
Department store House of Fraser announced plans to close 31 stores–more than half of its branches–in June, under a CVA aimed at allowing the company to deal with mounting debt problems. The retailer plans to close the stores in January 2019.  On 10 August House of Fraser was rescued from falling into administration by Sports Direct boss Mike Ashley. However, it is as yet unknown if the planned closures will be stopped by the £90 million takeover.