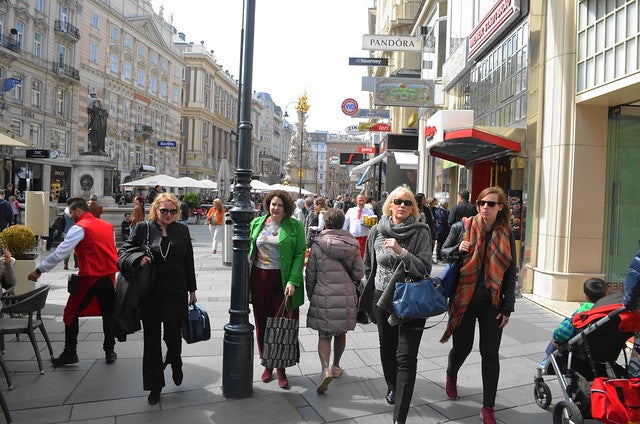 High street retailers have been caught on their back foot as online retail continues to dominate over bricks and mortar. Retail technology solutions company Zebra Technologies' 11th annual Shopper Vision Study looked at consumers' and retailers' views on what is going well and what is not, from customers wanting a more personalised experience in-store to finding it quicker and easier to shop online.
Retail Insight Network spoke with industry professionals about what retailers are doing right on the high street to bolster high street retail for the future.
Zebra Technologies director of retail and hospitality solutions EMEA Mark Thomson
"The retail experience no longer happens only in shops or even online, it is happening everywhere. Shoppers are faced with more buying choices than ever and will only respond to a seamless experience across every interaction point with a brand. This includes everything from the accuracy of inventory on the retailer's website to the level of service at their physical shop to the delivery experience and, of course, their satisfaction with the final product.
"By replicating the convenience and price benefits of online shopping instore, savvy retailers are better equipped to compete against online market places and e-retailers than one might assume. In Zebra's 2019 Shopper Vision Study, nearly half of shoppers admit that helpful shop assistants encourage them to spend more time instore, while over half believe they have a better shopping experience when shop assistants use technology.
"There is no doubt that being a successful retailer in 2019 will come down to how much the retailers cares about their customer. It will prove essential to obtain customer-related data to provide deep insight on how to improve the experience. From the first moment of interaction with a retailer, the customer journey must be absolutely on point. Physical and digital touchpoints alike must function seamlessly without giving up the best qualities of each."
Visa UK & Ireland managing director Jeni Mundy
"As our research shows, shopping locally and supporting independent businesses not only helps high streets thrive but also gives consumers a greater sense of pride in their high street and local community.
"Rafi's Spice Box is a great example of a high street business adapting to the changing demands of consumers. The family-run business in York hosts interactive, in-store events where shoppers can try their spices before buying them and they also provide practical cooking advice. Delivering an interactive experience on the high street has proved to be a success and helps to drive footfall in the store.
"As a partner of the Great British High Street Awards, Visa is urging communities across the UK to support their local high street businesses, while commending and celebrating those, like Rafi's Spice Box, that are helping our high streets adapt for the future."
UiPath chief evangelist Guy Kirkwood
"It isn't new news that the retail sector is having to 'adapt or die', but the retailers that adapt most rapidly, are the ones that are going to be able to stay the course and come out ahead. The main enabler and differentiation during this period of change will be the quick adoption of effective technology solutions. Technology like Robotic Process Automation (RPA) is easily integrated to work alongside legacy systems and will allow retailers to harness the power of fast and highly efficient software robots. RPA is one form of technology that can deliver benefits at all points of the retail journey – from supply chain with software robots making judgements and analysis based on data patterns to back office, e.g. invoice processing or on-boarding and off-boarding seasonal employees, and end-user experience in the call centres, where every agent can benefit from a software robot's support.
"Working alongside humans to deliver tangible business efficiencies and superior customer service, RPA is just one technology that retailers should be looking to take advantage of now. The winners in today's retail sector will be those that choose not to be weighed down by legacy systems and recognise how much benefit technology can deliver to their businesses."
ONVU Retail president Nigel Ashman
"The high street has been under increasing strain as online retailers dominate the market. Online retailers have enjoyed a huge advantage over brick and mortar stores as they have the capability to analyse data on their customers.
"High street retailers can fight back by implementing new technologies which allow them to achieve insights into their customers that they never had before. 360-degree video holds the key by allowing stores a god's eye view over the space and assets to understand the optimal floor layout, the position and effectiveness of displays and fixtures, and even how the operations in the store are impacting conversion rate and product performance.
"Video analytics can benefit the high street even further by showing customer behaviour without any bias based on past experience or perceived wisdom and give store staff insights into how to offer the best proactive and reactive personal customer services. Smart video solution can also monitor in real-time congestion at fitting rooms and queues at the tills, alerting staff to where they are needed before customers feel neglected."
LIDA customer agency managing partner Annabel Mackie
"The growth of the 'experience economy' has seen the more savvy retailers offering in-store experiences to drive footfall and increase dwell time. Shoppers don't just want to buy things they want to play, have fun and enjoy new experiences as part of their visit to the high street. Primark 's Central Perk and Harry Potter experiences are good examples of this and are proving fruitful for them, enabling them to buck the high street trend and open new stores this year, rather than closing them.
"More traditional retail brands likes Boots have also realised that customers want to come in-store and touch, feel and smell their products. Earlier this year, Boots opened its flagship Covent Garden store, which enables customers to do just this. Not making sales the sole purpose of the retail environment seems to be paying off. It will be interesting to see how this translates across their varied UK store footprint.
"Pop-up shops, which are set to be worth £2.3bn this year, are also proving hugely successful. The relaxing of lease law, enabling prime high street space to be rented for shorter time periods, has facilitated this growth. With big, established online brands like Amazon, FMCG brands such as Magnum and even artists like Banksy using pop-ups, traditional bricks-and-mortar retailers need to sit up and take notice. Start-ups, traditional brands and online-first retailers now have the opportunity to experiment with their high street offering in a relatively risk-free way."