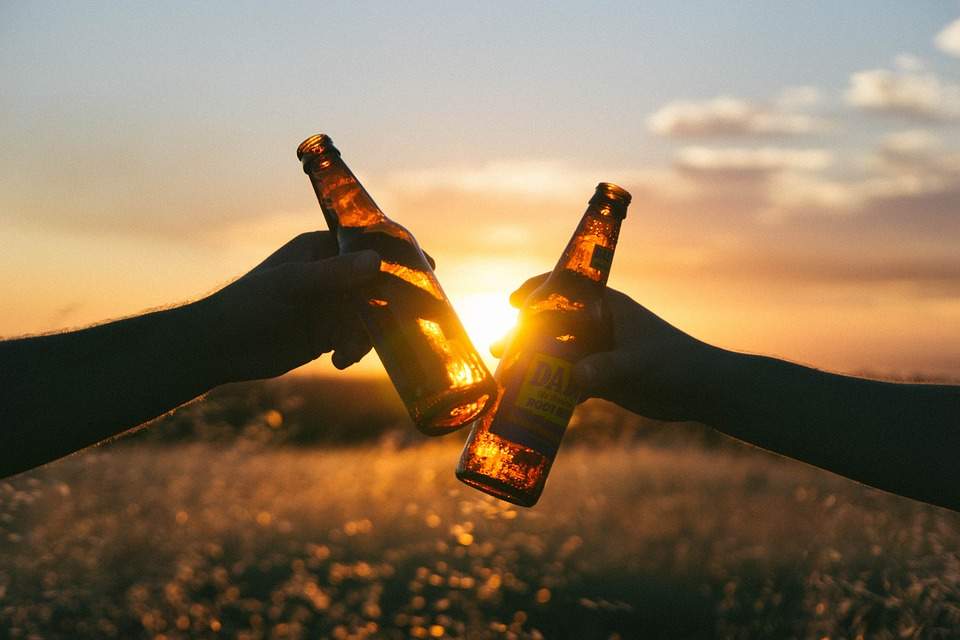 International Beer Day happens every year on the first Friday of every August. It was first founded in 2007 in Santa Cruz, California by Jesse Avshalomov.
Since then, the International Beer Day has grown from a small local event in the western United States into a worldwide celebration.
The celebration has three purposes: enjoy the taste of beer with friends, celebrate those responsible for brewing and serving beer, as well as unite the world under the banner of beer, by celebrating the beers of all nations together on a single day.
And there are reasons to celebrate. According to Kantar Worldpanel Consumer Insight Director Douglas Faughnan over the 12 weeks ending 15 July: "Overall sales of take home lager up 11.6%, or the equivalent of an additional 7 million pints, on the same period last year, as shopper numbers increased and consumers bought greater quantities than usual. While the hot weather will have provided a welcome boost to overall lager sales, so too will the recent World Cup in Russia."
Echoing this, Camden Town Brewery recently launched its first national campaign earlier this year. The brewery wants Brits to fall back in love with lager after the craft trend tended to favour ale.
While the campaign aims at growing awareness of the brand, it also aims to play a role in shifting attitudes towards craft beer.
This year International Beer Day falls on 3rd August, and brewers everywhere will be hoping their beers make the busiest shelves. So what are the UK's biggest retailers doing in this space?
Credit: David Wright
Tesco
At the beginning of 2018, Heineken increased the price of its beers, blaming the weak pound. Tesco, however, refused to accept these price increases and as a result pulled beers including Amstel, Sol and Kingfisher from its offerings. Instead, the brand seized the opportunity to partner with local brewers and extend its range of beer.
One of the very latest offerings is Wadworth brewery's gluten-free beer 6X Gold, launched this July to cater to vegan consumers.
As well as more popular craft beers like Laffe, Brew Dog, Camden or Asahi, Tesco also stocks 42 other craft beers including Blue Moon, Fourpure and Black Sheep.
Tesco also claim to be the only retailer stocking beers like Belhaven, Chimay, Craft Warning, Delirium, Dummy, Flying Dog Brewery, Fruli, London Beer Factory, Nogne O, Oscar Blues, Redwell, St Austell, Stone Go To, Vedett, West Beers, West Berkshire brewery, Whitstable Bay, Wildcard.
Sainsbury's
After axing 70 beer and cider lines including BrewDog's IPA last year, Sainsbury's selection now includes only 28 different products.
At the time of axing the popular beer, cider and ale brands, a spokesperson for Sainsbury's said:  "We have de-listed some lines and also added others, as part of our regular reviews of our ranges to make sure we offer customers great quality and value across all our products."
Sainsbury's is the only one out of the seven supermarkets to stock products from Bee 17, Daura, Green's, Heverlee, Sharps brewery, Shipyard, Stewart brewing, and Williams bros.
Asda
Asda has admitted that until last year its offering of craft beer was not 'the most advanced' and they are working to change this.
Since jumping on the craft beer trend, ASDA has introduced 100 new craft beers to its range in a move to build 'the most credible beer range'
Asda's Beer, Wine and Spirits category director Drew Tiffin said: "We hope we will become a real destination for craft beer drinkers.
"We want to build the most credible range in the multiples, so we are putting in 80 new lines – well over 100 if you include the regional beers."
"You can't argue with the growth of the category, it is coming through and we want to embrace it."
Currently Asda stocks beverages from 41 different breweries. Out of the seven supermarkets, Asda is the only one stocking products from the following breweries: Beardo, Bew York, Black Isle, Feldschlobchen,  St Andrews, Bellfield, Tempest, Alchemy, Masham, Purity, Robinsons, Spaten-Franziskaner-Bräu and Wychwood brewery.
Morrison's
Morrison's currently stocks products from 23 different brewers. However, despite the small offering of craft beer, the supermarket is exclusively stocking products from eight different brewers: Bintang, Camerons Brewery, Eternal Session, Glug M' Glug, Hardknott, La Goudale, New World and Open Gate brewery.
The company's craft beer offerings lag behind their rivals but earlier this year Morrison's did select Bellfield Brewery as part of their foray into gluten-free beers.
Waitrose
Waitrose's has always been known for offering a variety of interesting beers. Last year, for example, the retailer started selling a watermelon-infused sour beer after it won Waitrose's annual homebrew competition.
Together with Tesco, Waitrose sells the most craft beers not sold by other supermarkets in the top 7 biggest retailers. These are: And Union, Beavertown, Curios Brew, Einstok, Fuller's, Harviestoun, Hop House, Liefmans, London Brew, Redchurch, St Stefanus, Tall Stories, Tripel, Westamalle, Wild Beer Co., Wilderness, Wiper and True.
Beavertown has also signed a contract with Waitrose this year, the popular breweriesfirst ever supermarket contract.
Every year Waitrose runs a competition for amateur brewers in partnership with Peak District-based Thornbridge brewery. The winning recipe is then brewed by Thornbridge and sold at Waitrose shops across the country.
In July 2018 Waitrose signed a contract with The Friday Beer Company, based in Malvern Link, to stock their beers in stores in Worcester, Malvern and Hareford.
Lidl
Lidl announced in late July of this year that it was adding six new brews to its own-label craft beer range Hatherwood Craft Beer Company.
While Lidl does not have a fixed range of craft beers, it provides a Kick Start programme which gives local food and drinks suppliers a chance to stock their products in Lidl stores across the country.
In May, to celebrate Scottish craft beer, Lidl launched its third in-store 'Isle of Ale' festival, with brewers throughout the county benefitting from a combined business deal worth £75,000.
The 'Isle of Ale' festival saw 19 beers from 13 of Scottish independent breweries hit supermarket shelves across the country.
Lidl has also launched a new Scottish craft beer, Bright Lights, in partnership with Edinburgh based husband and wife team Stewart Brewing, in a deal worth £100,000.
Aldi
While Aldi has its own craft beer range, which was launched earlier this year, called Brown Bear, the discount retailer often partners with suppliers, to bring a new range of products into the store including craft beers.
Like Lidl, to celebrate Scottish craft beer festival, Aldi has partnered with breweries including Hybrid Brewing, Tempest Brewing Co. Broughton Ale 's, Born in the Borders brewery, Old Worthy Brewing to celebrate Scottish brewers.
Aldi also launched a range of 16 British craft beers in May, which are available in Aldi stores in England and Wales.