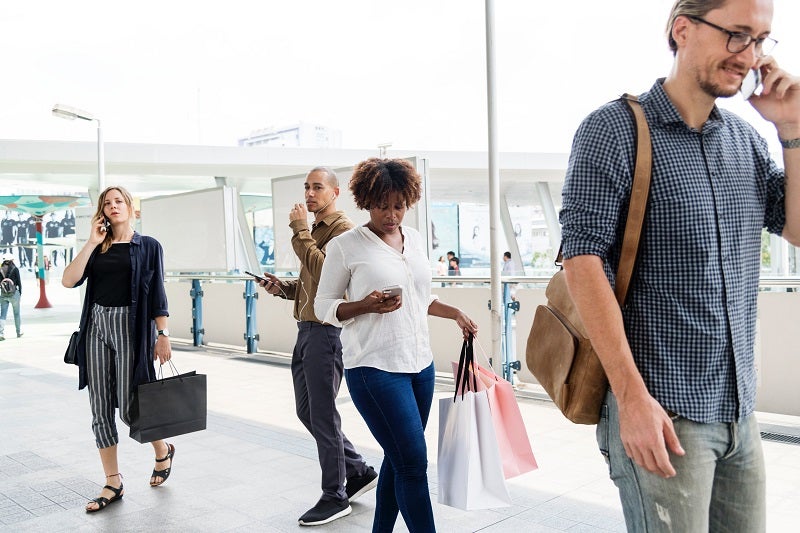 In an age when consumers want to buy wares online, brick-and-mortar retailers are searching for ways to make their in-store experience unmissable.
Location-based services (LBS) not only provide incentives for consumers to set foot in physical retail stores, but to streamline their experience whilst there. Retailers can incorporate technologies into specialised apps that tap into customers' location, show them relevant information, and provide directions in-store.
Since the late 1990s, LBS has steadily grown more potent due to the development of technologies such as beacons, GPS, Wi-Fi and near-field communication (NFC ). With the number of smartphone users worldwide projected to increase to 2.87 billion by 2020, more consumers on the high street are carrying LBS-enabled devices than ever before.
"Technology which offers location-based services provides a myriad of opportunities for retailers, and location-based services around the IoT are increasingly important for creating a cross-channel environment," says Steve Johnson, regional director of Northern Europe at Ruckus Networks.
Bluetooth beacon technology and proximity marketing
One technology increasingly being adopted by retail is beacons – small devices capable of broadcasting continuous signals to Bluetooth and Wi-Fi-enabled devices in range. This offers an opportunity to retailers in the form of 'proximity marketing', whereby customers can receive discounts and special offers via a push notification as they walk past.
"One of the things that beacons are being used to try and do is cement relationships with customers."
On London's Regent Street, around one hundred retailers – including Karl Lagerfeld , Armani Exchange and Brasserie Zedel – have installed beacons that trigger personalised offers via the Regent Street app. This combination of 'geofencing' and artificial intelligence (for personalising offers) reportedly lifted marketing response by 7.4% over a three year period up until 2017.
"One of the things that beacons are being used to try and do is cement relationships with customers – be useful to them, understand what they need and what they want, without overwhelming them with too much information," says Martin Woolley, developer relations manager for EMEA at trade association Bluetooth SIG .
A good side effect of proximity marketing is that applications can collect vital footfall data for retailers, as well as gain insights on customer responses that can help them update their marketing strategies. Woolley says that there are around 130 million beacons in the world at the moment, and that this number is expected to increase substantially; around 500 million could be deployed in 2021 alone.
Monica McDonnell is the director of strategic business development for Europe at cloud data management company Informatica , which supports beacon technologies. She says that in an age when Amazon and Google 'know what you are looking for before you even know', retailers need to use the tools at their disposal to build a more complete view of their customers.
"Having a single view of the customer and integrating that data enables a retailer to interact with their customers in a seamless manner across a customer's shopping journey rather than across a retailer's channel," says McDonnell.
Wayfinding and asset tracking
Another major benefit to beacon technology is found in wayfinding. As GPS technology doesn't work indoors due to a lack of satellite connectivity, beacons can pick up the slack – sending smartphone users signals that power digital maps right on their screens.
US retailer Target fitted beacons across LED lighting in its stores to facilitate an indoor digital map to its mobile app. This enables customers to not only find their way through stores, but actually guide them to specific products. In another example, the centre:mk department store in Milton Keynes, UK, fitted beacons that could be picked up by an app, which could subsequently direct visually impaired customers to stores using an audio cue.
"As LBS become more accurate, they can more closely reflect the online experience."
Recently, Bluetooth SIG launched version 5.1 of its wireless network specification, delivering a new direction-finding capability that could make the company's LBS offering much more accurate – from locating customers within a meter radius to within a centimetre.
"Instead of simple proximity triggered events, you're going to know almost exactly where [the customer] are standing – that they are actually in this aisle right next to these products – and really pinpoint your message to the customer," says Woolley. He adds  that asset tracking is another area where direction finding could be useful – for example, by installing special Bluetooth-enabled property tags in items such as trollies.
McDonnell says that as LBS become more accurate, they can more closely reflect the online experience. For example, in the same way that online retailers such as Amazon highlight additional products to customers based on previous purchases, physical retailers could allow consumers to scan items and have accessories suggested to them instore.
Challenges for retailers 'opting in' to location-based services
While opportunities exist, ultimately there are challenges ahead and retailers will need to think about whether their investment in beacon technology will be worthwhile. With the advent of new General Data Protection Regulation (GDPR) regulations, for example, privacy has become a much greater issue to consider when it comes to proximity marketing.
In addition to becoming more accurate, McDonnell says that evolving LBS technologies will provide retailers with better customer data faster, helping their business case for investing.
"To successfully bring on-board location-based services retailers need to adopt a converged network approach."
"Where a lot of the improvement is coming and where we are working very hard is introducing layers of AI to make sense of the data coming in – to build some algorithms to find out based on that data what's the expected action," she says. "So it's not just data that you are collecting for no reason, its data that has context that you can actually use to get positive business results."
Meanwhile, Steve Johnson says that a real challenge for retailers will be developing networks to support LBS technologies.
"Location-based services rely on being able to connect a shopper's phone to the wider network, but with so many devices and physical building challenges in the way, this can be difficult," he says. "This is increasingly true as retailers introduce more internet-connected devices to engage customers and drive sales.
"To successfully bring on-board location-based services retailers need to adopt a converged network approach – using easily accessible and user-friendly technology such as Wi-Fi access points in order to bring all technologies into a single network infrastructure. As the retail environment is increasingly unpredictable, retailers need to prepare for different technologies which may arise in the near future."
"As this technology looks to evolve, it's more important than ever that retailers have the right technology infrastructure, otherwise they won't see the return on investment they are looking for."