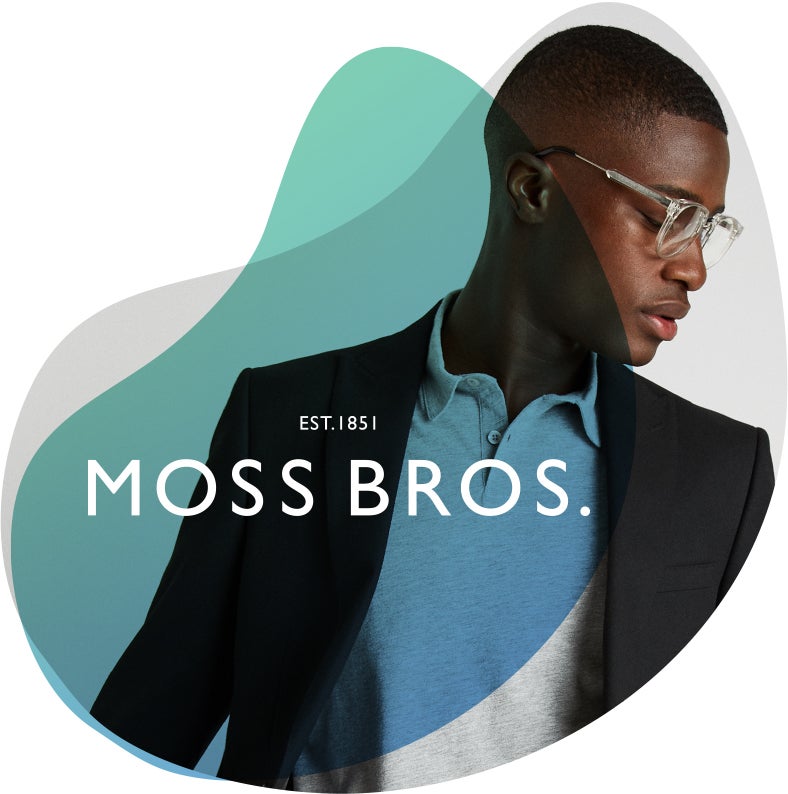 The UK menswear sector is expected to reach £17.1bn by 2022, which can be partially attributed to companies offering more personalised experiences through their e-commerce channels. Retail Insight Network talks to Moss Bros head of e-commerce, Matthew Henton, about its recent partnership, with AI-powered omnichannel personalisation engine Dynamic Yield, to tailor its in-store experiences to online.
Deborah Williams: Firstly, congratulations on your success with your work with Dynamic Yield in online personalisation. How long did the overall process take and what was it like to work with them to create your e-commerce personalisation vision?
Matthew Henton: The first thing I'd say is that it's not done. I don't think it's one of those deliverables where you ever really stop and see the finish line. It's part of a process and almost an ideology around what we want to do. As you do more, you get more data on how customers are interacting with the experiences and it prompts ideas for further personalisation.
But we started working with Dynamic Yield to replace a testing vendor that we had in place already and started using the functionality of Dynamic Yield to run a straightforward A/B tag to improve the overall site for our visitors. One of the reasons we chose DY was because it additionally gave us the personalisation capability that we wanted. And so we carried on our regular optimisation programme of A/B testing, although it was much easier to do with Dynamic Yield than with the previous vendor. But we were also able to think about how we could start to personalise the experiences that we're putting together.
DW: Are there any differences required when creating personalised experiences for menswear?
MH: I don't think there are really. I think the things that we've got to look at as e-commerce professionals when we're looking to craft personalised experiences is just about how do I make this experience more relevant for that particular customer or audience – Do they like to shop by brand or by sale or by price. I don't immediately think it would be particularly different for a womenswear market, compared to the menswear market.
DW: In the 'Moss Bros suits the modern man through personalisation' case study, you said that the company wanted to take how personal traditional suit shopping is and recreate that for your e-commerce customers. I think that's definitely necessary for the current technological climate. But in bringing personalisation online, do you think it could take away from actual physical personalisation in the long run? Although I know you still offer this in-store, could it still take away from tailoring being seen as luxury?
MH: I don't think so. I don't think the experience that you get in-store and our stores in particular, where our colleagues are suit and tailoring experts, is not there to run product through the till and take your money. Our colleagues are advisors, who will measure, give advice and help to get the look that the customer wants for whatever occasion. It's really a case of just using that, which we know is a fantastic experience that customers love, and trying to use it as a heuristic to copy across into what we wanted to deliver through our digital experiences. That sort of level of recognition of everybody as an individual, recognising what people thought previously, what experiences they've had, what event or occasion it's for and the fit preference, is what gave us a simple template of the kind of experience to aim for.
So we started there and said, look, we know this is what our customers love; it's why they come to our stores. But increasingly, like everybody else, we saw that our customers wanted to shop online as well. It was like a playbook for us to say this is the experience we want to deliver online and wo replicate what that fantastic store experience looks like.
DW: We're seeing a lot more fashion companies now producing or using algorithms, such as ones used by Thread and Stitch Fix that are infiltrating certain aspects of the industry, such as styling. Do you think that could happen in tailoring? Do you think online tailoring is the future?
MH: Yeah, absolutely. One of the big areas of growth for Moss is our custom tailoring offerings, called Tailor Me. I think it's becoming much more mainstream to have product made for you, whereas that was possibly seen as rather exclusive and niche at one stage. We've been able to offer that service for quite a few years now and it's incredibly popular and growing well. We are looking now to bring that experience online and allow our customers that experience of creating an outfit or a suit from scratch for themselves. We're using strong technology to make that happen and just trialling, at the moment, ready to release fairly soon.
DW: Staying on that topic of consumers, have you seen any sorts of declines in the consumer desire, and in the industry, for traditional in-store tailoring?
MH: No, I think it's a complete opposite. It's two things really. One is the broader suit and formalwear market. We know that work environments are less formal than they have ever been but we also see that a lot of guys are turning to formalwear and suits in a non-work environment, not just for occasionwear for weddings and so on – but they're choosing to dress up for just the weekends and going out. So we're certainly seeing that as a trend. And again, the expectation around having products that are adapted to that customer – having it tailored for the fit and size, but also the styling options for allowing guys to add their personal stamp on what it is that they're buying.
DW: Talking about trends, what type of styling trends or trends in tailoring – maybe ones governed by social media – have you seen recently and what can we expect for 2020?
MH: I think we're seeing a continuation of the impact of Peaky Blinders. I think that look has absolutely been picked up and we're seeing it a lot across social media and with influencers. That quite traditional, coarse tailoring for tweeds and that sort of fabric has been incredibly big for us. We've introduced a lot of that type of product into our higher range because we're increasingly seeing demand for that on higher, as well as in retail.
DW: There's been a lot of debates as to whether brick-and-mortar retail is dead or not. The sector has seen lots of store closures and quite a few store openings as well. But the industry is seeing lots of retailers seamlessly merging the offline to the online. So do you have any plans to bring digital personalisation in-store?
MH: Yes, absolutely. The service that we're taking online with Tailor Me is something that we are going to be offering to our customers in-store. We know that customers do like to actually go in-store and to touch the fabrics, linings and buttons. Having that tactile experience with the choices that they're making in a custom-tailoring product is really important. But the visualisation that the digital experiences can offer, alongside that, I think is going to be a real big feature in-store and we're looking to roll that out in 2020.
DW: Where will Moss Bros e-commerce be in three to five years' time?
MH: I think it goes back to what I said at the start really. We're seeing a continuing process with e-commerce. There's always a sense that nothing's ever finished because we're constantly testing what we think might be perfect today and we'll look at again tomorrow once we've got some useful data from it and see ways of improving it. Also, things like Dynamic Yield's own development roadmap that continuously rolls forward and gets us more tools in which we can deliver those services. It's a constant journey of making those experiences better, more relevant and more exciting.
DW: What has been the main lesson you've learned or the main challenge you faced when creating personalised experiences for, particularly in tailoring, for Moss Bros?
MH: I guess the main challenge is what will scale. It's about will we be able to make that proper personalisation work or are we just taking an audience-level view and saying we're capable? And we thought a certain proportion of our audience do this and therefore we're going to craft an experience, which is slightly different to them. And that's great – nothing wrong with that. But it's how do we move beyond audience-level personalisation and into real one-to-one personalisation – recognising exactly what we know about you (what you've searched for on the site, what you've bought before, what sizes you are) – so that every single user that serves those personalised experiences would potentially have a different experience to the next customer. That's the challenge and that's what we've been working hard to try and deliver on. And with the help of Dynamic Yield, we've been able to deliver quite a bit of that already.
DW: What would be the main lesson for the tailoring or formalwear industry to know about the importance of e-commerce personalisation?
MH: It would just be to begin the journey. Think, what would I do differently for this customer if they walked into my store? How would I approach them differently? What would I do? And use that as a starting point. It's nothing new. It's just tapping into how to deliver the way in which we personalise things in a face-to-face environment across digital channels. And [I would say] to probably not be too ambitious to start. Begin with some simple personalisations that you think will deliver a better experience.