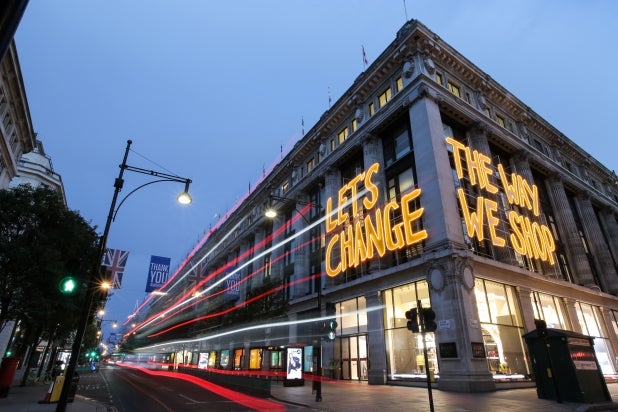 UK-based department store Selfridges has announced plans to start offering clothing rental, recycling, and repair services in order to move to more sustainable fashion.
Earlier this week, the retailer also unveiled a new sustainability initiative to be completed by 2025.
According to Selfridges Group global managing director Anne Pitcher, Selfridges will be moving to selling second-hand clothes, recycling and repair services, and a fashion rental service, following demand from customers to take environmental concerns seriously.
Repair prices will depend on the item in need of repair and can be done on all items of clothing, bags, shoes, and jewellery, whether bought through the retailer or elsewhere.
Clothing rental will be managed by online clothing rental company Hurr Collective, and can be taken out for 4, 8, 10, or 20 days.
Response to Selfridges' rental service
The idea of renting clothing and creating opportunities for resale has been something talked about a lot this past year as consumers increasingly show more concern for sustainability, especially in fashion retail.
In response to Selfridges' rental scheme, Birmingham City University lecturer in fashion business and promotion Laura Arrowsmith told Retail Insight Network: "This is only scraping the surface in trying to solve the issue of throw-away fashion. We as consumers have submerged ourselves into the damaging 'buy-once, wear-once' culture and by renting clothing instead of purchasing you are technically delaying the inevitable of clothes ending up in landfill sooner than it should.
"It's a respectable strategy to try, yet I do not feel it is necessarily enough to stamp Selfridges with a sustainable logo. Renting clothing isn't something that's innovative and it's not something Selfridges has brought to the table.
"Nevertheless, it is a fantastic way for consumers to tap into brands which they may not have been able to afford or know about, although I do believe this would change the way we view designer brands and luxury goods as everything would be more accessible and therefore removing the elite stigma.
"At the moment I can't see it being too popular due to the Coronavirus outbreak – would consumers want to wear garments that have previously been worn and what measures would Selfridges take to ensure garments were thoroughly cleaned before the next rental?"
'Project Earth' aims to put sustainability at the heart of Selfridges
Alongside using rental and repair in order to move to sustainability, Selfridges on Monday announced a new initiative, 'Project Earth', which aims to ensure materials are "environmentally impactful" and also to pioneer ideas of circularity, longevity, creativity, and sustainability.
A statement from the retailer said that Project Earth is a broader commitment to "science based targets and to achieve net-zero carbon by 2050" in line with the Paris agreement.
As part of the initiative, Selfridges will be working with over 300 brand partners and with support from the Woodland Trust and WWF.
Selfridges group chairman Alannah Weston said: "For the last decade we have taken ground-breaking steps to put people and planet at the heart of our business, embedding sustainability alongside creativity. Project Earth is not only our bold, new commitment to stretching environmental targets, it is about imagining new ways to do business, within the next five years.
"Out of the global pandemic has come an understanding of how fragile and complex our systems are, but also how our planet and people can benefit if we act collectively with a shared purpose. Now more than ever we must double down on our efforts to reinvent retail with sustainability at its heart and a way of working which is regenerative for humans and nature."
Selfridges Group global managing director Anne Pitcher said: "In a way we never could have predicted, the cycle of consumption has been broken by the pandemic, marking a moment of change in our customers to a more considered mindset and requiring us to set new expectations for retail.
"We firmly believe evolving the way we do business and supporting change in the way people shop is essential to building a more sustainable business. Selfridges has the platform to change how shopping is done wrapped up in the destinations, experiences and inspiration customers want from us.
"The tough, stretching targets we have set ourselves underpin our commitment to change our business and our ambition to imagine and create a sustainable future for our customers."