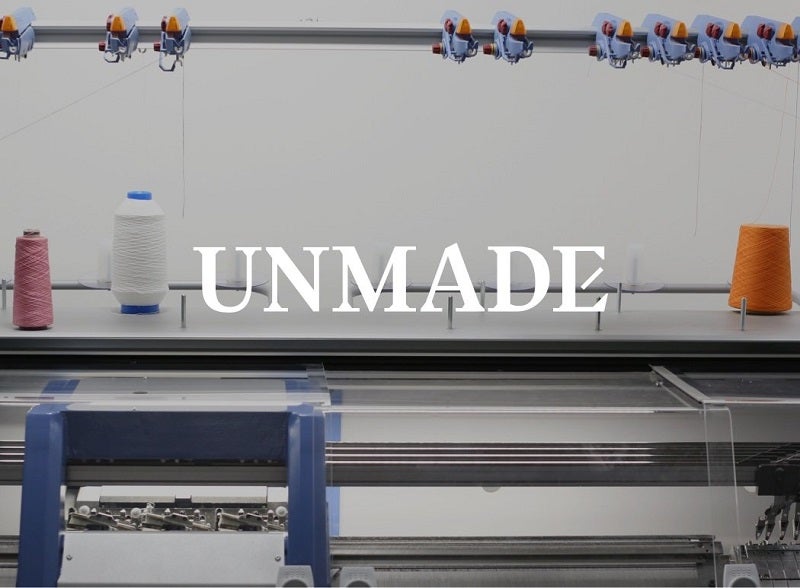 Deborah Williams: What sustainability issues does the fashion industry have?
Kirsty Emery-Laws: There are many different issues across the fashion industry, from the original supply and sourcing and the heavy amounts of pollution that comes out of production all the way through to actually what we produce. For example, 20% of all garments that are made and unsold go direct to either landfill or they get burned. We don't have a good way to being able to react to the fluctuation in trends that we now have and this is causing huge overproduction. [But] we have an industry of people trying to do something about this. For example, H&M are stockpiling their unsold stock but they don't have a good solution to it. They actually have, I think it's about, $4.2bn worth of clothing, which is actually sat in warehouses until they can work out a solution of what to do with the garments.
DW: Is on-demand the key to fashion sustainability?
KEL: With any issue that is as large as looking at sustainability across the whole industry, there are lots of different directions that we come at it from. I mean if we were going to build the industry today from scratch, looking at the technology we have, we would probably approach it from a very different direction. But on-demand is certainly one of the key factors that will improve it. The reason for this is about what I said earlier about overproduction. We have an industry where, as consumers, we're used to having trends that come and go – we're really hungry, we want to consume really quickly – whether its how we consume media or music or whatever it happens to be. And the front-end of the fashion industry looks like that.
[But], it's moved on. We've [the fashion industry] have got loads of really exciting brands – everything from Rent the Runway to Farfetch, which have completely changed the way we consume our shopping and actually go about shopping. But the supply chain of the industry is still a legacy supply chain, which hasn't really changed much since the late 1980s to early 90s with globalisation, where a lot of production moved to the Far East, with two production areas really concentrating on unit costs and high volume. Supply chain and infrastructure has long lead-times to get unit costs down – so we are still working with that.
At the front of the industry, everything is moving very quickly, so there's a complete disconnect between the front and back end. On-demand is a way of bringing those two sides closer together, so they can work in unison and appropriately.
DW: What kinds of consumer behaviours have you seen towards on-demand fashion?
KEL: As consumers, we're now used to buying something online and using it within a few days. And so from that point of view, there's a high demand. And within the industry, when you look at the supply chain, order volumes are coming down. So you can see a big rise in brands which are built on a structure of having small volumes where they're testing things. If you look at brands like Boohoo or ASOS or Zara, which have been leading for many years, they're all the brands that are doing really well – although for ASOS there have been a few profit issues. But overall, looking at the last two years, they're the brands that are coming out on top because they have these much faster supply times and they don't have the capital asset that they have to outlay into production – which can be 18 months in advance and which the older, more traditional brands still have to do.
DW: I know you've kind of touched on it already, but other than sustainability, what other benefits does on-demand fashion bring?
KEL: On-demand means that something is only produced once a customer has bought it, which means there's a much lower capital outlay for a brand. If you're doing a roundabout production cycle, you'll have to commit quite a large financial amount to products. And then obviously you'll have store accounting and existing sales but you have to take a much bigger gamble on it, which sometimes works out and sometimes doesn't. Also if you're doing on-demand, you have already been bought at full price. So you have much less existing accounting to take into your profit margin.
DW: Are there any disadvantages?
KEL: I think one of the things that we're currently looking at with on-demand is that we still have quite a lot of production that is far away from market. It's about how we can bring this closer to market, so that you are able to ship much faster. When we're working with our customers, quite a large part of the lead-times for the end customer is actually the shipping time. So it's about how we can help to reduce this.
DW: Let's talk a bit about Unmade's software. How was it developed and what challenges do you face when creating that type of technology?
KEL: We're a fast, on-demand manufacturing platform, so we work with global brands to enable them to have a much more consumer-centric supply chain and an increased in-consumer experience as well. We started out around five years ago as a B2C brand originally. We worked directly with customers and [we were] using our software ourselves. This gave us loads of advantages because it meant we got direct feedback from the consumers. We really got to understand them and their behaviours, and this was also where the first tests came from for our software. So we really understood what was needed to run the systems from end to end.
Since then, we realised very quickly that by changing to a B2B model we would be able to have a much greater impact on the industry, by sharing our software as technology with wider companies that also have much higher sales volumes, so we'd have an overall bigger impact. It's that idea that if you save one or two pence from thousands of people overall, you actually create a much higher volume of money.
DW: What would you say was the best brand you've worked with that's created a lot of success from on-demand?
KEL: That's really difficult because I'm not allowed to talk about the brands we work with. We've got some really exciting things coming up, which I'd love to tell you about but unfortunately, I can't. But one of the brands I can tell you about is Rapha. It's a British cyclewear brand. They're a really exciting brand, based in London and their goal is to dress you from any moment that you might be around your bike – if you're in the city or on the track or commuting. We developed teamwear offerings with them, launched in March this year, which has been really exciting – especially seeing how that has been able to grow with them.
DW: What's next for Unmade, in terms of improving your software?
KEL: We recently raised our latest fundraising round. We are building our team and growing it, so that we are able to support more customers and help to increase the volume and offering that we're able to give to people. We currently specialise in knit manufacturing but we will also be expanding to other manufacturing methods, which I also can't talk about at the moment. But yes, [we want to] increase our manufacturing methods and options, and funding so that we can offer more to our customers, as well as giving them more independence in using our sourced software.
DW: And where is it being sourced through?
KEL: It's being raised through Octopus Ventures and MMC.
DW: I know you may not be able to touch on it much, but what is next for Unmade in the next three to five years?
KEL: In the next three to five years, what we're working to achieve is to have an industry where on-demand isn't just seen as a one-off thing – not just for customisation or marketing – but actually how we can power the market as a whole. You have these huge wholesale giants going into financial troubles – big companies like Macy's. So looking at these big brands that are struggling and the brands we usually work with, where wholesale is a huge part of their market, [we want to] and they want to reduce those areas. [It's about] how can we give them a closer relationship with their customers and make the things that work the best for them as well.
DW: Where do you think fashion sustainability to be in the next five to ten years and where would you like it to be?
KEL: I think that we're at a really interesting point in the industry actually, that up until now, sustainability has been kind of a buzzword in fashion – it hadn't necessarily become anything once you scratched beneath the surface. It was a nice idea but not a driving factor. Whereas now, I think, we're at a tipping point where it's starting to become a reality. It's something that is becoming a leading principal at all levels. It's not just something that is nice to have anymore – it's becoming a must-have. And so I think the move we have, at the moment, is very interesting.
DW: What is the main lesson you want the fashion industry to know about sustainability and on-demand?
KEL: That's a good question. I think it's about looking at how we can take the industry that we have today and make it better. It's not about starting again from scratch – it's about taking the knowledge. We have so much incredible knowledge within the fashion industry and it's remembering to take it and build on it and expand on it, rather than doing something that is new and scary.