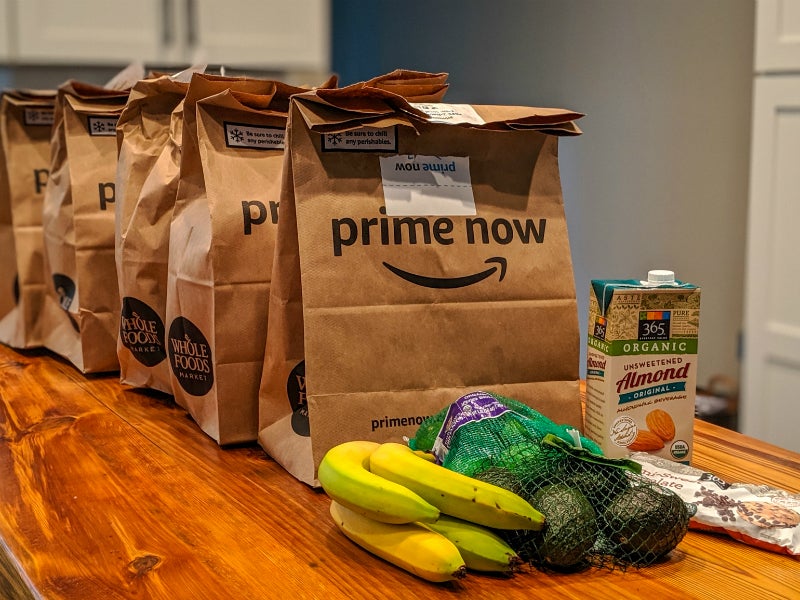 Amazon will offer UK Prime members free delivery on groceries as it seeks to establish a foothold in the food retail market.
The area will span 300 postcodes, predominantly in and around London, but with expansion across the country planned.
Orders above £40 will have free delivery within a two-hour time slot. Orders over £40 with a one-hour time slot and under £40 in a two-hour time slot will cost £3.99 extra. Orders under £40 in a one-hour time slot will cost a premium of £6.99 with the minimum order value reduced to £15.
Before the announcement orders were subject to a monthly additional fee of £3.99 or an individual order fee of £2.99, on top of the annual Prime membership cost of £79. Now that the service is free, on selected criteria, people may begin to view it as a viable alternative to their current shop.
Food retail is an increasingly attractive market, particularly as a result of nationwide lockdown with its percentage of the total UK spending up from 20% to 30% during the pandemic. Additionally, the UK online grocery market is forecast to grow 76.2% to £19.5bn in 2020 as the appeal of home delivery has increased.
Plans to expand across the country as demand grows
Russell Jones, country manager of Amazon Fresh UK outlined the company's intention to continually improving the UK Amazon grocery shopping experience.
He said: "By the end of the year, millions of Prime members across the UK will have access to fast, free delivery of groceries."
It is rumoured that the next phase of expansion would bring the service to Manchester, Birmingham and Edinburgh before it goes nationwide.
The service is increasing in popularity with UK supermarket Morrisons, which collaborates with Amazon on the service, doubling the number of stores, serving Prime customers to 40. Buyers can also choose from a range of products supplied by Whole Foods and Booths in addition to brands such as Warburton's, Danone and Pepsi.
Currently, 40 postcodes in London and the South East can get same-day delivery times. If this can be rolled out on a wider basis it may encourage consumers to switch as traditional retailers may not have the capacity to match such a service.
Amazon will have to seize market share from firmly established retailers
The US company will have to tackle strong existing brand loyalty with UK consumers often attached to their retailer of choice. Tom Brereton, the Retail Analyst at GlobalData, argues that the emotional bond between consumers and retailers makes it difficult for Amazon to present 'itself as a 'go-to' destination for food'.
Lidl and Aldi did manage to penetrate the market but this was through being low-cost alternatives. Many consumers are looking to affordability in the current economic climate, which has led to traditional retailers to compete through lower prices. For example, Tesco is currently running a price match with Aldi.
The market for Prime is likely to be premium shoppers as it relies on people to have a membership but also many suppliers to the service are smaller independent companies. It will, therefore, be directly competing with Ocado (now delivering M&S food) and Waitrose who will now have to offer delivery services with the loss of Ocado.