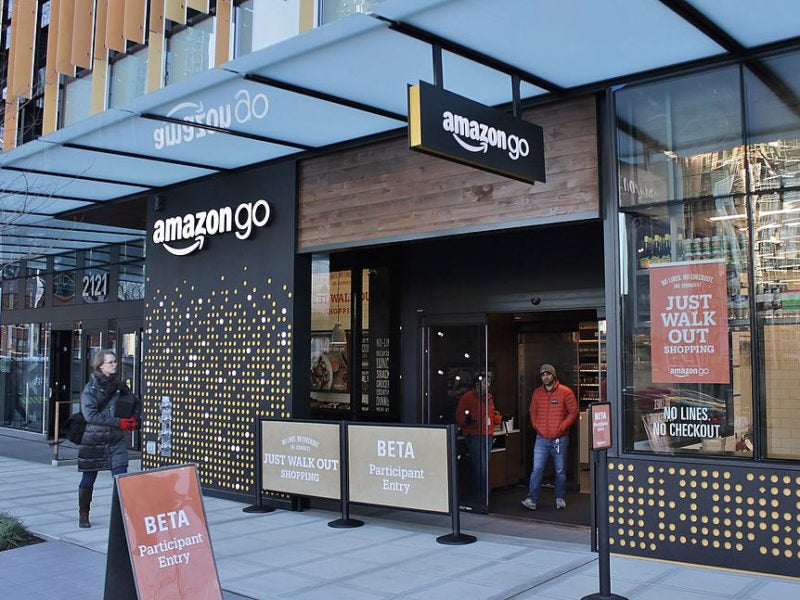 GlobalData has used its exclusive theme-based analysis to identify the semiconductor companies which are best placed to succeed in the future based on their strength in ambient commerce.
Ambient commerce describes a new form of shopping which makes use of sensors coupled with artificial intelligence (AI) to help customers select and pay for their goods without the need for keyboards or cash registers.
Ambient commerce has been identified by GlobalData as one of the top ten themes that will impact the semiconductor sector over the next two years.
The other nine are data centres, artificial intelligence (AI), high-performance computing, self-driving cars, industrial internet, gaming, 5G, M&A and geopolitics.
Viewing the world's data by 'themes' makes it easier to make important decisions.
The semiconductor companies given the highest thematic weighting by GlobalData for ambient commerce are: Intel, Microsoft, Alibaba and Amazon.
GlobalData's thematic research team has developed a 'thematic engine' which is designed to identify tomorrow's tech leaders rather than today's tech incumbents, based on their competitive position in the most important themes impacting their industry. The GlobalData thematic engine spans 15 key technology sectors – from semiconductors to consumer electronics to enterprise software – and covers over 60 themes.
What does ambient commerce mean for the semiconductor sector? 
Ambient commerce offers a vision of frictionless commerce where computer vision, sensors and machine learning technologies enable customers to 'grab and go.'
It challenges the convention that shopping remains a predominantly offline affair. The companies that flourish will be those that have at their disposal the keenest, most up-to-date data sets about human shopping behaviour in general and their own existing and target customers in particular.
These companies will typically embed ambient computing and vast arrays of sensors in their stores linked to analytical and machine learning algorithms. Ambient commerce will also drive expenditure on IoT connected devices and on IoT software and services in the retail sector.
The full universe of 57 semiconductor companies covered by GlobalData's Semiconductor Sector Scorecard are:
Aixtron
Alibaba
Alphabet
Amazon
AMD
AMS
Analog Devices
Apple
ASML Holding
Baidu
Barefoot Networks
Broadcom
Cambricon
Cirrus Logic
Cypress
Dialog
Diodes
Graphcore
Himax
IBM
Infineon
Intel
Marvell
Maxim
MediaTek
Melexis
Mellanox
Microchip
Micron
Microsoft
Monolithic Power Systems
Nanya Tech
Nvidia
NXP
On Semiconductor
Qorvo
Qualcomm
Realtek Semiconductor
Renesas
Rohm
Samsung Electronics
Silicon Labs
Silicon Motion
SK Hynix
Skyworks
SMIC
Softbank
STMicroelectronics
Teradyne
Tesla
Texas Instruments
Tokyo Electron
TSMC
UMC
Vanguard
Xilinx
Zeno
About GlobalData thematic research
Incumbents in virtually every industry are facing game-changing disruption from innovative new platforms and those organisations that fail to spot the threat and make it a core competency risk extinction.
With so many disruptive technologies impacting so many industries, companies are already struggling to identify the technology partners that can help them transform their business in a digitised world.
To help, GlobalData has developed a Thematic Research ecosystem, a single integrated global research platform that provides a framework for tracking all themes across all companies in all sectors.