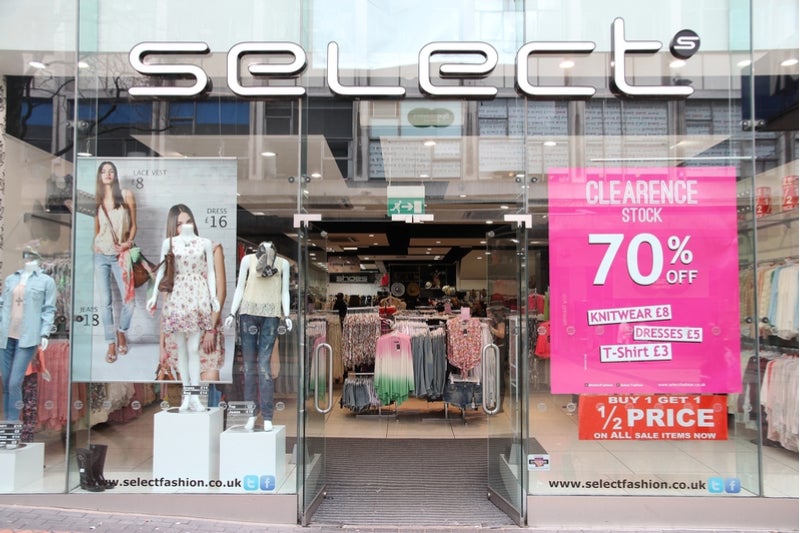 Fashion chain Select has fallen into administration, putting 1,800 jobs and 169 stores across the UK at risk.
In May 2019 Select went into administration, putting thousands of jobs at risk due to ongoing financial difficulties. The company, which targets women aged 18-45, has been struggling despite having struck a deal in April last year that cut rents at its stores.
Two years ago the retailer – which has annual sales of £77m ($91) – used a company voluntary arrangement (CVA) to negotiate rent cuts of up to 75% from store landlords. However, this was not enough to prevent Select becoming the latest victim of the UK high street malaise.
Uncompetitive in an over-saturated market
Select offers cheap clothing and its direct competitors are Primark, Boohoo and supermarkets such as Tesco brand F&F and George sold by Walmart- owned Asda.
Boohoo is an online fast-fashion retailer that regularly launches new clothing lines on its company website. In 2018 the company reported strong demand growth for its £6 ($8) dresses and £10 ($13) jeans.
Select is not a big destination retailer and is simply not selling enough items to be profitable.
While Primark and Boohoo have both established a strong position in the apparel market as fast-fashion retailers offering cheap clothing, Select was unsuccessful in building a strong brand image. The company has failed to establish a strong foothold in the increasingly competitive UK apparel market.
According to MarketLine data, the UK apparel market only grew by 1.7% in 2017 and 0.9% the year before, signaling intense rivalry between leading companies. Future growth will probably be slow, meaning Select is unlikely to be helped by market conditions and will therefore need to produce a market leading strategy if it is to increase its sales.
Select cannot compete with online retailers
Many high street retailers such as LK Bennett, BHS, New Look, and Marks & Spencer have struggled due to structural shifts in consumers shopping habits. Buying online continues to become increasingly commonplace, hurting those firms who failed to establish an early online presence.
While Select has revamped its online site, the company still largely depends on sales in stores. Many bricks and mortar stores have achieved growth in recent years by driving a strong brand identity, as achieved by Zara (owned by Inditex), reducing the need for heavy discounting.
In comparison, Select has slashed prices in a bid to increase its sales and compete head-to-head with rival Boohoo. Select, however, cannot directly compete with pure online retailers as the company has to contend with higher overheads.
Additionally, heavy discounting can dilute brand image. Frequent discounting serves to lower the value of the brand, and this appears to be the case with this British retailer.