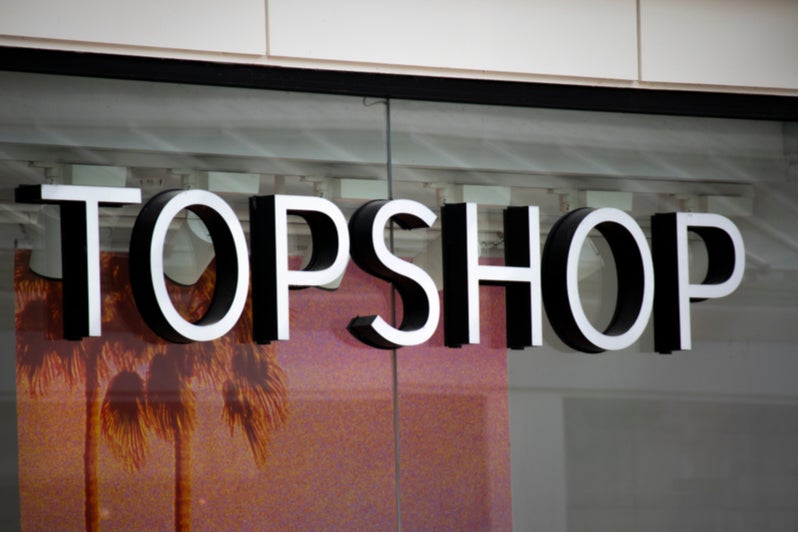 Arcadia's share of the UK womenswear market is forecast to fall to 4.9% in 2019, a decline of 1.4 percentage points since 2016.
Online pureplays such as boohoo.com and ASOS continue to disrupt the market, while Arcadia's brands also remain under pressure from Primark and Zara. While sharpening up product ranges is their top priority, Arcadia's brands must focus their efforts on driving relevance via inclusivity, sustainability and impactful marketing or risk jeopardising their chance of survival.
What Arcadia needs to do to stay relevant
In recent years, many fashion retailers including Asos, boohoo.com and New Look, have championed inclusivity – from expanding niche ranges such as plus size, tall and petite, to using more realistic mannequins and campaign imagery. Though Dorothy Perkins and Wallis offer each of these niche ranges, younger Arcadia shoppers are underserved.
Neither Miss Selfridge nor Topshop stock clothes over a UK size 18, and both only use slim mannequins and models instore and in their campaigns. It is crucial that they extend their sizing to widen appeal and project a more positive attitude towards body image.
While Arcadia has a plus-size specialist in Evans, the brand mainly targets shoppers over 35 and is undergoing competition from specialists Yours Clothing and SimplyBe, which continue to steal market share with their inspiring and broader fashion offers. Evans must inject more trend-led fashion into its offer to compete, and use its specialist knowledge to focus on fit and gain shoppers' trust.
The highly saturated fashion market means it is crucial that retailers invest heavily in marketing to capture shoppers' attention and drive 'top of mind' appeal. Many of Arcadia's competitors are skilled in this – campaign images for Quiz and boohoo.com are often advertised in tube and bus stations, Missguided and I Saw It First have both benefitted from acting as clothing sponsors for Love Island, while PrettyLittleThing's partnership with the E! entertainment channel means it is frequently promoted to its target customers.
Arcadia's brands have little visibility in comparison, even Topshop no longer presents its collections at London Fashion Week, despite the credibility it provided.
To stay relevant it is crucial that Arcadia invests into bolder marketing, which highlights each brand's personality, as well as fully using social media to better connect with shoppers, especially as the likes of Instagram are becoming shopping channels in their own right.
Arcadia has also fallen behind in celebrity endorsements. The Kate Moss range for Topshop was the height of cool more than a decade ago, and Dorothy Perkins' exclusive Kardashian Kollection enabled it to tap into a new customer base back in 2012; however these partnerships have taken a backseat in recent years, with Beyoncé's Ivy Park range even being pulled from Topshop last year. With new competitors like the Boohoo Group regularly signing up high profile celebrities, such as Jennifer Lopez, Ashanti and Paris Hilton, it is crucial that Arcadia invests in partnerships with the right influencers to elevate brand desire. This is especially important for its younger brands Topshop and Miss Selfridge, with over half (50.9%) of womenswear shoppers aged 16-24 being inspired by celebrities for their clothing choices.
As consumers' awareness of sustainability grows, clothing retailers have had to react quickly to acknowledge their responsibility in protecting the planet and take action. While retailers such as H&M and M&S have led the way with their sustainable initiatives, Arcadia's 'Fashion Footprint' programme has made few developments in recent years. Though Arcadia's brands have released small sustainable ranges, such as Topshop's vegan footwear collection and Miss Selfridge's eco denim range, the minimal options within these propositions have limited their impact. Rather than a token offer, embracing sustainability across core ranges is a must for Arcadia's brands if they are to compete with the likes of H&M.
The scandals surrounding owner Sir Philip Green over the last few years have already damaged the Arcadia group's reputation, which may leave some consumers hesitant to shop with its brands. Although it still collectively holds the fourth spot in the womenswear market – behind M&S, Next and Primark – Arcadia must be bolder in its investments to tackle the constantly changing competition, regain appeal and win back shoppers.