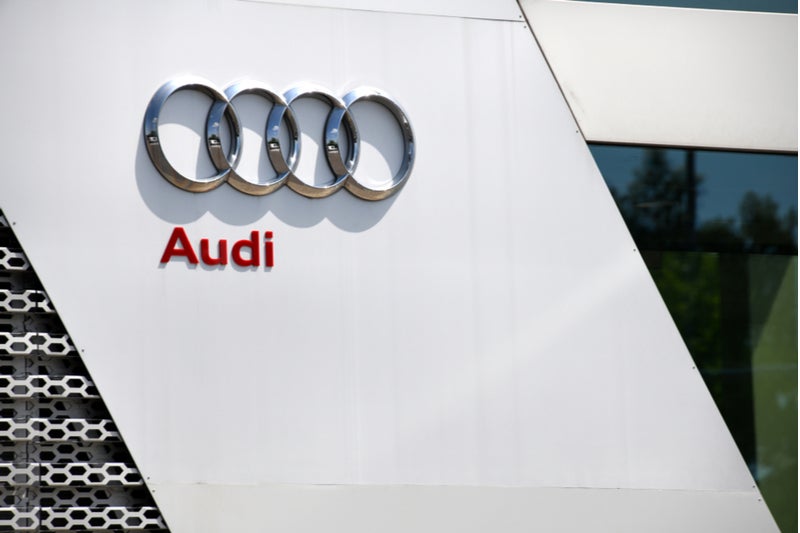 Car maker Audi plans to cut 9,500 shop floor jobs in a bid to free up more cash. Money is needed to make investments in electric vehicle development.
Job cuts such as this are a necessary evil for the automotive industry right now.  MarketLine data shows that the global market has experienced a weak 1.1% CAGR over the last five years.
Many manufacturers have also been hit hard by a sudden slowdown in demand from China. Only a year ago China was considered to be the premier growth source for the industry for years to come.
Freeing up resources to succeed in electric vehicles is now essential. The electric vehicle market is booming right now, with huge potential for growth.  Global sales grew by 60% in 2018 and are expected to grow by nearly 50% this year.
To fund research and development activities, Audi has agreed with the in-company union the General Works Council to reduce the size of the workforce over the next five years.
Audi intends to do this through the introduction of attractive early retirement plans rather than simply sacking people. This is an admirable approach that shows above all else a level of respect for its skilled workforce.
Investment is important for Audi to capture the electric market
Cutting costs is essential for good long-term prospects. Consumers are notoriously price sensitive and the car industry produces more cars than it sells, heaping pressure on prices.
Success with electric cars is critical if the company is to continue as a leading player in the automobile business.
Comparing the performance of electric car sales to the sluggish growth of the traditional market, It quickly becomes clear why car makers are betting so heavily on the segment.
Investing more into electric cars is essential to maintain market position
The segment of the current customer base with the greatest potential for growth in the future is millennials. These are an environmentally-aware demographic broadly opposed to fossil fuel usage.
Audi is well-positioned. Many consumers view the company as a respected and skilled developer of high quality vehicles. This also makes them a firm favorite of companies looking to source company cars.
Audi's decision to push greater investments into electric vehicles is not revolutionary. It was not the first car manufacturer to look into electric vehicles. However, major car makers are now beginning to put on sale entire ranges of purely electric cars.
In lowering business costs through staff reductions, Audi is ensuring its market position as a leading player is protected as the industry experiences great change.