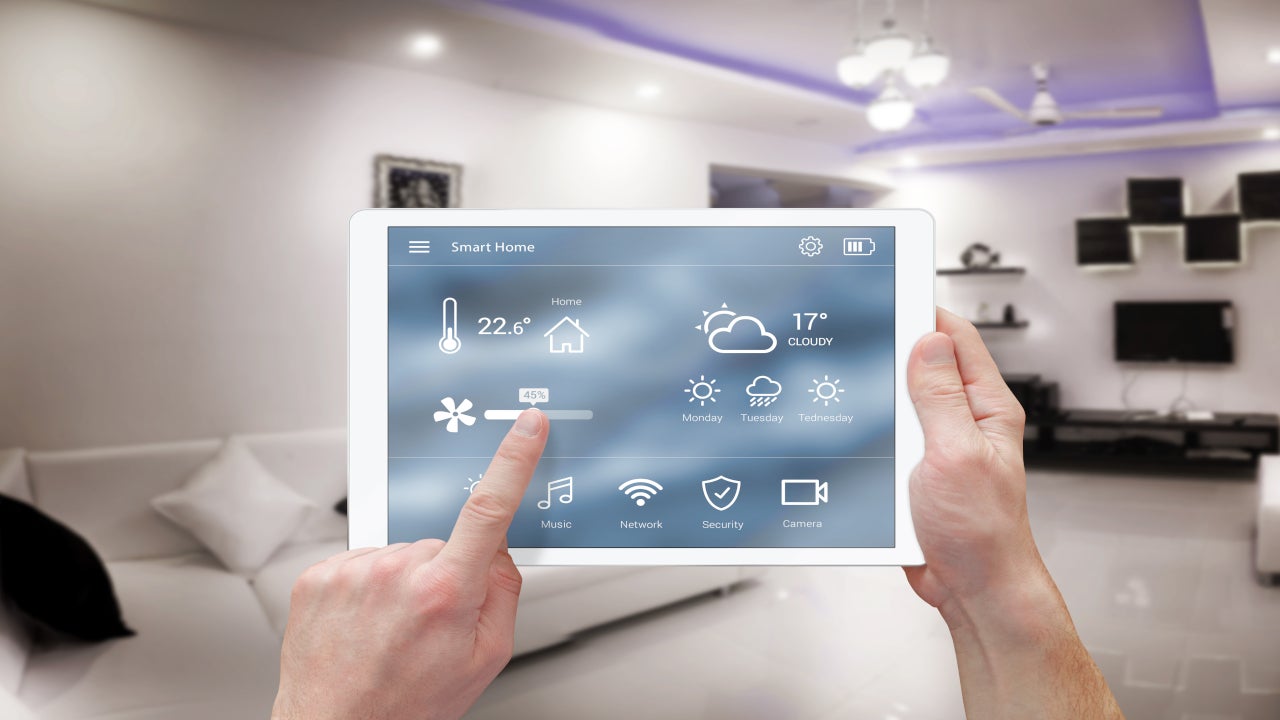 The automated home incorporates a range devices and appliances, including speakers, TVs, fridges, ovens, washing machines, thermostats, lights, and security cameras. These devices can connect with each other through a platform or hub, allowing users to control them either via an app or website or by using voice commands.
Technology trends
Listed below are the key technology trends impacting the automated home theme, as identified by GlobalData.
5G
The latest innovation in wireless technology is set to provide faster and more seamless connectivity for consumers; this upgrade may benefit automated home systems by providing one connection method for all devices, instead of having multiple connection points in one ecosystem. 5G also promises to work with lower energy demanding devices, which will provide users with an added benefit of a more sustainable automated system.
Artificial Intelligence (
AI

)

Devices with AI enabled programming can allow smart electronics to learn user routines organically and alter the behaviour of devices based on user needs. Heating, lighting, and security could be controlled independently of manual control to provide a more 'hands-off' approach to an automated home.
Internet of Things

(IoT)

The internet connectivity utilised in home automation devices is an important consideration for potential buyers, but the collection of data plays an integral role in modern day consumerism.
Robotics at home
Although currently limited, the availability of robotics at home will grow in the future as technology improves and they become increasingly able to perform household tasks. Activities like cleaning, cooking and security could be performed by robots, which also integrate into the automated home system.
Automated healthcare
Digital healthcare is a growing trend, and many smartphones and watches offer users the ability to monitor their heart rate, stress levels, blood oxygen and sleep. This data collection may be extended into home automation, to provide users with an added level of comfort by automatically monitoring vitals and connecting to emergency services in the case of a medical emergency.
Abandonware
Abandonware refers to software and hardware which has been ignored by its producer and no longer receives updates. As automated home systems rely heavily on cloud services, constant updates are essential to ensuring smooth operation and reliable security. While the big companies like Google and Amazon are unlikely to stop support of their devices, smaller businesses that struggle in the market may face this problem. Although home automation is a growing trend, the relatively small current consumer base may cause potential users to be apprehensive about buying from lesser known brands.
Cybersecurity
Cybersecurity is becoming an increasingly prevalent issue globally, with system breaches becoming more common as hackers use more sophisticated methods. As automated home systems become more prevalent and hold personal details, potential cyberattacks could be devastating as this would impact the consumer in the confinement of their own home. Manufacturers are increasingly using the best talent in the field of cybersecurity to ensure that their systems are fool proof and are able to withstand potential attacks from ransomware or other forms of malware.
The future of home automation
Whilst manufacturer delays on rolling out home automation devices is industry wide due to supply chain issues; the future adoption of this software looks positive even after Covid-19. Homeowners are constantly looking to upgrade their homes, where they're spending more time in, and will rely on IoT devices to do so. Some devices will see even higher rates of adoption than others, such as smart doorbells, allowing consumers to see and talk to whoever is at the door, at a safe distance.
Another category that will benefit is entertainment devices, as families stay at home and thus look for ways to keep everyone entertained. Nevertheless, the adoption of more integrated automated home systems will be slower than those of relatively inexpensive standalone devices. Currently, automated home systems are generally very expensive for the average consumer. Therefore, until the cost of manufacturing decreases, it can be expected that widespread adoption of the 'automated home' will be limited to singular devices such as a smart speaker.
This is an edited extract from the Automated Home in Consumer – Thematic Research report produced by GlobalData Thematic Research.