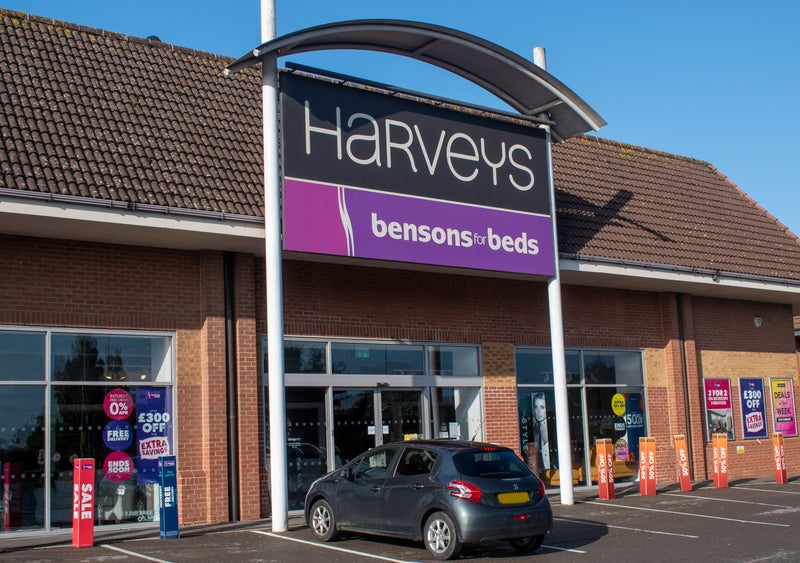 Harveys & Bensons were the latest dominos to fall in the challenging furniture market, both entering administration last month. While Bensons has been re-acquired by Alteri Investors in a pre-pack, Harveys remains in administration. Bensons' prospects are positive, but the bed specialist needs to invest in customer service and product design to catch the leading specialist, Dreams.
Of the two fascias, Bensons is the better performing and has greater potential. For the nine months to June 2019, Bensons revenue was flat, but orders through Harveys fell 6% as its lack of a clear proposition led to it being outflanked by the likes of DFS, ScS and Sofology within Upholstery and fewer shoppers considering it. Consumer survey data between Q2 2017 and Q1 2020 showed that consideration for Harveys was less than half the levels achieved at DFS in Upholstery, which contributed to its market share contracting by 1.2 ppts of share between 2014 and 2019 (and falling to sixth from third place).
However, Bensons positions itself as a sleep specialist, with Dr Sophie Bostock appointed as its sleep expert in December 2019. Bensons builds on the large number of mattress brands Alteri owned prior to the Harveys and Bensons' administration, such as Myers and Slumberland. Bensons will also continue to stock exclusive products from its Huntingdon factory which was acquired as part of the pre-pack. Bensons has also shown itself to be innovative with its offer previously, launching the adjustable test bed Comfort Station Adaptive in 2015 before developing it further as SleepPro in 2018.
Now free of Harveys, Bensons' initial focus must be on catching Dreams, which has spectacularly recovered since falling into administration in March 2013. A greater focus on customer service, product quality and store environment has helped the Mike Logue-led retailer go from 2.2 ppts behind Bensons in 2014 to overtake it as the leading bed specialist in 2019, with more bedroom furniture shoppers considering Dreams on average than Bensons in 2019. With Alteri set to invest £25m in Bensons, the areas it should focus on are customer service, delivery and product design, with findings from a 10,000-respondent survey showing it has trailed Dreams over the past two years in these areas.
Improving its customer service will further reiterate its move towards becoming a sleep specialist and separate itself from the non-bed specialists while enhancing design will capitalise on the growing trend of buying bedroom furniture to achieve a new look, which increased year-on-year in 2018 and 2019 as a purchase motivator. Using its social media to showcase its products in customers' homes, as DFS and Oak Furniture Land have done, is one way to showcase improved design and draw more consistent awareness and traffic to its website.