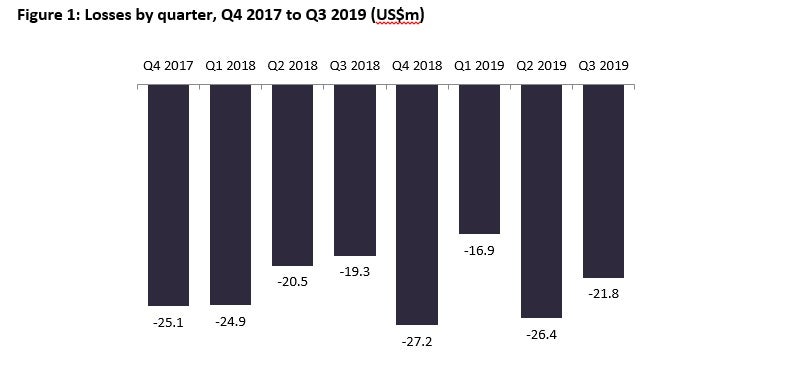 American mattress-in-a-box brand Casper is following Eve Sleep in going public with a gaudy valuation. While it promises to tap into the rapidly growing 'sleep economy', it is hard to see how it will avoid the same fate as Eve and become a nightmare for investors.
Casper touts a strong topline performance and an expectation that it can scale quickly in an expanding sleep market, quoting a market increase of 35.4% between 2019 and 2024 to $585bn in its IPO. Yet sales growth for the first nine months of 2019 more than halved on FY2018 levels, and improvements to its gross margin throughout 2019 have not filtered down to its bottom line as it remains deeply loss-making, with accumulated operating losses of $182.2m between October 2017 and September 2019. It is also highly unlikely to achieve targets it set in March 2019 of US$556m in revenue and a positive EBITDA by the end of 2019.
It is, therefore, challenging to see how Casper will be able to reach the US$1.1bn valuation it received in March, following $100m in fresh investment from existing backers such as Target, and avoid a similar fate to Eve which floated to great fanfare in 2017. While Eve's market cap reached £140m after going public, it underestimated the costs of international expansion, and its inability to scale down marketing costs caused its share price to crumble. The collapse of merger talks with Simba last year further contributed to this decline, leading to Eve's worth dropping to just £5.75m.
Casper's high marketing costs have been a significant barrier to profitability to date, with advertising spend a significant proportion of revenue (the brand spent US$422.8m between January 2016 and September 2019). Part of the brand's path to profitability is its belief that it can be more efficient with marketing spend as it gains in scale, and the proportion of spend did fall between Q4 2017 and Q1 2019. However, it rose in Q2 2019 to its highest level; and while this fell sequentially in Q3, it was still running at a higher rate than in 2018. Arguably, the infrequent nature of replacing a mattress, greater competition in the market and as it enters new territories will necessitate consistent marketing spend for Casper to stay top of mind.
The brand has strong international aspirations – it currently operates in seven countries and aims to enter a further 13 through either acquisition or partnership – but it is struggling to make headway in Europe as net EU revenues fell by 20.7% for the first nine months of 2019. In the UK, Casper sells through select John Lewis stores though sales were likely affected by the host's struggles this year. Prospective partners in the UK are also drying up, with bed specialists and online home retailers launching own-brands, and department stores losing resonance.
Casper's key advantage over competitors is that it has its own stores. There are 53 Casper stores in the US with a sales density of $1,600 per sellable square foot. Other mattress brands have been successful in running UK stores, with Tempur operating across the country, so Casper could replicate this strategy within the major shopping centres, though the high costs and low conversion rates may not generate high enough returns. Launching its own store network also brings into question how quickly it can achieve scale when entering a country as it has to find suitable locations and build an infrastructure.
It is also aiming to diversify into other products to drive revenues such as bedding and pyjamas, as well as medical devices and sleep aids, citing that 16% of its customers have bought twice or more. However, with the majority of these customers likely to be previous mattress shoppers returning to make much smaller purchases, such as bedding, it remains to be seen how much this will boost revenue.