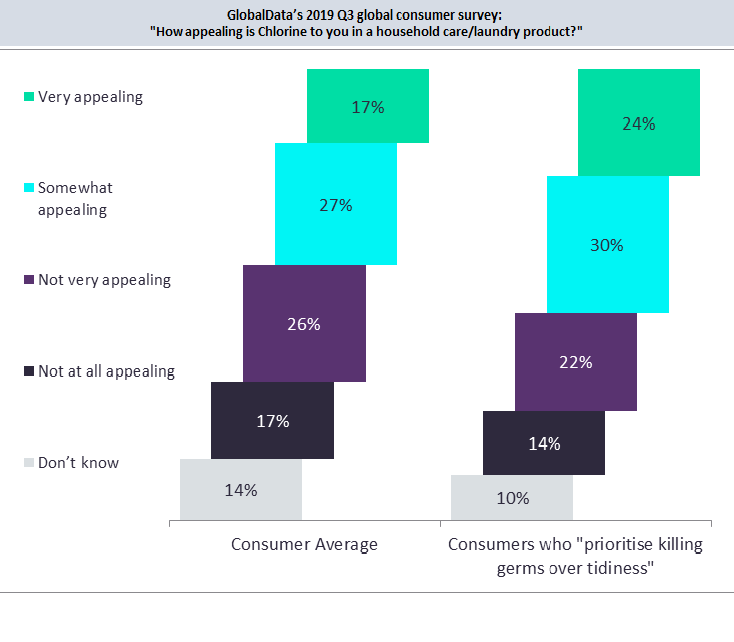 Consumers who prioritise germ-killing find chlorine to be more appealing than the average global consumer, which may suggest that, with growing health concerns around Covid-19, a surge in popularity for harsher cleaning chemicals is on the horizon.
The perceived 'naturalness' of ingredients in cleaning products is seen as important, as demonstrated by the 80% sales growth Tesco, one of the UK's largest supermarkets, experienced in its vegan / plant-based cleaning products last year. This is driven to a large degree by eco-consciousness and questioning the safety of the ingredients when it comes to direct skin contact and air pollution. One affected ingredient is chlorine, which is considered the least appealing in a list of household care / laundry product ingredients. Consumers generally prefer more natural-sounding ingredients such as lemon, oxygen or plant extracts.
However, consumers who prioritise germ-killing over tidiness rank chlorine as a much more appealing ingredient compared to the global average, with a 10 percentage point increase, according to GlobalData's 2019 Q3 global consumer survey. Hand sanitisers and cleaning products are selling out in a variety of stores globally, illustrating that germ-killing is on the forefront of the average consumers' mind, which may cause 'harsher chemicals', such as chlorine, to be seen as more appealing by the general public. The perceived efficacy of harsher chemicals in cleaning products underpins this, and may present an opportunity for brands. Marketing how effective cleaning products are in eliminating bacteria and germs is more crucial now than ever, as global concern over the coronavirus grows.