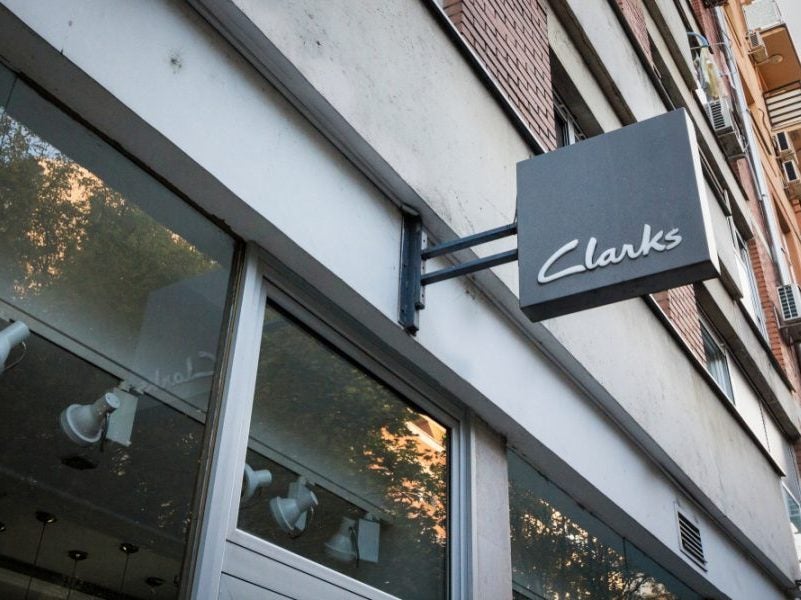 While the footwear sector will be one of the hardest hit by the Covid-19 pandemic, Clarks' problems began long before the current crisis. The retailer is reported to be planning to permanently close some of the stores it was forced to temporarily close in the UK due to coronavirus, and to have drafted in bankers for a financing review.
It had already brought in McKinsey to try to get the shoe retailer back on track, but with an excessive store estate, its core UK footwear market share plummeting and having fallen into the red, the management consultants had a huge job on their hands before the virus hit.
Clarks reported a net loss for the year to 2 February 2019 of £82.9m, and its performance highlights deep underlying issues which management have not addressed sufficiently. Clarks is in a typical mid-market squeeze: like M&S it is a heritage brand that has been too slow to adapt to a changing market, both in terms of product development and addressing the shift to online.
The main trend in footwear over the last five years has been the move to athleisure – people are favouring less formal shoe styles and spending more on big brand sports trainers. Clarks was the market leader in footwear up until 2016 when it was overtaken by JD Sports, and fell behind Sports Direct for the first time. Since then its market share decline has accelerated, as it has been unable to respond to the athleisure trend, showing a distinct lack of fashionability in its trainers and not enough marketing spend to reposition the brand effectively.
Clarks is not the only footwear specialist to have had a terrible time of it: both Office and Schuh were reported to be considering CVAs in summer 2019, during which Shoe Zone issued a profit warning. Earlier that year Treds, a small chain of 21 stores went into administration following on from the collapses of Jones the Bootmaker and Brantano in 2017.
Other than JD Sports, the only other major player making significant gains in market share is Amazon, up to 2.7% in 2019 from 2.4% in the previous year. Online penetration of the footwear market is estimated to reach 31.5% in 2020 (revised upwards due to Covid-19 impact), and we forecast this to rise to 35.1% by 2025. While Clarks is developing its online operation it is still way behind where it should be, click & collect takes up to five days, as does standard delivery, and you cannot view store stock online, which considering the tight control of store stock that shoe specialists have, is a bit of an own goal.
Across Europe Clarks' e-commerce operations sold 6.9% fewer pairs of shoes (net of returns) in FY2019 than in the previous year, despite visits to its websites increasing 4%. This indicates that the website experience of the product and its fulfilment options are falling behind those of its competitors.
At the end of its FY2019, Clarks had 521 stores in the UK (including concessions), and while it began a portfolio review in 2017, it really should have started the process of eliminating stores much earlier, as the channel shift over the last decade has not been a surprise to anyone following the market. Progress has been at a snail's pace, while it has shut some concessions it had the same number of full price store in the UK at the end of FY2019 as it did at the end of FY2018.
It seems clear that it needs to close more stores, and quickly. UK & ROI contributed £42m of profits in FY2019, down 46% on the previous year, but those profits do not include non-underlying and group items. If we were to share these costs out in the same proportions that each geography brought in revenue, the UK and ROI would be responsible for a fully-costed operated loss of around £50m. This points to a large number of stores being currently unprofitable.
The problem for Clarks is that exiting stores will cost money, and globally 26% of its lease obligations do not expire for at least five years. It was reported last year to be asking landlords for rent cuts of 30% on stores where it offered to extend leases, and even where it can secure this, it has to be confident that it can arrest the sales decline to ensure profitability over the course of a new lease.
Clarks also needs to reduce cost of sales and overheads, and while some work can be done with sourcing, it needs to invest in both products and the stores it goes forward with, otherwise it can only expect store sales to fall further. It cut staff hours in stores by 6.4% in FY2019 on top of a 9.4% cut in the previous year, and admits that scope for further cuts is limited. Cutting shop floor customer service is dangerous for a shoe specialist, given that there is no floor stock that they can access through to purchase. Each transaction requires staff help in locating and bringing shoes to try on, and many customers will walk out if there isn't someone available to help when needed.
On top of all these issues, Clarks has had to battle boardroom unrest. Former CEO Mike Shearwood was sacked for inappropriate behaviour in June 2018 and while he lost the ensuing employment tribunal, he lodged a claim in the High Court against Clarks for breach of contract, alleging that the board had been misleading the family shareholders. New CEO Giogio Presca started in March 2019 and has solid experience in the industry having worked at many clothing brands as well as five years as CEO of Italian footwear brand Geox, which, like Clarks, has focussed more on comfort than fashion. The bringing in of McKinsey suggested a preparedness to step out of his comfort zone though, and make some major changes to the business.
Should Clarks have to resort to a CVA or even administration, Covid-19 will no doubt be blamed. But the truth is that a lack of decisive action over the last five years has put another much loved British retailer in a weaker position than it should be to withstand the current crisis.