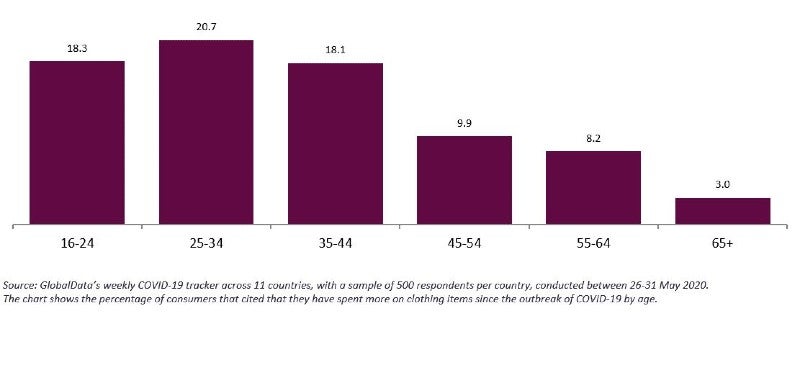 While clothing has been the retail sector worst hit by the Covid-19 crisis and lockdown, as consumers deprioritise non-essential items due to economic uncertainty and a lack of social events, 19.3% of global consumers aged 16-44 cited that they have bought more clothing since the start of the outbreak, compared with only 7.4% of over 45s. Therefore, players targeting this younger market must keep shoppers engaged as lockdown restrictions start to be eased, through online incentives and inclusive marketing campaigns.
Though 16-44s already had a higher tendency to purchase clothing online before the outbreak, almost a fifth have spent more time during lockdown browsing retailers' websites to keep themselves occupied as they stay at home during lockdown. Online clothing purchases have also served as a treat, and helped to uplift younger consumers' moods throughout the pandemic, especially for those that have continued working and have had more disposable income, due to cancelled holidays and social activities. Retailers have been implementing new incentives to capitalise from this, with retailers like H&M and Zara providing free delivery on all orders, and ASOS offering flash promotions to boost impulse purchases. Multichannel players should also start to offer exclusive products via their websites to encourage digital spend even once physical stores start to reopen, while loyalty programmes and delivery saver schemes will also help to drive more frequent orders.
As the end of lockdown and social distancing begins to near, retailers are likely to experience the greatest uplift in trade from younger demographics, as they seek new clothing to wear for future events. Therefore, they should start to adapt their social media strategies accordingly, by gradually incorporating fewer stay-at-home outfits into their posts, to provide more inspiration for upcoming gatherings. Retailers must also ensure that their marketing campaigns are fully inclusive, as those that display diversity and promote the Black Lives Matter movement resonate more strongly with young consumers.
While consumers' have been showing less interest in trend-led pieces amid the pandemic, 16-44s are likely to quickly regain their desire for fashion-focused products. Though fast fashion players will benefit from gradually increasing the regularity of new ranges as restrictions are lifted, retailers must adapt their levels of newness for each of their markets, as shoppers in countries like Italy and South Africa have shown a much lower demand for clothing amid Covid-19, than those in markets such as China and UAE. As 25-34s have had the highest demand for clothing throughout the pandemic, retailers should ensure that they continue to provide options for young professionals seeking comfortable clothes to wear while working from home, as it is likely that most will not return to the office until the end of the year.
Free Whitepaper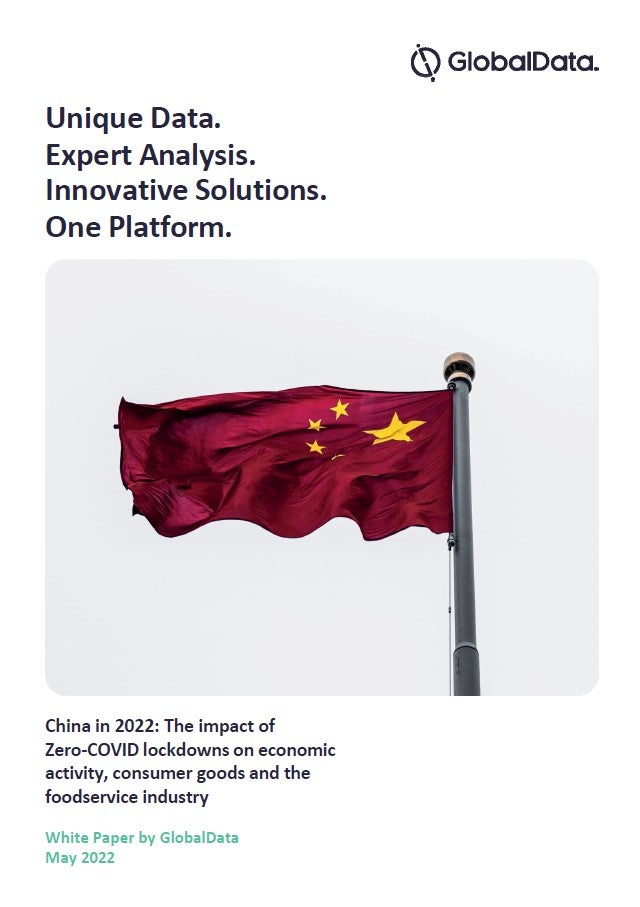 What is the impact of China's Zero-COVID lockdowns on economic activity, consumer goods and the foodservice industry?
While wanting to protect the country from being overwhelmed by Omicron, China's adherence to a Zero-COVID policy is resulting in a significant economic downturn. COVID outbreaks in Shanghai, Beijing and many other Chinese cities will impact 2022's economic growth as consumers and businesses experience rolling lockdowns, leading to a slowdown in domestic and international supply chains. China's Zero-COVID policy is having a demonstrable impact on consumer-facing industries. Access GlobalData's new whitepaper, 
China in 2022: the impact of China's Zero-COVID lockdowns on economic activity, consumer goods and the foodservice industry
, to examine the current situation in Shanghai and other cities in China, to better understand the worst-affected industry sectors, foodservice in particular, and to explore potential growth opportunities as China recovers. The white paper covers:
Which multinational companies have been affected?
What is the effect of lockdowns on foodservice?
What is the effect of lockdowns on Chinese ports?
Spotlight on Shanghai: what is the situation there?
How have Chinese consumers reacted?
How might the Chinese government react?
What are the potential growth opportunities?
by GlobalData