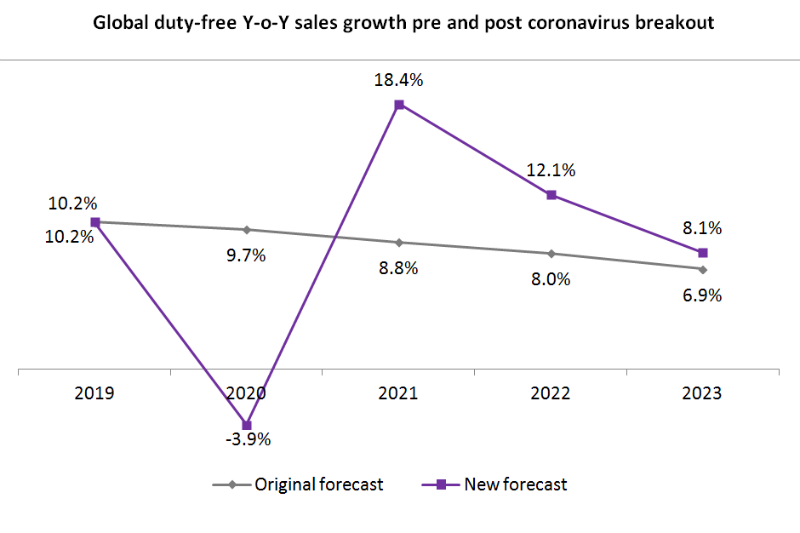 GlobalData expects coronavirus (2019-nCoV) to wipe $9bn off the global duty-free market in 2020, equivalent to a 12.4% fall versus our pre-crisis forecast. Luxury brands and cosmetics operators in major duty-free markets will be the biggest losers given their reliance on high-spending Chinese consumers, highlighting how overexposed the duty-free channel is to one key purchaser group.
While it remains difficult to forecast the full impact that the novel coronavirus will have on the duty-free market, we know that in the short term, sales in China and other markets in the APAC region such as South Korea, Macao, Hong Kong, Thailand, Taiwan and Japan will be significantly hit in Q1 due to the high level of Chinese tourism in these locations. 92.5% of the $9bn reduction comes from the APAC region due to the size of the duty-free market in South Korea and China; $5.5bn will be lost from South Korea's 2020 forecast and $1.5bn from China's.
Key airports to be hit include all domestic and international airports in China, Seoul's Incheon Airport, Singapore's Changi Airport, Hong Kong International Airport, Haneda Airport and Narita Airport in Tokyo, while many downtown, port and cross-border duty-free stores in APAC have temporarily closed. Markets elsewhere will also be hit in terms of duty-free spending, but to a lesser extent, including France, Germany, Russia, Switzerland, the UK, Italy, the US and Canada as these all receive high numbers of Chinese visitors. We expect sales in Europe to fall by $422m versus our original forecast (-2.4%) and by $143m in the Americas (-2.0%).
The crisis will force duty free operators worldwide, but particularly Shilla, Lotte, Shinsegae and China Duty Free Group, to evaluate strategies and identify other consumer groups and markets to target to help offset a weakening in revenue.