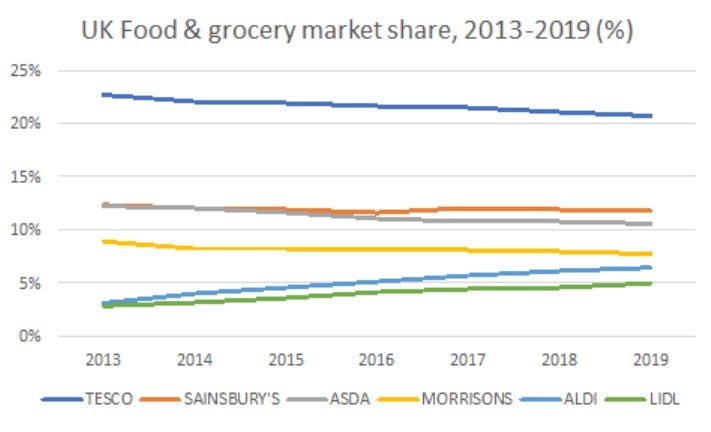 The long speculated board changes at Sainsbury's have finally arrived with CEO Mike Coupe retiring in July to be replaced by Simon Roberts who is currently its retail and operations director. While the press release making the announcement is so gushing about Coupe that this appears an entirely amicable change, the failure of Coupe's attempt to merge the supermarket with Asda last year did seem to be the beginning of the end of his time there.
Coupe had already integrated a major acquisition in Argos and was seen as a deal maker. When the CMA ruled out the Sainsbury's-Asda deal it also effectively ruled out the possibility of any further significant M&A activity in the UK grocery market, and the board, and indeed Coupe himself, may have logically concluded that he was not the best man to focus on an organic growth strategy.
Coupe's misjudgement of the mood of the CMA will be something he will be remembered for – it was not only an expensive folly but during the investigation, the board took its eye off execution, with product availability issues becoming very visible.
Coupe will no doubt be wondering what might have been – Sainsbury's would have overtaken Tesco as the market leader, and its stated plans to use its increased buying power to slash prices would have shaken an already highly competitive market.
Coupe joined at a time when arch-rival Tesco was on the ropes (poor sales and a damaging accounting investigation), but the emergence of Aldi and Lidl meant that Sainsbury's was not in a position to take full advantage. While Sainsbury's market share fell during his stint, it is important to note that its decline was less pronounced than any of its Big 4 rivals (0.6ppts between 2013 and 2019, compared to Tesco 2.0ppts, Morrisons 1.7ppts and Asda 1.1ppts).
Coupe's Argos acquisition always looked strategically sound, and in terms of cost savings has been executed well, but top-line progress has been very disappointing. There is no doubt that it has made Argos a slicker, more convenient retailer to use, but when it comes to general merchandise convenience, it goes head to head with Amazon, whose Prime offer has become impossible to match.