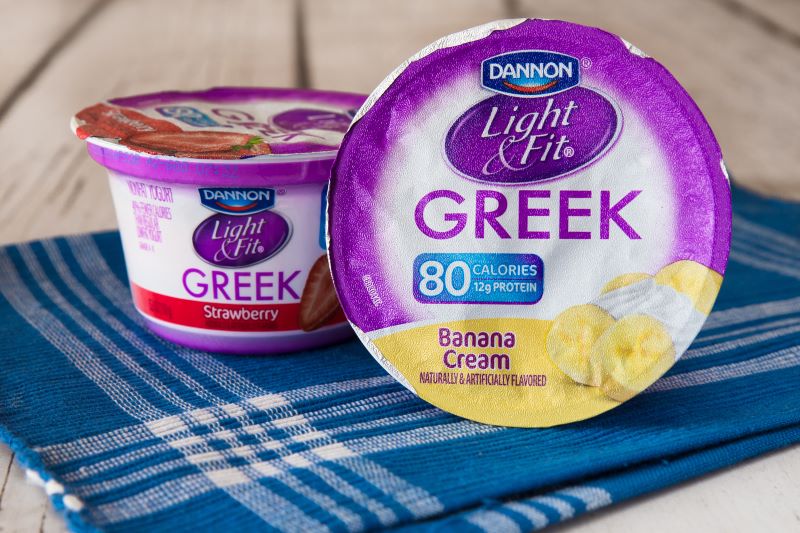 Danone has recently expanded its Dannon Light + Fit range in the US in collaboration with Dress for Success, a global non-profit employment resource for women, highlighting the company's efforts in corporate accountability and commitment to gender equality in the workplace. The new release also taps into the health and wellness trend due to its low fat and high nutrition, appealing to health conscious consumers who are inclined towards products that have clear 'better-for-you' positioning, particularly in the dairy category, which has historically been marred by associations around high fat content.
This new Greek yogurt is available in two new flavours, namely, Lemon Cream and Orange Cream . By choosing these widely popular flavours, Danone has blanket appeal over its consumer base to focus on its ethical position over flavour innovations. Danone counts on its high reputation and influence to distribute its products on many retailers' shelves and online sites. This will be in its favour against start-ups or indie brands.The product claims to be low in sugar, low in fat, and gluten-free. It is also fortified with 12 grams of protein, and will cater to those consumers who are concerned about their calorie intake and physical health. As a result of the Covid-19 pandemic, people have been more cautious about what products they consume in order to maintain a healthier lifestyle. According to GlobalData's Q3 2021 consumer survey, 72% of US consumers are somewhat, if not very, interested in 'low fat' food and drink claims. Additionally, 'low sugar' and 'low salt' also garnered considerable responses at 71%*, respectively.
Danone is promoting inclusive behaviours within the organisation and set a target to include a large number (30%) of women executives by 2020. The company reached 42% of female directors by the end of 2019, showing that Danone achieved its 2020 target. It also reflects its commitment to diversity within the business and its leadership. Danone has focused on inclusive diversity since 2019, when it published its position paper and was paying attention to promoting gender equality, nationalities, and inclusive behaviours. By emphasising these commitments, the brand allows for the creation of a fair workplace for everyone, and it might also increase productivity and provide a good work environment, where everyone's opinion counts.
The collaboration with Dress for Success further adds to these social initiatives, with aims to increase awareness of ongoing gender inequality, and to help women achieve economic independence around the world. Danone has provided $1000,000 to fund its mission as part of the company's ethos to create a better future for the next generations and supporting social causes. Consumers are increasingly more attracted to brands that align with their beliefs and are involved in social initiatives, as highlighted by GlobalData. In a recent survey, 63%* of people in the US found gender equality extremely or quite important.
There is an increased demand for products that provide extra nutrients and help to maintain physical health. This trend is booming, and Danone knows how to combine a product with health claims with a high interest in gender equality. Furthermore, the new release is timely, aligning well with the upcoming Women International Day (WID) in March.
* GlobalData's Q3 2021 consumer survey