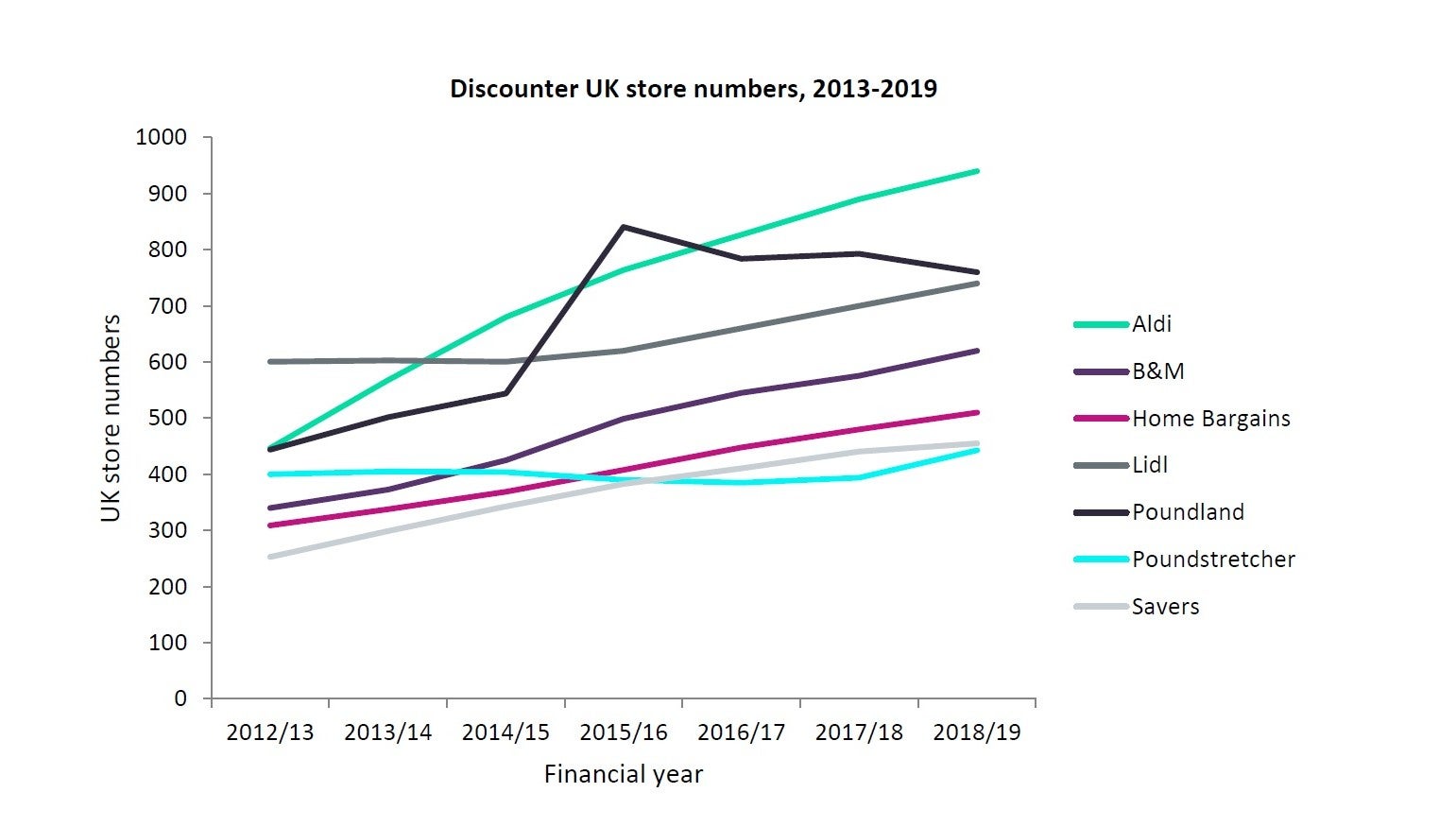 Rapid expansion is a key theme among UK discounters and this will inevitably lead to cannibalisation within the market, as spend becomes more thinly spread between a larger number of stores. There is already a gulf separating the success stories of B&M and Poundland, which continue to report commendable like-fot-like (l-f-l) growth from those such as Poundstretcher, which are struggling to compete in the increasingly crowded market.
Between 2013 and 2019 Aldi opened over 490 stores in the UK, while Poundland opened almost 320 branches. This rapid expansion will continue to characterise the discounters. Aldi plans to have 1,200 UK stores by 2025, while both B&M and Home Bargains have ambitious UK store targets of around 1,000. Though the discounters are well-positioned to capitalise on the current wave of high street closures and consumer appetite to trade down, physical expansion must be carefully planned and should not come at the expense of investing in existing stores.
Many discounters are struggling to maintain l-f-ls, as they prioritise expanding their physical store portfolios, relying on this to drive overall growth. This means older stores are often neglected, leading to shoppers switching either to newer stores or to more appealing stores of competitors. Poundstretcher, for example, suffered a 2.5% dip in total sales in FY2017/18 to the end of March – despite an increase of a net nine new stores and relocations to larger format stores during the period, as it failed to invest in improving the instore environment of the bulk of its c.400 existing stores.
Expanded product ranges and existing store investments will prove advantageous for discounters
Switching between the discounters appears increasingly likely, as many continue to diversify their product ranges – meaning that consumers now have more choice. Poundland, for example, has expanded its homewares range by introducing more trend-led items, increasing pressure on Home Bargains, while B&M's growing presence in chilled and frozen food puts it in more direct competition with Aldi and Lidl.
Those discounters investing in their existing stores, adapting to changing consumer demands and managing their portfolios more carefully are stealing shoppers from their less attentive rivals – protecting them from becoming victims of cannibalisation, at least for now. B&M achieved a 3.9% uptick in l-f-ls in the first quarter of FY2019/20, despite opening 12 new stores, as the retailer's investments in improving visual merchandising and increased focus on trend-led products paid off.
Poundland's approach is also sensible. The discounter carefully manages its portfolio, focusing on relocations  – having capitalised on the closure of Poundworld stores – as well as expansion in European growth markets as it matures in the UK. Poundland reported a 1.7% increase in European revenue in the six months to 12 July 2019, despite only increasing store numbers by 0.5%. These strategies will help these retailers survive in the increasingly competitive discount market.