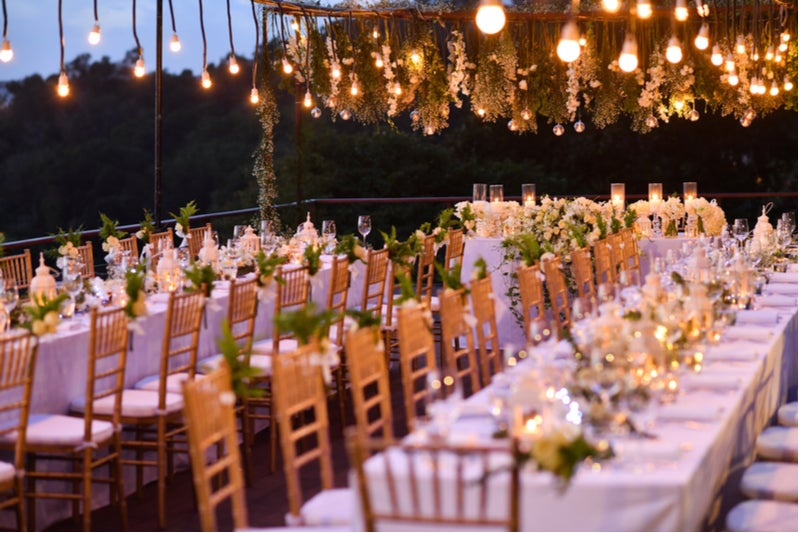 Social media and the rise of the wedding hashtag are encouraging couples to purchase decorations and create highly personalised "Instagram-able" event spaces, which encourage wedding guests to take and share photos of 'the big day'.
Retailers have responded with ranges of decorations such as lights, bunting, table decorations and photo-booth props accordingly, but as competition intensifies, they must remember that shoppers are seeking such products to give a unique and personal touch to the celebrations.
According to GlobalData's monthly survey of 2,000 respondents, conducted in June 2019, 13.3% of consumers have purchased wedding decorations (excluding plants and flowers) from retailers in the past year – a number not far behind the 14.2% who have purchased novelty items for hen and stag parties. Many retailers including grocers and discounters now offer ranges of decorative items to meet this demand, while notonthehighstreet.com's wedding styling page returns over 2,000 results including Instagram-friendly backdrops, wreaths, room signs and decorative letters.
The Range uses a flower arch in-store to draw attention to its offer of decorations for weddings, which include candles, confetti, oversized decorative cocktail glasses and centrepieces. Sainsbury's and Next also offer table decorations, candles and confetti, as well as wedding-related homewares. Sainsbury's range of decorations also includes a "memory box" of heart-shaped wooden chips, as an alternative to a guest book.
Among shoppers of decorations for hen parties, stag dos and weddings, the most frequently cited reason for their purchases was to give a personal touch to the occasion, with this being more important than seeking a cost-saving or wanting to keep the item as a memento. Social media and photo-sharing apps are likely to be a contributing factor, as "Instagram-able" decorations show off the organisers' creativity, as well as giving the event a personal touch.
Providing unique and differentiated products is therefore vital for retailers to tempt such purchases, and this will become increasingly important as more retailers respond to the DIY wedding trend, and crowd the market with their own ranges of decorations.