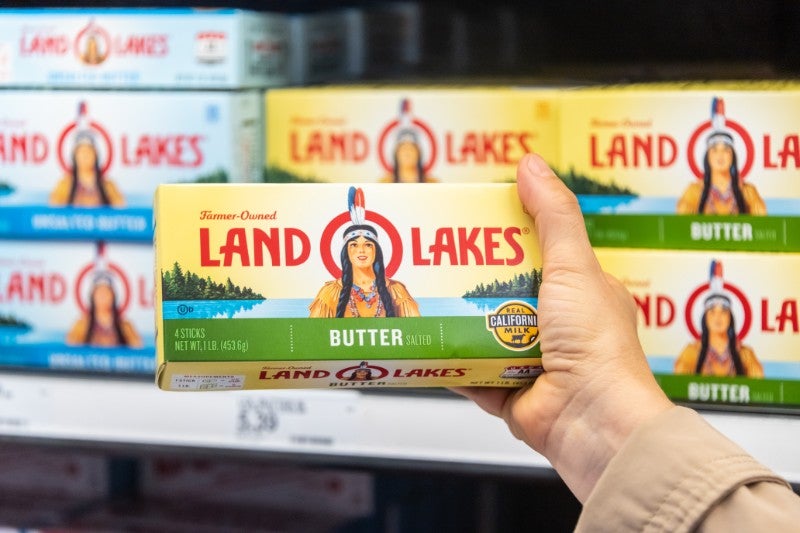 The impact, both in the United States as well as internationally, of the Black Lives Matter movement, the wider prevalence of entrenched racism and need to confront it more systematically, is having a direct effect on the activities and imagery associated with FMCG brands. Historical trademarks and brand iconography are now being viewed more critically from a racial stereotyping perspective, with brands taking action that previously had been deferred.
Back in April 2020, US butter brand Land O' Lakes redesigned its packaging, in the process removing the stylised Native American girl that had formed a centrepiece of its emblem since 1928. The revised design now features images of real farmers and co-op members that supply Land O'Lakes, emphasising the 'Proud to be Farmer-Owned' slogan. This move enacted a long overdue reassessment of the racial stereotype that had been criticised many times in recent years, with North Dakota State Representative Ruth Buffalo, also of the Mandan, Hidatsa, and Arikara Nation, describing it as 'depicting Native women as sex objects'. However, the company still failed, at the time, to publicly attribute the design change to any move to address the racial undertones. Brands were still shying away from admitting racism in historical branding.
This was prior to the 25 May death of George Floyd and the subsequent nationwide (and international) protests against police brutality and societal racism. After the protests began and spread like wildfire, a new, much more forceful societal dialogue began in the US and elsewhere with respect to entrenched racism and particularly white unawareness of its pervasiveness. The videos of police heavy-handedness and violence against peaceful protesters and journalists, and the divisive posturing of the Trump White House rammed home a new message about needed changes in society and how racial stereotyping and historical imagery is also a key part of the problem.
FMCG brands are most definitely not exempt from the need to reflect on their own behaviour and visual messaging. This appears to have resonated forcefully, with major brands beginning to very publicly take action to break ties to historical racist branding.
PepsiCo moved in mid-June, announcing that it was to scrap the Aunt Jemima breakfast brand, in existence for 130 years. The branding featured a black woman based on a minstrel character – which PepsiCo admitted was an historical racial stereotype. Colgate also took action in late-June, stating that it would 'review and evolve' its leading Chinese toothpaste brand Darlie, a brand formerly called 'Darkie', translating to 'black person toothpaste'.
Brands are also now distancing themselves from the iconography, terminology and general association with the Confederacy and the American Civil War, the imagery of which, along with elements of the social and racial ideology around the so-called 'Lost Cause' and segregation, Jim Crow laws, etc., has persisted into the present day. For example, New Orleans' oldest brewer, Dixie Beer, has announced that it would be changing its name to remove any persisting connotations of slavery and related-Deep South history.
Removal of racially insensitive or outdated caricatures from branding should be a priority for FMCG brand owners. Majority opinion is clearly now on the side of the need for change. However, it is still disturbing the degree to which brands have largely failed to proactively police themselves and show leadership and awareness by changing brands previously. It has taken the recent explosion of protest and discussion over racial discrimination to force brands to take a look at themselves and how they wish to be perceived going forward.
This fuels questions over the authenticity of such moves. As GlobalData questioned in June, while brands often acted quickly and decisively to respond to the threat of Covid-19, contributing in various ways, there was a period of initial silence in the face of the Floyd / Black Lives Matter protests. This has been criticised as demonstrating inertia in acting, as well as opportunism.
It is thus important for brands to communicate genuinely and openly about problematic historical branding and choices, own those problems, and publicly make changes. The cost of rebranding or replacing a long-standing product may be less than the damage inflicted by being on the wrong side of the argument over racism in diverse, modern societies.