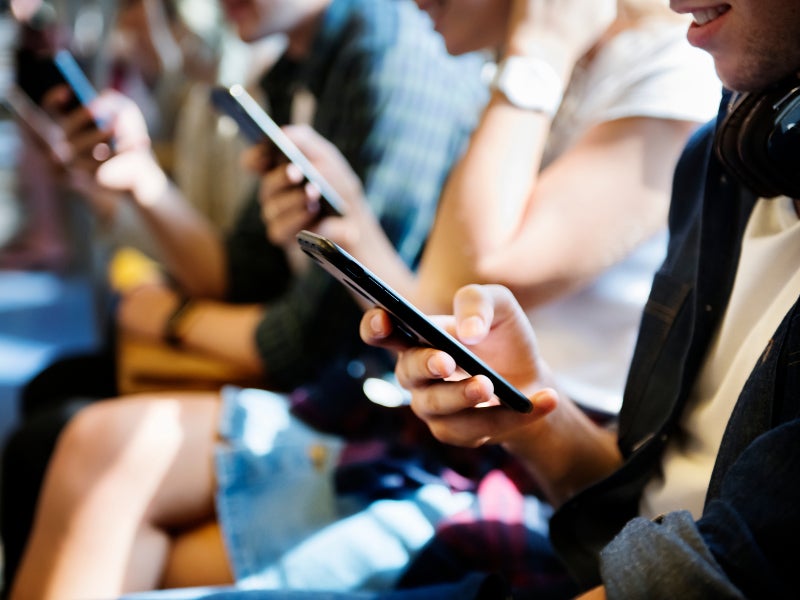 Major retailers are opening pop-up stores and hosting events such as concerts in-store to attract Generation Hashtag shoppers, as they prefer experiential shopping and are inclined towards store events that can be shared on social media platforms.
Top retail trends in generation hashtag
Listed below are the top retail trends in generation hashtag, as identified by GlobalData.
E-commerce
The e-commerce market has been witnessing exponential growth over the past decade. The major growth contributors of e-commerce growth include Generation Hashtag shoppers who are avid users of online shopping. Generation Hashtag are great users of social media and leverage these platforms to gain product knowledge and make informed purchases. These customers demand a store-like shopping experience from ecommerce. They refer to price-comparison websites such as MySmartPrice and BuyVia to find the websites that sell the desired products at the lowest prices. In 2018, Walmart unveiled 3D virtual shopping on its website to enable customers to browse products in a virtual apartment.
Retailers are also adopting autonomous vehicle technologies to provide seamless delivery services. In June 2018, Kroger, a US-based supermarket chain, unveiled plans to deploy driverless vehicles to fulfil online grocery order deliveries. The retailer launched a pilot programme in collaboration with Nuro, a Silicon Valley-based technology company, which developed an autonomous vehicle for online order deliveries.
Delivery options
Retailers are adopting innovative technological solutions including drones, autonomous vehicles and robots to fulfil online orders. In 2018, China's e-commerce giant Alibaba began using driverless robots called G Plus to deliver online orders to secured e-lockers that can be opened by customers using facial recognition. This enables retailers to save time and costs incurred on last-mile deliveries.
Similarly, in June 2019, Walmart began testing driverless cars for transporting goods between its warehouses to reduce shipping costs and improve efficiencies. As part of the pilot plan, Walmart partnered with Gatik, a start-up that operates self-driving trucks and taxis, to connect its warehouses and stores with autonomous vehicles that would transport the goods.
Loyalty schemes
Generation Hashtag shoppers are very conscious about selecting a retail loyalty programme. Unlike older people, who prefer discounts and reward points, Generation Hashtag shoppers are inclined towards experiences, customer engagement and convenience. Therefore, retailers are launching innovative loyalty programmes that are targeted to appeal to the young generation shoppers. In April 2019, Ascena Retail Group, the owner of premium clothing brands such as Ann Taylor, LOFT, Lou & Grey, Ann Taylor Factory, and LOFT Outlet, launched the 'ALL Rewards' loyalty programme to attract young customers. The loyalty programme allows customers to register for free. They can then choose bonus points days, birthday gifts, and other exclusive rewards.
Payment systems
Generation Hashtag shoppers prefer to use mobile wallets like Paytm, Apple Pay, Google Pay, WeChat Pay and Alipay for payments. They are also keen on payment methods such as facial recognition and biometrics. In January 2019, Russian supermarket chain Azbuka Vkusa partnered with Russian banking and financial services company Sberbank to enable customers to pay for purchases using fingerprint identification at Telpo biometric point-of-sale terminals in Moscow. To use the service, customers are obliged to link their fingerprint to a Visa or Mastercard bank card. Subsequently, during the checkout , customers can scan their fingerprint and enter a password.
The popularity of cashier-less store formats is growing among Generation Hashtag shoppers. Many renowned retailers are launching cashier-less store formats to attract this demographic. In February 2018, WeChat, China's most popular messaging application, partnered with Tencent, a Chinese technology company, and rolled out its first ever unstaffed convenience store, We Life, in Shanghai, China. The convenience store offers various product categories including WeChat merchandise under a cashless transaction model.
Physical experiential retail space
To provide experiential shopping to generation hashtag shoppers, retailers across the globe are adopting the latest technological innovations in stores. These include virtual reality (VR), AR, smart mirrors and other store-based mobile applications. For example, in June 2018, H&M, a Swedish clothing retailer, installed a voice-activated mirror at its New York City flagship store. The mirror offers personalised product recommendations to customers by simply scanning a QR code displayed on the mirror.
Similarly, in July 2018, US fashion retailer Guess partnered with Chinese e-commerce giant Alibaba and unveiled an interactive concept store in Hong Kong. The store features smart racks and smart mirrors to provide an engaging shopping experience to its young customer base.
Social media presence
The popularity of social media platforms among Generation Hashtag is driving retailers to use these platforms to sell their merchandise. Retailers are partnering with influencers to increase their brand visibility and appeal. For instance, Lego, a Danish toy retailer, ran a pop-up store in London in the second week of February 2019 to promote its newly launched limited-edition clothing line. Customers were only allowed to shop for products using the Snapchat application on their smartphones. Similarly, Macy's, a department store chain based in the US, partnered with BBDO New York to launch an innovative beauty campaign, Deeper Beauty, aimed at promoting its wide range of beauty merchandise.
Sustainability
Generation Hashtag shoppers prefer to buy sustainable products. Given their tech-savvy nature and connectedness, they share product details with their peers. As a result, retailers have adopted social or environmental practices to gain a significant young customer base. Walmart, Patagonia, Whole Foods, Tesla, and The Honest Company are some examples. A number of companies including Kering, Gucci, Reebok, and adidas are adopting sustainable methods. In 2018, Reebok launched its first shoe with a bioplastics sole, an eco-friendly alternative to the petroleum-based rubber and foam soles.
This is an edited extract from the Generation hashtag in retail– Thematic Research report produced by GlobalData Thematic Research.