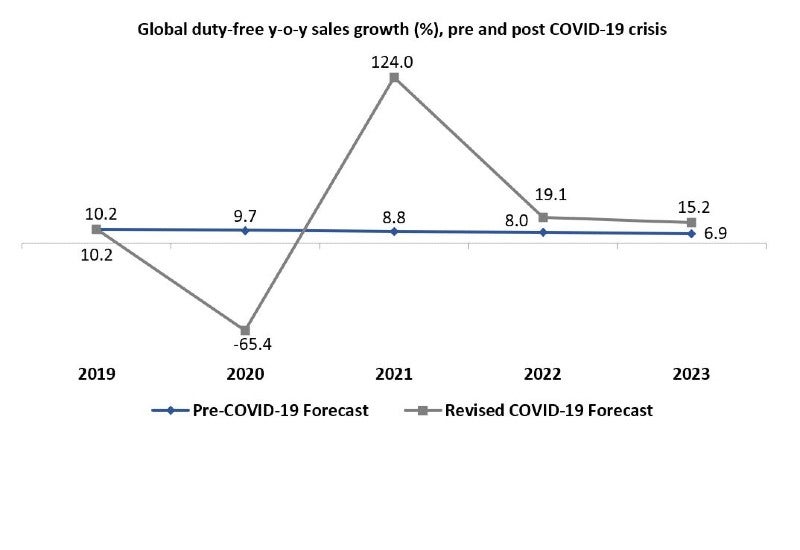 GlobalData forecasts Covid-19 will wipe off $49.5bn from the global duty free market in 2020, a 68.4% drop versus our pre-crisis market size and a 65.4% decline on 2019. While lockdown procedures across the globe are gradually being lifted and replaced with social distancing and personal safety measures, the global duty free market will be the last retail channel to see a return in traffic and pick up in demand.
The APAC region will see the largest monetary fallout, losing $29.4bn from its original 2020 forecast, with the world's largest duty free market, South Korea, suffering a $15.3bn drop to $7.1bn, largely due to the reliance on Chinese visitors. Travel routes started to reopen between the two markets in mid-May, but these are extremely limited and Beijing's current second wave of the virus could lead to a temporary closure of China's travel corridor with Seoul, hindering its recovery further.
The duty free market in Europe will be the next biggest loser, followed by the Americas and then the Middle East & Africa, with spend reducing by $11.4bn on 2019. Market recovery in Europe is based on travel starting to pick up from June and July, but this will be very minimal at circa 5%-10% of what overseas visits would have been, with some borders remaining closed and strict quarantine measures deterring non-essential travel. Even by the end of the year we do not expect duty free spending to exceed 50% of what we had forecast for 2020 pre-crisis.
Sales will rebound by 124.0% next year, but spend will only reach 65% of what we originally forecast for 2021. Passenger numbers will remain lower than 2019 and the weak global economy will restrict what these consumers are willing to spend on discretionary goods. Moreover, we anticipate longer processes and checks at airports to limit the time consumers have traditionally spent browsing retail, while necessary changes to promotional strategies, product displays and space allocation are likely to impede operator and brand sales densities.
As the largest channel, airports will suffer the greatest revenue losses, but the cruise duty free market will see the steepest percentage decline in 2020 and have the slowest recovery. It will take time to restore consumer confidence in booking cruise holidays, with operators postponing the commencement of schedules due to weak demand and port closures. A vaccine against coronavirus will be essential in returning the cruise market to the high growth it was experiencing before the pandemic. Downtown formats will perform slightly better than overall market, with these stores concentrated to the APAC region, which will rebound faster, and since fewer consumers will be travelling overseas they will be more inclined to shop domestically at these stores.