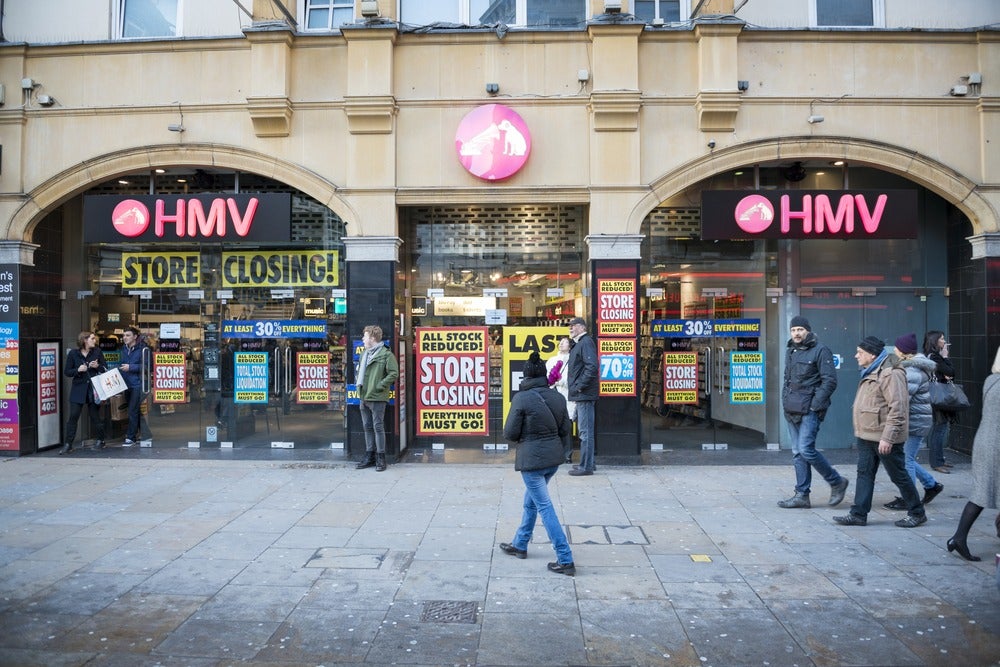 After entering administration for a second time, HMV's prospects for survival, amid adverse market conditions, are not strong.
HMV had hoped to avoid being put under insolvency management for the second time in six years but this has proved difficult with digital disruption taking hold across the retail sector and dwindling numbers of bricks and mortar entertainment stores.
Owners Hilco Capital said the music brand had filed for insolvency after disappointing Christmas sales, with shops on the high street experiencing a 3% drop in footfall. HMV suffered more than most with revenue dropping 7.8% during 2017. HMV actually outperformed the majority of the physical entertainment industry, increasing its market share to 31% and 23% of physical music and DVD's respectively, for the same period.
HMV insolvency
Accountancy firm KPMG has taken on the task of finding a buyer for HMV or alternatively closing the company down. During such a troubled time in the retail industry, KPMG will struggle to find a suitable buyer; if they do, the chances of a buyer reviving the music retailer look unlikely.
Poor retail conditions
HMV must find a buyer if it is to recover, but KPMG will struggle to find one given the outlook for physical stores in the music retail sector, nonetheless, KPMG has received several offers, it said.
Any company taking over HMV will struggle because the company is already a strong market leader in physical entertainment retail, meaning expanding sales will be difficult.
Hilco Capital, a British international company that specialises in restructuring and refinancing failing companies, saved HMV from its first administration in 2013. Six years on, the HMV is in a worse position than before.
Given that a company specialising in failing businesses failed to keep HMV afloat after six years, the chances a new buyer will be able to unlock value in the brand appear slim. At a minimum, HMV will need an investor with deep pockets and a fresh a strategy if it stands any chance of recovery.
Worse still, business conditions in the wider economy are not expected to improve over the course of 2019, deterring potential bidders.
Digital markets have lured consumers away
Loss of consumers to large online companies such as Amazon makes winning them back an exceptionally tough task. At present no obvious route to raising brand awareness sufficiently enough to persuade consumers to return exists, suggesting a downward trajectory for the firm.
The evolution of digital entertainment and streaming is responsible for HMV's decline. In 2017, digital revenue accounted for 54% of the music industry, which saw physical revenue decreased 5.4%.
HMV is not the only retailer to struggle in recent times as the wider industry has been plagued with rising business costs and reduced consumer confidence, fuelled by a drop in the value of the pound caused by Brexit.