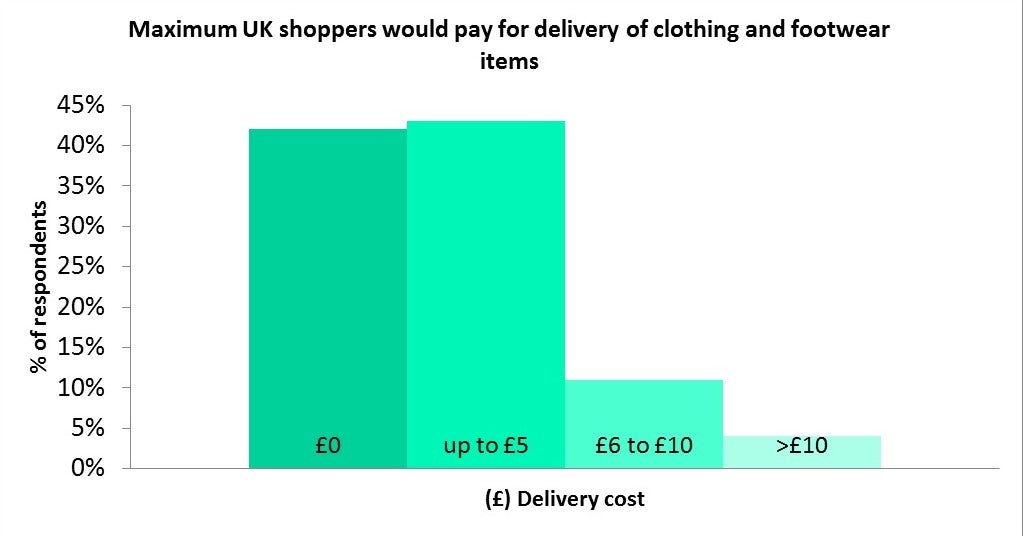 One of the key drivers of rapid growth in clothing and footwear online spend is prompt, convenient and inexpensive fulfilment. However, by reducing delivery costs and times, retailers have raised consumers' expectations.
A GlobalData survey demonstrates that 42.0% of consumers would not be prepared to pay for fast home delivery, while an additional 43.3% would only be willing to spend up to £5. This emphasises the importance for retailers to offer a free delivery option and to avoid setting delivery costs over £5 to maximise conversion.
Retailers must ensure that minimum basket value thresholds are in place for free delivery to ensure economic viability. But they must also consider that if the basket value is too high and difficult to reach, customers may be put off at having to spend so much. New Look, for example, only offers free delivery on orders containing full price items totalling over £100, otherwise standard home delivery costs £3.99, potentially alienating shoppers who may have purchased if the threshold was lower.
Additionally, 43.3% of consumers indicated that they would be prepared to pay a maximum of £5 to receive an order quickly, whilst only 15.3% of consumers are willing to pay more than £5. Retailers must ensure they do not charge more than this. Introducing a delivery saver scheme may be a viable option, as it can reduce cost per delivery for customers, usually if they place three or more orders, but can also be an effective method to encourage loyalty. Retailers, such as JD Sports and boohoo.com have offered saver schemes for a number of years. Now, more retailers, such as Topshop are getting on board offering unlimited delivery for a year for £9.95.