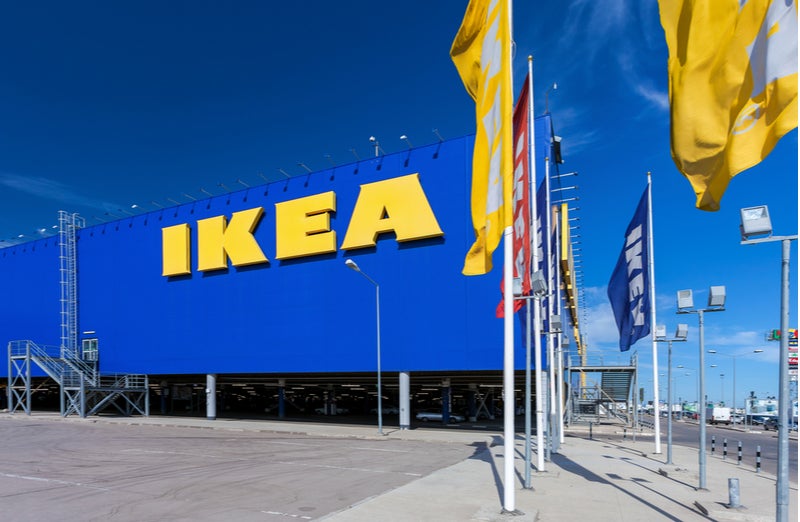 Swedish group will invest $1.4bn to boost China rollout online and offline.
IKEA plans to open several stores in some of the most populated regions of China to reverse a negative sales trend.
The Swedish furniture leader has thrived on the Chinese market for over 20 years, with the market accounting for 6% of company revenue in 2017. But recently, under pressure from both e-commerce and bricks and mortar rivals, Ikea has struggled to retain its market share.
Large physical stores, once appealing for the general public in China, may be less appealing to the current working population that typically has less time to shop. Chinese retail has also digitised rapidly, meaning many customers are now familiar with e-commerce shopping.
Against this backdrop, the renowned furniture retailer has opened a product development centre in Shanghai, as well as announcing the opening of small-format stores shortly. Moreover, competitors offer more Chinese-oriented product lines, which could also be driving away costumers from the strictly Scandinavian design that dominates Ikea ranges.
Chinese move is part of a wider trend to reform Ikea
Plans to expand in China come after another bold move to reclaim market share in Ikea's third-largest market of France. Ikea recently opened its first store in Paris, which will be followed by openings in Lyon and Nice.
At the same time, Ikea will turn existing large-format stores situated at the outskirts of major cities into distribution centres to continue developing the e-commerce arm of the business.
Customer data will play a key role in the future success of Ikea. Although the Swedish company has traditionally stuck to the furniture and home appliances business, the acquisition of TaskRabbit in September 2017 was more than a profit purchase. Through that operation, Ikea monetises both the purchase and assembly of the item, as well as offering a reparation service. But the main value of TaskRabbit will be the data the community-based tech will collect for Ikea to use for the development of new products.
Currently, the online freelance labour marketplace is only available in major cities in the US, Canada and the UK. Should Ikea benefit from the data gathered through TaskRabbit, it seems clear that the furniture retailer will try to implement a similar structure in China. The Scandinavian giant is also working on a digital co-creation platform that would allow consumers to participate in the product development process, as well as providing key insights about Ikea products already in the market.