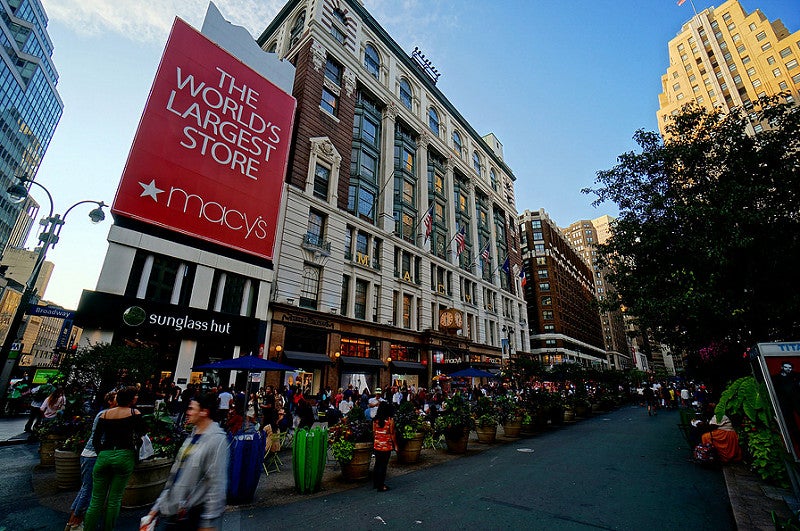 Department store company Macy's Q3 2018 results revealed very healthy financials, but the retailer must continue to reform to restore investor confidence.
After three years of store closures, Macy's investors are being reassured no further shuttering will occur despite the drop in share price following the release of financial results. The company claims savings are being reinvested into the remaining 650 outlets as the company seeks to boost profitable stores.
Despite higher than expected earnings per share ($0.27, 12 cents up on forecasts) and reported revenues of $5.4bn and $62m profit, the share price has been in gradual decline throughout much of 2018.
To recapture past fortunes, Macy's must keep its brand image strong by finding new ways of interacting with consumers. New smartphone apps, including the Mobile Checkout, will help. Customers can photograph an item's barcode in-store and pay for it via their smartphone. Other features are also being implemented to pull consumers through shop doors.
Smart technologies will enhance the company's business model because customers will wait less time queuing, reducing the need for extra staff. Lower costs and improved consumer experiences help demonstrate to investors that the company can continue to grow.
Slimming down stores will aid further growth
Macy's long-term strategy features three stages. Eleven of the company's flagship stores will remain, while in 2019 50 medium-large size stores will be known as magnet stores, increasing to 150 in 2019. The remaining stores will operate as neighbourhood stores.
However, operations across the chain will likely be downsized, despite CEO Jeffrey Gennette claiming that is not the company's plan.
The scale of the company's plans to drastically alter such a large amount of store space could actually promote growth as bricks and mortar stores struggle in the retail sector, while online retail thrives.
Holiday season should invigorate sales
Short-term trading conditions will help the company resist threats from online retailers. US unemployment is the lowest the country has seen since 1969, which should have a knock-on effect on consumer spending throughout the holiday period.
In Q4 2017, the company made its highest profits for five years, which with the company's strategic initiatives, could very well be emulated in 2018.
To restore share price value, investors will need to see the company's debt reduced or a share buyback scheme instigated. For that to happen, the confidence expressed by the CEO regarding future trading activity must be seen in sales.