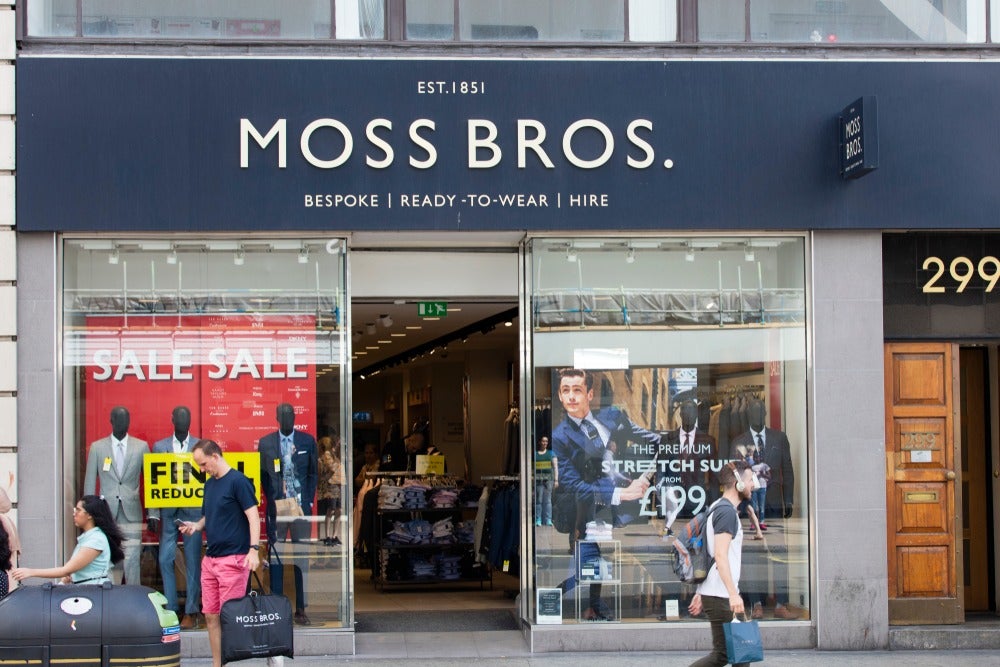 A generational divide is growing over formalwear, with males under 45 less likely than their older counterparts to wear suits for key occasions such as weddings and christenings.
Moreover, only a minority of males from all age groups are still choosing to wear suits in the workplace. Suiting specialist Moss Bros found full-year 2018/19 challenging, with like-for-like sales falling 4.3%, so the retailer must recognise and adapt to this change in behaviour to avoid becoming irrelevant.
Suit-wearing occasions across male consumers by age
Note: The chart shows the proportion of male consumers that said they would wear a suit to the given occasion. Source: GlobalData monthly survey, March 2019.
Though the majority of males would still choose to wear a suit to a wedding, only 58.9% of males aged 18-34 agreed compared to 81.3% of over 45s. This sentiment towards suiting is also evident when it comes to workwear. Though our data shows that younger men are more likely to wear suits to work, compared to the over 45s, this proportion is still low at just 40.6% for males under 45, as social norms change and more businesses operate smart-casual dress code policies.
To avoid further share erosion, Moss Bros needs to use its own sub-brands, such as Moss 1851 and Moss London, to create desire across the varying demographics through targeted styling preferences.
Outfit building advice via social media showcasing more modern and fashionable looks, particularly in occasionwear ranges, and creative in-store merchandising will help to attract the younger shopper. The brand should also increase its presence on third-party sites ASOS and Amazon to attract a wider customer reach, as well as utilise the opportunity to take occasionwear and workwear sales from Debenhams, which is closing stores.