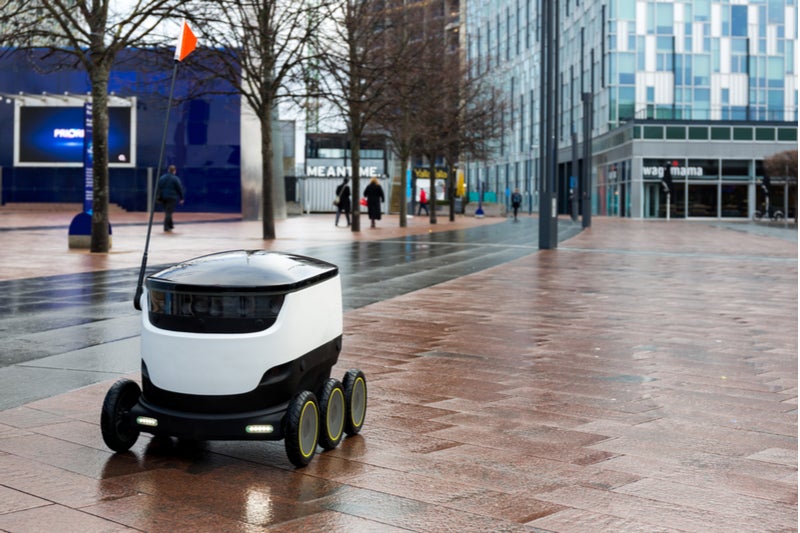 Online food delivery is recognised as having growth potential for consumers and one with disruptive potential for the foodservice market, according to GlobalData. But if its take-up is to be taken seriously, obstacles will need to be overcome as a recent grocery delivery experiment in the UK has shown.
AI in Milton Keynes
A trial in the UK, currently underway in Milton Keynes, Buckinghamshire, by UK food retail chain Co-op has recently employed a small army of self-driving robots to take deliveries from its grocery warehouse to customers' doorsteps.
The six-wheeled vehicles use pavements and footpaths and travel at 4mph, carrying a maximum weight of about 10kgs, within a specific catchment area. The onboard technology – which includes GPS tracking and ultrasonic sensors – allow the robotic vehicles to navigate around obstacles, according to local media reports.
An online order can take anywhere from 15-30 minutes to deliver depending on location and retailer. With Tesco – another retailer to have experimented with 'ground drones' in Milton Keynes – times have been recorded as little as 15 minutes, whereas with the Co-op this can take up to half an hour.
This innovation aligns with GlobalData's Q3 2019 UK consumer survey, which revealed that 70% of consumers find food and drink products that claim a low-carbon footprint to be "somewhat or very appealing".
But robots are unlikely to replace traditional consumer purchasing and delivering habits overnight.
Consumer convenience
While the technology removes the chore of having to pop to the shops for urgent supplies, a boon among time-pressed consumers, some ordering restrictions may prevent wide consumer appeal. The service may only be relevant for those deliveries are not urgent and can afford to wait, it does not cover hot beverages and is only currently available for small deliveries within a specific location.
There are also delivery restrictions – vehicles may get caught up in unfavourable weather, struggle to manage obstacles such as bollards and the delivery of age-restricted items may prove problematic.
These impediments may weaken consumer confidence in choosing online delivery at checkout.
Infrastructure and competition
Despite proving a success in Milton Keynes, a 2018 UK soft drinks market insight report by GlobalData, showed that home delivery only accounted for 0.1% of the total 86% retail channel – a minimal amount compared to other trade channels.
It's worth noting that the Milton Keynes success story – based on its up-to-date pavement conditions making it ideal for testing – has emphasised robotic delivery as the next frontier in automation and retail services.
However, retailers need not fear an imminent threat just yet, as this service requires level pavement infrastructure and would be particularly difficult to achieve in a larger catchment area. Also, competition in the delivery space from the likes of Amazon is considerable.