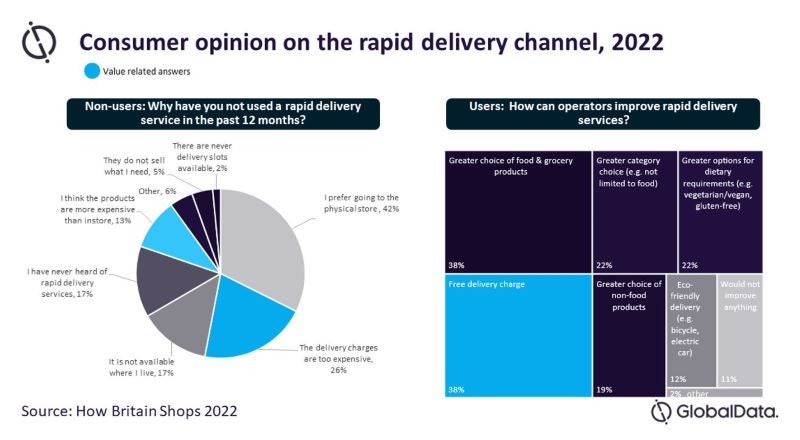 Rapid delivery services have shaken up the food and drink market and are becoming a more serious challenger to less convenient, traditional grocery shopping channels. However, the immediate threat remains small, with many British shoppers, 44% of those 10,000 surveyed, yet to use any rapid delivery services. With a large segment of the population still to convert, and the potential of rapid delivery losing traction in a post-pandemic world, brands must invest in solidifying and promoting their value proposition.
The rapid delivery channel is an expensive channel for consumers, both in terms of product and delivery cost, so as the cost-of-living continues to rise and shoppers are forced to cut back, rapid delivery spend is at risk. This is particularly so given the channels' shopper profile, which is skewed towards younger consumers, with 82% of 16–24-year-olds having used rapid delivery services (compared to 18% of 55–64-year-olds) and the highest penetration across social grades being in the C2 category* (54%). Young people and C2 shoppers are among the most affected demographics for trading down shopping strategies in light of rising grocery prices, forcing Q-commerce operators to improve value credentials to avoid customer desertion.
There is more operators could do to add value to the proposition, to not only acquire new customers but to improve the loyalty of infrequent users. Loyalty schemes (with 'pay for 5 deliveries, get the 6th free' promotions), price match schemes on essentials, private label offerings, and investing in product quality to justify price points some of the ways to do this. Gorillas has launched several own-brand lines, covering 50 products in 11 of the most demanded categories in June 2022, providing customers with access to cheaper alternatives to branded options.
Meanwhile, Deliveroo, one of the UK's most popular rapid delivery service used by 16% of the UK audience in the last 12 months, introduced an unlimited free delivery subscription for £3.49 a month in 2021, which can be added to its 'Plus' service. Incorporating these perks as part of a subscription model ensures that it is used by families, couples, and group households to order more regularly and make larger orders, making it more affordable and accessible during a period of squeezed grocery budgets.
*Social class definitions
AB: Higher & intermediate managerial, administrative, professional occupations
C1: Supervisory, clerical & junior managerial, administrative, professional occupations
C2: Skilled manual occupations
DE: Semi-skilled & unskilled manual occupations, Unemployed and lowest grade occupations