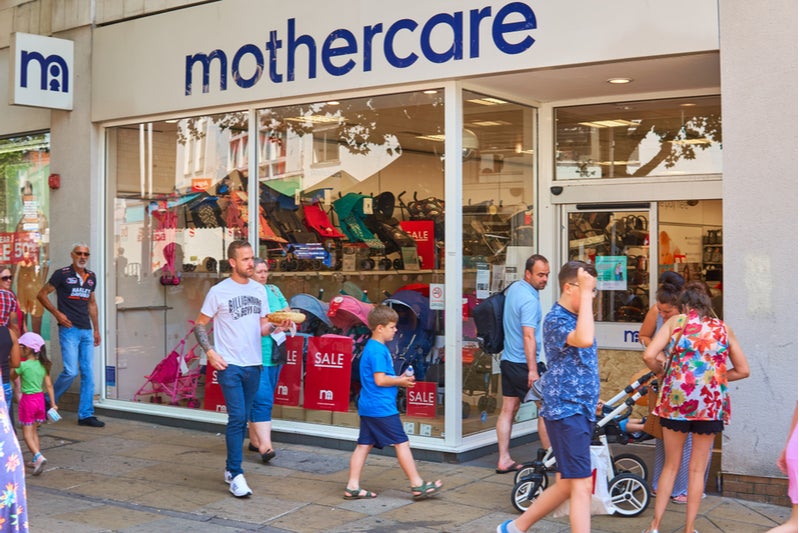 The folding of the UK baby and maternity retailer was a necessary step for Mothercare, with the company stating that its UK stores were "not capable of returning to a level of structural profitability and returns that are sustainable for the group".
The collapse of Mothercare is reflective of an increasingly troubled UK high street and follows numerous other instances of high-street brands disappearing. 
Collapse was unavoidable
Mothercare had desperately been trying to save its UK operations through a range of cost-cutting measures as part of a turnaround plan. This included the closure of 55 stores following a company voluntary arrangement (CVA) in June 2018, as well as the sale of its Early Learning Centre business earlier this year. About 200 jobs were also axed from its head office. 
However, plans to turn the business around have been unsuccessful and the folding of the UK arm of the business has become inevitable. 
In the financial year to March 2019, the retailer's UK operations suffered a loss of £36.3m, while the international business generated a profit of £28.3m, which means the closing of its UK operations will allow the company to concentrate on the profitable international markets.
Mothercare latest victim of wider UK retail trends
Operating hundreds of stores across the UK, Mothercare had been a key retailer for new parents, but in a now-familiar tale, the company failed to keep up with changes in shopping habits as did not adjust well to an influx of competitors. 
Competition has intensified as supermarkets, fast-fashion retailers and online retailers, including Amazon, have all widened their product offerings, including clothing for babies and children. What is more, these retailers have often undercut prices charged by Mothercare.
Mothercare has also suffered as consumer spending has increasingly shifted online and business rates have risen. The retailer was slow to adapt to the rise of online retail, allowing the competition to steal market share. At the same time, Mothercare stores remained lacklustre and unappealing to consumers. 
The retailer has joined a growing list of British businesses that have been unable to escape the woes of current high street spending trends. 
2019 has proven difficult for a number of retailers, with Debenhams closing 22 branches, Monsoon and Accessorize placing 30 stores at risk of closure, and Marks & Spencer pressing ahead with axing 145 outlets. It is unlikely that Mothercare will be the last in this saga of high street gloom.