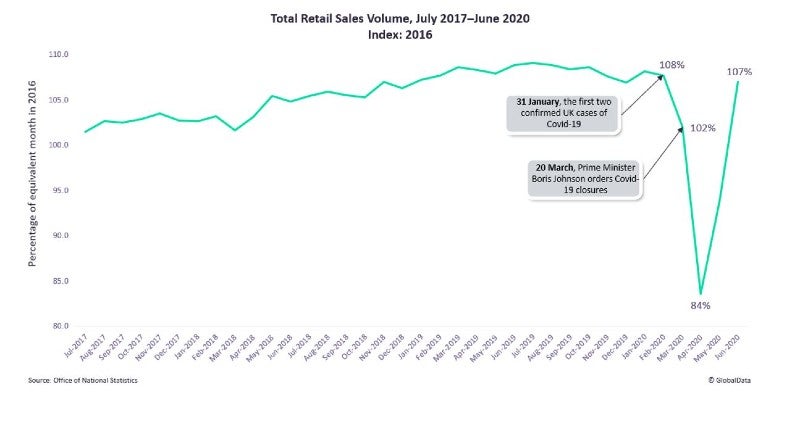 UK retail sales bounced back, close to pre-Covid-19 levels, revealing the desire for British consumers to get back to business as usual. The key to targeting this group will be to engage with their optimism.
According to the UK's Office of National Statistics (ONS), the volume of retail sales increased by 13.9% compared to May in June 2020, bringing total sales to a level comparable to what was seen before the Covid-19 pandemic. The ONS also reports recovery in food stores and non-store retailing, with food sales volume up 5.3% and non-store retailing 53.6% higher than February. Online spending dropped 1.5pp to 31.8% in June, which remains substantially higher than the 20.0% reported in February. This is all welcome news to UK retailers, and suggests that consumers are still willing to spend.
According to GlobalData's Covid-19 recovery consumer survey (week 4), 44% of UK consumers are extremely concerned about the economic situation facing the UK. The official number of payroll employees fell by 2.2% (649,000) compared with March 2020, and vacancies only number an estimated 333,000, suggesting that the immediate economic shock hasn't necessarily run its course. However, the new evidence from retail sales is positive; if the cash is flowing, companies are being paid and this keeps jobs viable, which in turn encourages people to spend.
Many critics of lockdown claimed that the economy was unlikely to recover quickly, suggesting that the costs might outweigh the benefits. Many in the UK establishment believed herd immunity was the way to progress and delayed the imposition of lockdown. In many ways, Covid-19 and the lockdown have forced many companies to innovate their offerings, retool and adapt to challenging market conditions. As lockdown restrictions are lifted, the positive news should incentivise brands to engage more with consumers and broadcast their successes.
Going forward, stores and brands should impress on the consumer that they are safe in their stores and with their products. Stores should focus on marketing the steps they are taking to prevent the spread of Covid-19, but also engage with the local community to build a better future. This means community-focused support through local charities such as food banks or by supporting local schools by donating equipment. Pro-environment and pro-science stances will be important, as will detailing how the company is fighting carbon waste. Timely campaigns on the need for affordable childcare and opposing racial or sexual discrimination from a non-aggressive 'solidarity' standpoint will help to convince the consumer that they are helping to make the world better.
The world is ready for some good news, and enterprising brands can deliver it.