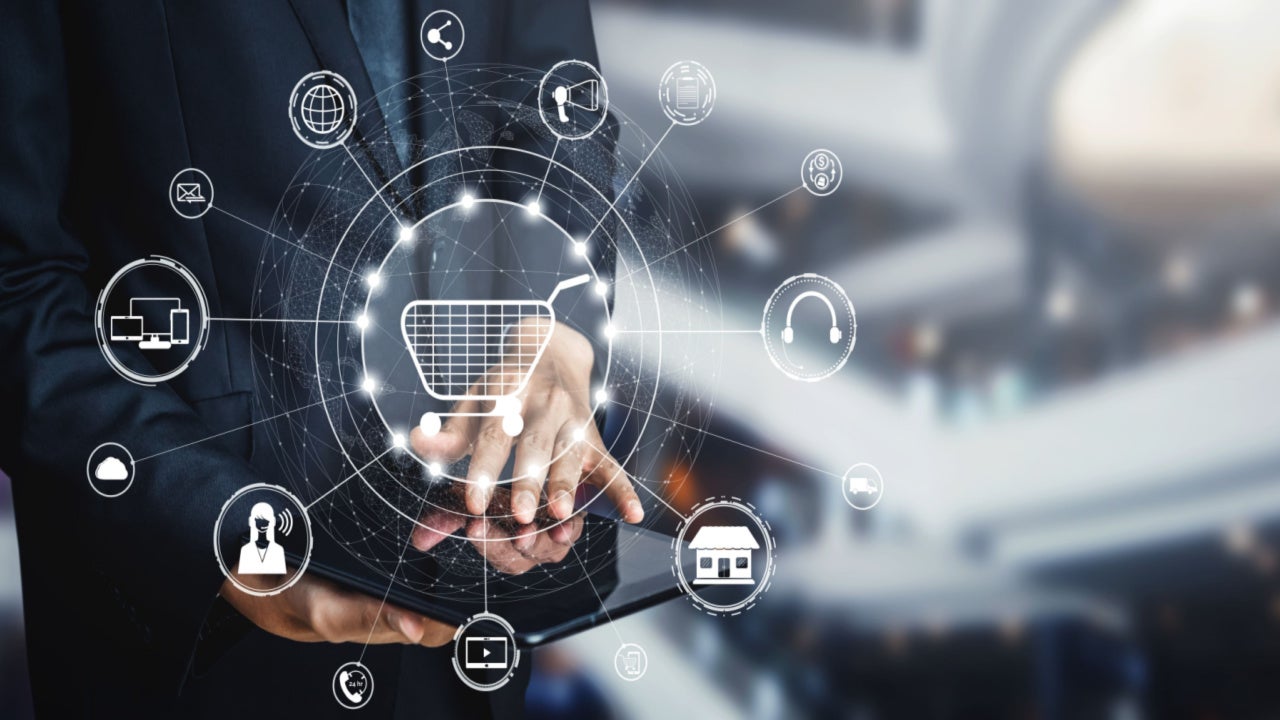 Retail Insight Network lists the top five terms tweeted on retail tech in May 2022, based on data from GlobalData's Retail Influencer Platform.
The top trends are the most mentioned terms or concepts among Twitter discussions of more than 170 retail tech experts tracked by GlobalData's Retail Influencer platform during May 2022.
1. Retail E-commerce – 332 mentions
Growth of headless commerce in the e-commerce sector, unknown growth strategies of popular e-commerce platforms, and start-up Fly looking to give machine learning (ML)-powered tools to stay-at-home power resellers, were some of the popularly discussed topics in May.
Mike Schiemer, creator of Bootstrap Business, an advertising services company, shared an article on nine reasons why headless commerce is growing in the e-commerce sector. The article detailed that a headless commerce platform uses a headless commerce architecture, which detaches the front-end from the back end or the head, offering content through application programming interfaces (APIs) and allowing store owners to completely control the look and feel of the front end. It is faster and quicker than traditional e-commerce platforms, and allows businesses to create highly customised offerings through modern technologies.
Some of the major factors driving investments in headless commerce start-ups include the growth of segregated online shopping experiences, shift towards mobile shopping, growing demand of omnichannel experiences, the need to customise experiences, rise of chatbots and artificial intelligence (AI), growing demand for cross-border commerce, need for improved customer services, the need for personalised experiences, and the growing importance of big data, the article noted.
The term also trended in an article shared by Jeff Bullas, a digital strategist and founder of consulting firm Jeffbullas.com, on the secret growth strategies of online marketplaces such as Alibaba, Amazon, and eBay. The Covid-19 pandemic forced businesses to shift from traditional brick and mortar stores to online e-commerce stores, the article detailed. Some of the lesser-known successful growth strategies of large online retailers lie in their business models, customer policies, acquisitions and mergers, seller-friendly policies, technologies leveraged by the companies, and revenue streams.
For instance, Amazon's growth relies heavily on the company's competitive edge of its fulfilment and delivery services. With a market capitalisation of $800bn, it is now twice as huge as Alibaba and drives revenues through online, third-party seller service, advertisement, and subscription services, the article highlighted. Alibaba focuses on building products and services based on the data collected, thereby creating new approaches and adventures for customers. Likewise, eBay's auction-style sale and its 'buy now' option allowed sellers to directly sell to their customers. As a result, the company's business model enabled successive acquisitions across sectors, thus bolstering its position in the market, the article noted.
In another tweet, Marsha Collier, author and communicator, discussed how Flyp, a start-up by serial entrepreneurs, looking to give power resellers enterprise grade e-commerce. The company's core product, its algorithmic matching platform, allows a donation company, a regular consumer, or a liquidation company to connect with a power reseller to rid their inventory of used products, the article detailed. The article further noted that Flyp takes a 5% cut and also manages the logistics around transferring the inventory.
Flyp's algorithmic platform is a free product built specifically for resellers, allowing them to manage scores of listings across platforms like other e-commerce companies do with their sophisticated automation software, the article detailed. The company claims that there are about 350,000 power resellers in the US, with a majority doing it part time. Therefore, Flyp aims at converting the part-timers into full-timers.
2. Shoppers – 47 mentions
The internet of things (IoT) brining new in-store shopping experiences in retail for shoppers, and Klarna connecting online, digital shoppers to physical stores, were popularly discussed during the month.
Ricardo Belmar, director partner marketing advisor for retail and consumer goods of the technology company Microsoft, tweeted on IoT data powering new in-store experiences in retail by empowering frontline workers, providing smart fitting rooms, and offering new shopper personalisation. A podcast hosted by Belmar and Casey Golden, the CEO of Luxlock, a live-merchandise selling platform and omni-channel management solution, highlighted the benefits of leveraging the data generated by IoT sensors in retail.
For example, store executives are better able to engage with their customers on a personal one-on-one experience by leveraging the data generated by sensors throughout the store. As a result, customers get what they want immediately, without having to search or find it, Belmar stated. For instance, smart fitting rooms powered with sensors and the right tags on the merchandise can allow customers to tap on a screen or their own device to request for the exact products they want, a new level of in-store personalisation that has not yet gone mainstream but is likely to happen, he highlighted.
The term was also discussed by Andrea Wasserman, a commerce executive, on the Swedish fintech Klarna, connecting online shoppers with physical stores via the launch of its Virtual Shopping solution. The company uses live video and messaging to bridge the gap between digital and in-store shopping experiences, the article detailed. The payments platform is aiming on providing an extremely personalised and immersive omnichannel experience to customers via the new tool. The Klarna app also allows retailers to share images and videos of the products and provide demos on products from any location, the article noted.
The launch is built on Klarna's acquisition of the social shopping platform Hero, in July 2020, the article further highlighted. Hero offers instant messaging and video chat services that support the new solution. Klarna has also acquired other digital shopping tools, such as Shoptail, a digital comparison shopping service and an AI-enabled styling engine Toplooks.
3. Retail Supply Chain – 41 mentions
Retail companies actively engaged in digitally transforming their supply chains, Walmart expanding its deal with Symbotic to achieve supply chain efficiency, and ex CEO of M&S Steve Rowe stating that the retailer needed further technological investments and a reduction in supply chain costs, were some of the popular discussions in May.
Tony D'Onofrio, CEO of the consultancy firm TD Insights, shared an article on a study showing that more retail companies on the path to digitally transform their supply chains. The article further detailed that the study also highlighted that a lack of skilled staff could also derail this transition amid external factors, such as rising prices, and supply chain disruptions across the world. According to the by ToolsGroup and the Council of Supply Chain Management Professionals (CSCMP), about 93% of the supply chain executives believed that more and more companies were actively involved in digitally transforming all their operations.
About 53% of the respondents also revealed that the lack of skilled staff was the biggest hurdle in the digital transformation process, the article noted. Despite recruitment being a top agenda of companies, labour shortages in key areas were posing a significant challenge. About half of the executives also believed that technology, security, people, and process were central to their digital transformation efforts. However, supply chain planning had become challenging due to supply chain bottlenecks, rising prices, and intensifying fulfilling costs, the article highlighted.
The term also trended in an article shared by Trevor Sumner, CEO at Perch, a retail marketing technology firm, on US retail company Walmart expanding its deal with automation company Symbotic from 25 to all 47 regional distribution centres in an effort to enhance its operational efficiencies. The article further detailed that every warehouse had the ability to operate 400 to more than 1,000 of autonomous bots by Symbotic, completing over 30 transactions every hour. The bots travel at a speed of 25 metre per hour, and are entirely autonomous, the article further noted.
In another tweet, Ashley Armstrong, a retail editor, tweeted on Steve Rowe stepping down as CEO of M&S, but as advisor, notifying that the company was working on flagging more closures ahead as clothing store sales declined 25% below four years ago, but there was only 10% reduction in space. Rowe stated that the company needed to reduce its supply chain costs and required more investment in technology, among other initiatives. Armstrong further tweeted that the retailer had already suffered a $38m loss on fully exiting from Russia due to the Ukraine war. The company, however, revealed plans for more international opportunities, such as tying up with India's multinational conglomerate company Reliance, she added.
4. Pandemic – 39 mentions
Robots deployed in sorting office to meet the surge in online shopping during the pandemic, and brick and mortar having grown faster than e-commerce in the first quarter of 2022, were some of the trending discussions in May.
Vladimer Botsvadze, a marketing consultant, shared a video on 55 robots working at Athens' Hellenic Post's sorting office to meet the surge in online shopping driven by the Covid-19 pandemic. The robots were able to process almost 168,000 parcels every day, increasing sorting speeds by 250%, the video illustrated. According to Hellenic Post, the robots are not meant to replace humans beings but to help them work more effectively. Right from weighing to scanning all postal codes, the robots drop the mails into the accurate mail sacks. The robots require a 15-minute recharge period in every four hours, the video further demonstrated.
Robots are being deployed across supply chains to achieve operational efficiencies. For example, Chinese online retailer, JD.com, used hundreds of self-driving robots to deliver to customers located across cities, with the company aimed at using 1,000 by the end of 2021, the video detailed. Developed in Israel, the robots can lift and move heavy boxes in warehouses, and from the highest of shelves, while researchers speculate their application in daily life.
In another tweet, Jason Goldberg, a chief commerce strategy officer at Publicis, an advertising agency, discussed how brick and mortar stores grew faster than e-commerce in Q1 2022, compared to a strong e-commerce trend in 2021 due to the pandemic. According to the US Department of Commerce (USDC) report, e-commerce experienced a huge explosion in 2020, and has held onto that acceleration but the growth rate is gradually slowing down, the article detailed. Instead, brick and mortar has picked pace over the past two years.
5. Innovation – 33 mentions
Flipkart's launch of a new innovation lab, the future of grocery, and Boots CIO revealing the company's tech innovation strategy, were some of the popular discussions in May.
Trevor Sumner shared an article on the Indian online retail company Flipkart, backed by Walmart, launching a new innovation lab. The article detailed that the company has launched the Flipkart labs to focus on new technologies, such as the metaverse, Web 3.0, including testing non-fungible token (NFTs), play-to-earn, and virtual immersive storefronts.
The term also trended in an article shared by Ricardo Belmar on the retail company Kroger on its way to using technologies to deliver enhanced capabilities to customers. The article detailed that Kroger was pushing itself into ghost kitchens, delivery tech, and robotics, as it looked to compete with retailers such as Amazon and Instacart. The article further noted that the company was entering into partnerships with Nuro, Veeve, and Ocado to build its grocery technology portfolio. The retailer was also involved in the creation of its own automated warehouses for delivery orders, one out of Miami where it had no physical stores, for instance, and is also leveraging a smart-shopping-cart partnership and an advertising arm to strengthen its delivery fleet.
The article further noted that Kroger is a quiet giant, reaping $138m in sales and accounting for about 8% of the grocery sales in the US in 2021, more than four times Amazon's 2%, according to data. Running multiple chains across the US, Kroger is building on its technological investments and its scale and ability to keep prices low, which is probably giving it an edge over Amazon, analysts stated.
In another tweet, Neil Saunders, managing director of GlobalData Retail, shared an article on the CIO of Boots, a UK-based health and beauty retailer and pharmacy chain, revealing the company's tech innovation strategy. Richard Corbridge explained why his team visited as many of the company's stores across the UK and Ireland, as it were possible, in one single day to build on its new strategy.
The article further detailed that about 200 IT executives travelled to more than 300 retail stores in March 2022, to gather as much information on the biggest tech challenges faced by the frontline workers. Corbridge thereby revealed plans of rolling out a massive network capability, due to stores having to deal with connectivity issues on a day-to-day basis, the article noted. Among other key initiatives of Boots' tech innovation strategy included super-scaling of Boots' website, providing personalised healthcare updates from the National Health Service (NHS) and Boots' pharmacists, and bringing the digital and physical customer experiences closer together.