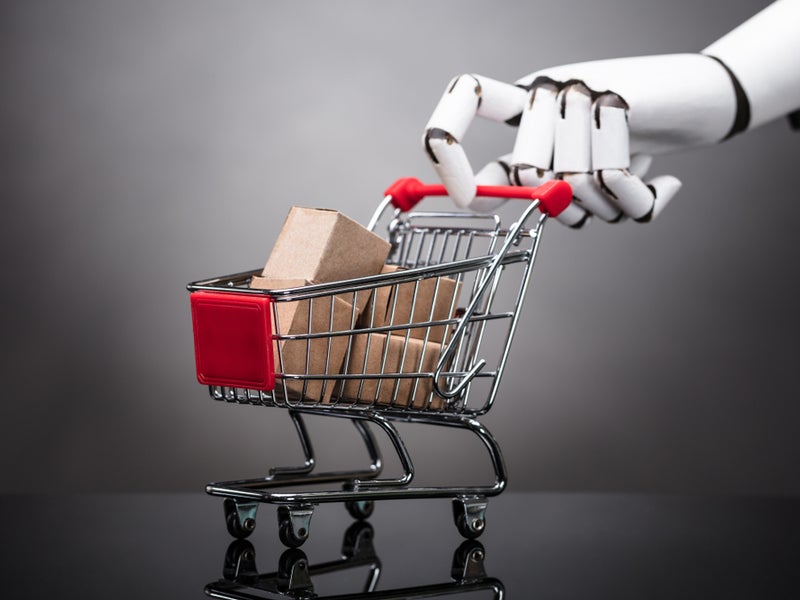 Stores leads as Retail Insight Network lists the top five terms tweeted in retail tech in Q2 2020, based on data from GlobalData's Influencer Platform. The top tweeted terms are the trending industry discussions happening on Twitter by key individuals (influencers) as tracked by the platform.
1. Stores – 2,853 mentions
Retailers awarding frontline stores and supply chain staff additional pay, the closure of tons of brick-and-mortar stores, death of department stores, and the gradual re-opening of stores with strict social distancing and safety mandates, were some of the popular topics discussed in Q2 2020. According to an article shared by George MacDonald, a retail editor, retailers such as M&S were awarding frontline stores and supply chain staff an additional pay of 15% for supporting their working during the coronavirus outbreak. Additionally, furloughed staff voluntarily present during the disease outbreak were also being awarded full pay.
Kavita Kumar, a retail reporter, further tweeted on Target Corporation, one of the largest retailers in the US, having shut down almost 20 stores around the Twin Cities metropolitan area. Enormous reduction in the number of stores in each chain was being witnessed by retailers across the American continent, according to the marketing professor, Scott Galloway.
In other news, Scott Galloway, a professor and entrepreneur, shared an article on the Centers for Disease Control and Prevention (CDC) recommendation on the broadened use of masks at stores or when stepping outdoors. He adds that 18-40% of the people are infected or contagious without showing any symptoms at all. Therefore, wearing a mask in stores was absolutely necessary.
M&S is awarding frontline stores and supply chain staff an additional 15% pay in recognition for their work during coronavirus outbreak. Furloughed staff – voluntary at present – will get full pay.

— George MacDonald (@GeorgeMacD) April 1, 2020
2. Covid-19 – 2,525 mentions
Covid-19 has changed the future of retail with companies that had already begun to or fully embrace technologies such as omnichannel engagement, personalisation, AI, chatbots, and others to respond quicker and effectively to existing consumer demands. On the supply chain side, the shift to online shopping has led to the creation of 'dark stores' or stores without customers with plenty of automation. According to an article shared by Evan Kirstel, a top B2B influencer, Germany has always been more organised and prepared to fulfil the shopping needs of customers. Right from sanitising the carts to consumers' hands to providing masks, retailers are providing a safe shopping experience.
In other news, Melissa Gonzalez, a retail strategist and author, tweeted on how retailers can adopt a three-phased approach if considering re-opening.  As retailers move forward, three crucial stages to employ would be – to ensure safety protocols, provide digitalised solutions, and focus on clienteling and creating digital in-store experiences, the article noted.
#Germany, always more organized and prepared #groceryshopping #Covid_19 #GroceryWorkers #shopping #SpainCoronaVirus pic.twitter.com/yAGJLatzOx

— Evan Kirstel #RemoteWork (@EvanKirstel) April 25, 2020
3. Artificial Intelligence – 2,094 mentions
Collaborations that allow retailers to reopen safely using AI and data-driven technology, how the technology is transforming retail to improve customer experience by using chatbots and collecting shoppers data, and computer vision to optimise offline retail, were popularly discussed topics during the quarter. According to an article shared by Tamara McCleary, the CEO of Thulium, a marketing and digital consulting agency, artificial intelligence and big data have contributed immensely in improving customer experience. For instance, AI and big data tools help collect customer data and offer tailored recommendations to customers, both online and offline.
However, UK retailers have been slow to adopt the technology than other industries suggested a Microsoft report. This could be on account of the challenges of scaling their digital offers quickly and cost-effectively enough to compete with native online retailers, according to an article shared by Cyril Coste, a digital transformation leader.
In other news, Evan Kirstel, the top B2B influencer tweeted on Qualcomm joining forces with RetailNext and other collaborators on the Shop Safe initiative to help retailers reopen safely with AI and data-driven technology. CIOs are of the opinion that AI offerings such as video analytics have to be a part of retailers' digital strategies in order to thrive in the current health crisis.
10 Business Functions That Are Ready To Use Artificial Intelligence https://t.co/Xz8aKi9PFY by @BernardMarr #AI #marketing #martech #HR #manufacturing #fintech pic.twitter.com/oIXjUyNlYU

— Tamara McCleary (@TamaraMcCleary) April 4, 2020
4. E-commerce – 1,593 mentions
Content layering in ecommerce, the shifting away of customers from Amazon for non-essential orders, products seeing the biggest online orders, were widely discussed during the quarter. According to an article shared by Michael Fisher, a tech evangelist and analyst, content layering in the buying cycle was important to consider in order to build loyal customers.
Meanwhile, Evan Kirstel tweeted on the top products being ordered online during the COVID-19 outbreak, such as disposal gloves, bread machines, cough medicines, and other edibles such as soups, rice, dried grains, and packaged goods, among others.
In other news, Jason Goldberg, a digital commerce and retail expert, shared an article on how customers are shifting away from Amazon for non-essential ecommerce orders to get faster deliveries. However, many ecommerce websites were missing the opportunity to create a "when will I get it" feature.
Content Layering: Through the Buying Cycle 💰#Marketing #B2C #Ecommerce #DigitalMarketing @Fisher85M #GrowthHacking #AI #VR #AR #SMM #innovation pic.twitter.com/G0cXKn4n8Y

— Michael Fisher (@Fisher85M) April 3, 2020
5. IoT – 1,173 mentions
Right from robots in retail to replace human staff in malls to robots being used to disinfect shopping malls with UV light, were some popularly discussed topics during the quarter. According to an article shared by Glen Gilmore, a top social media influencer, a mall in Thailand was being staffed by robots instead of humans, owing to the global lockdown caused by the coronavirus outbreak.
Live intelligent assistant systems helped people find things in the mall, scanned people for temperatures, provided public health announcements, and also roamed around with hand sanitisers.
In other news, Glen Gilmore tweeted on a robot disinfecting a Singapore shopping mall with ultraviolet light.
The new normal: robots EVERYWHERE 🤖🤖🤖
#Robotics #FutureOfWork #Automation #AI #IoT #SmartCities #SmartHomes #DigitalTransformation #Robots #retailtech #HealthTechpic.twitter.com/bErXucP238

— Glen Gilmore (@GlenGilmore) May 30, 2020