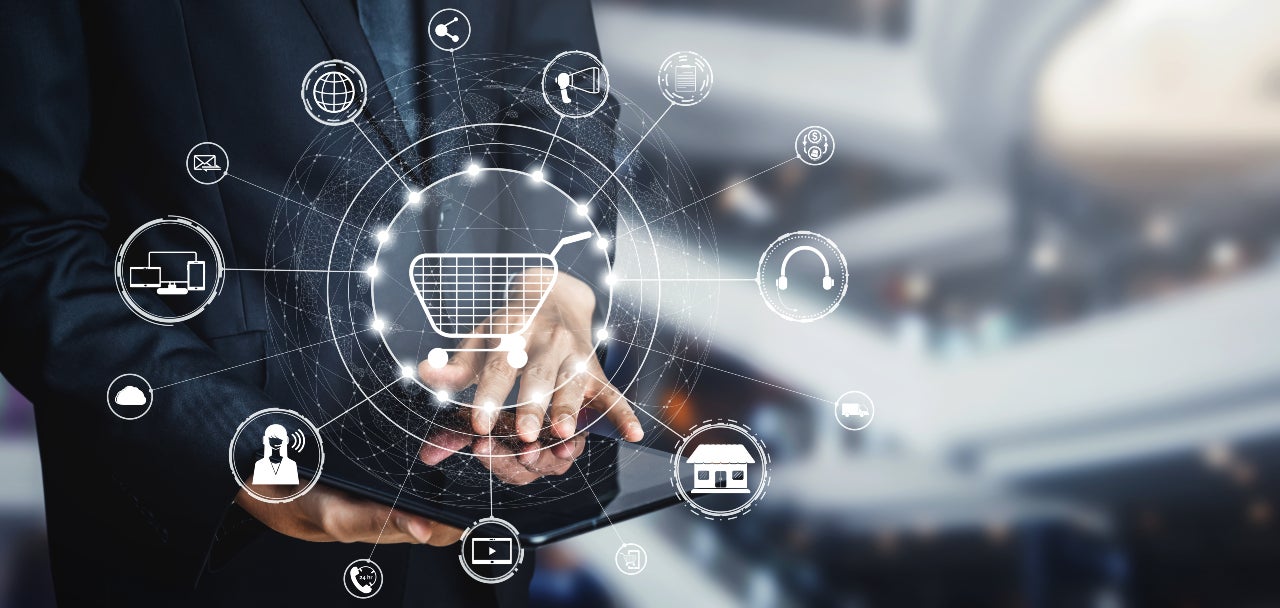 The personalisation of retailers marketing communications can easily breach consumer privacy, so it is of utmost importance that retailers deliver positive consumer experiences while avoiding the downsides of reputational, operational, legal, and financial risks.
Covid-19 has forced retailers and consumers to make a digital shift
Covid-19 has dramatically shifted brick-and-mortar purchases online as lockdowns and social distancing have accelerated the adoption of e-commerce. Consumers that had previously been reluctant to shop online have embraced e-commerce. A GlobalData survey found that while it is most popular among those aged between 25 and 44, 60% of consumers aged 65 and over said they had shopped online in the last month. Consumers who have developed e-commerce shopping habits over the past year are unlikely to shop in stores as much as they did before the pandemic.
GlobalData forecasts that the global e-commerce market will be worth $2.2tr in 2020, up 40% from 2019. Amid the shift to e-commerce, several retailers have now adopted personalisation as a part of their customer loyalty strategy. Personalisation strategies often raise the issue of data privacy and how retailers use consumer data. Finding the right balance is often challenging.
Retailers often use the personalisation of marketing communications as a recovery strategy to prevent lost sales from cart abandonment as it can help build traction and increase customer loyalty. Cart abandonment can be caused by many factors, from the shopper being distracted during the checkout process to having second thoughts about parting with their money.
To personalise communications, retailers use consumer data, which has the potential to breach privacy regulations. Getting the security and privacy of personalisation wrong can slow the time to market new applications, constrain remarketing and consumer-data collection, result in significant fines, and cause material harm to brand reputation through negative consumer experience.
The modern consumer's requirements are often contradictory. Demands for increased privacy and tightened data controls sit alongside expectations for tailor-made content, bespoke product recommendations, and personalisation. In a 2019 GlobalData survey, 58% of respondents said they found personalised emails from retailers intrusive, while 48% of respondents also said they liked it when they received personalised emails. This apparent contradiction places great pressure on retailers to find a balance between personalisation and privacy.
Retailers need to keep this data safe
If the correct tools are used, personalisation and privacy do not need to be mutually exclusive, and customers can be given bespoke experiences without the need to abuse personally identifiable information. It is vital customers have access to their personal data and understand what information is being collected and why, how it is being used, what measures have been put in place to protect it, and if it will be shared with any third parties. This information is typically contained within a cookie policy, which is often visible across retailers' websites.
Retailers can personalise without compromising data and protect customers in several ways. These include ensuring a reliable firewall is installed to protect against malware infections, recommending two-factor authentication on customer accounts, encrypting passwords, restricting third-party access to data, blocking traffic from untrusted data centres, and storing only essential customer information (e.g., site search information and category navigation). Several regulations have been put in place to protect consumers, with the most well-known legislation governing data privacy and security the European Union's General Data Protection Regulation (GDPR).
GDPR provides users with visibility and control over the way their data is used. Before GDPR, most technology solutions enabled retailers to gather personally identifiable information (PII) that would then allow these retailers to go back and provide personalised offers, products, and recommendations. PII is now redundant as it enables the retailer to identify individuals directly. Other legislation to protect consumers includes the Electronic Commerce Regulations of 2002, Payment Card Industry Data Security Standards, and Antispam Laws, to name a few. By aligning with legislation, retailers can personalise without pushing the limits of intrusion.