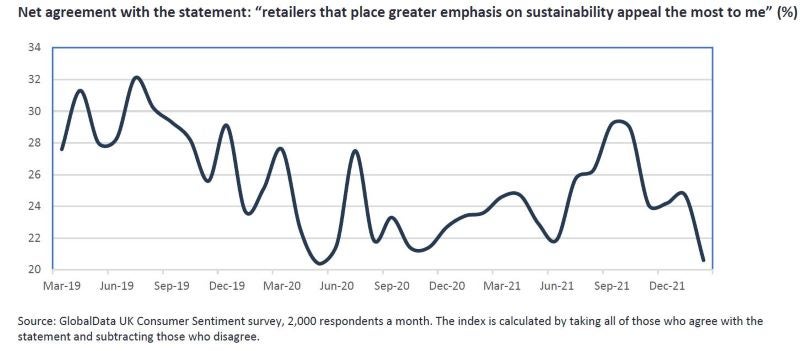 Retailers have been increasing investments in sustainability projects to reduce emissions and cut down on plastic usage, but while such efforts are laudable, retailers cannot expect these to draw an increase in short-term customer demand.
GlobalData has been tracking UK consumers' responses to sustainability every month for three years now, and while the urgency of the climate crisis becomes increasingly apparent, shoppers' desire to reward retailers that push a sustainability agenda is actually decreasing.
In fact, when asked this month if they agree or disagree with the statement "retailers that place greater emphasis on sustainability appeal the most to me", the net agreement rate (number of respondents who agree, less those that disagree) was the lowest it has been in three years, except for May 2020, when Covid-19 uncertainty was at its peak.
While net agreement on this sustainability index has always been above 20%, that it has not advanced in step with the heightened awareness of the seriousness of climate change is perhaps surprising, and disappointing for those retailers that have taken genuine steps to address the issue in terms of packaging, sourcing, and transportation of products.
When plotting the results of the above alongside the net positive response to the question: "How do you expect your finances to change over the next six months?", there is a distinct correlation: as people become less positive about their personal finances, they pay less attention to a retailer's sustainability credentials when purchasing. It is logical to deduce that increased price and value concerns drown out environment concerns in harsher economic conditions. The only major departure from the correlation was in May and June last year, which coincided with the relaxing of Covid-19 restrictions, when consumers were returning to social occasions.
As we move into a period of soaring energy costs, with high inflation outstripping wage rises and geopolitical uncertainty dominating the headlines, we can only expect that sustainability will fall further from shoppers' minds when making purchasing decisions. This is not to say that retailers won't benefit from their green efforts beyond the satisfaction of doing the right thing; the climate crisis will inevitably become a more dominant issue eventually, and should its news worthiness coincide with more prosperous times, then sustainability will become a much more important purchasing driver.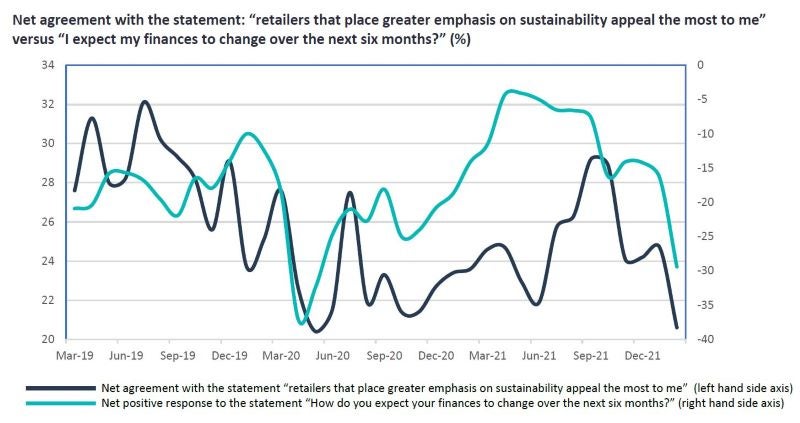 Shoppers may well reward those retailers that can point to having been doing their bit all along, and punish retailers that they see as having contributed to the climate crisis. At such a point, starting green initiatives would be seen as cynical attempts to limit brand damage. As with the climate crisis itself, short-term sacrifices are required to stave off potential future disasters.