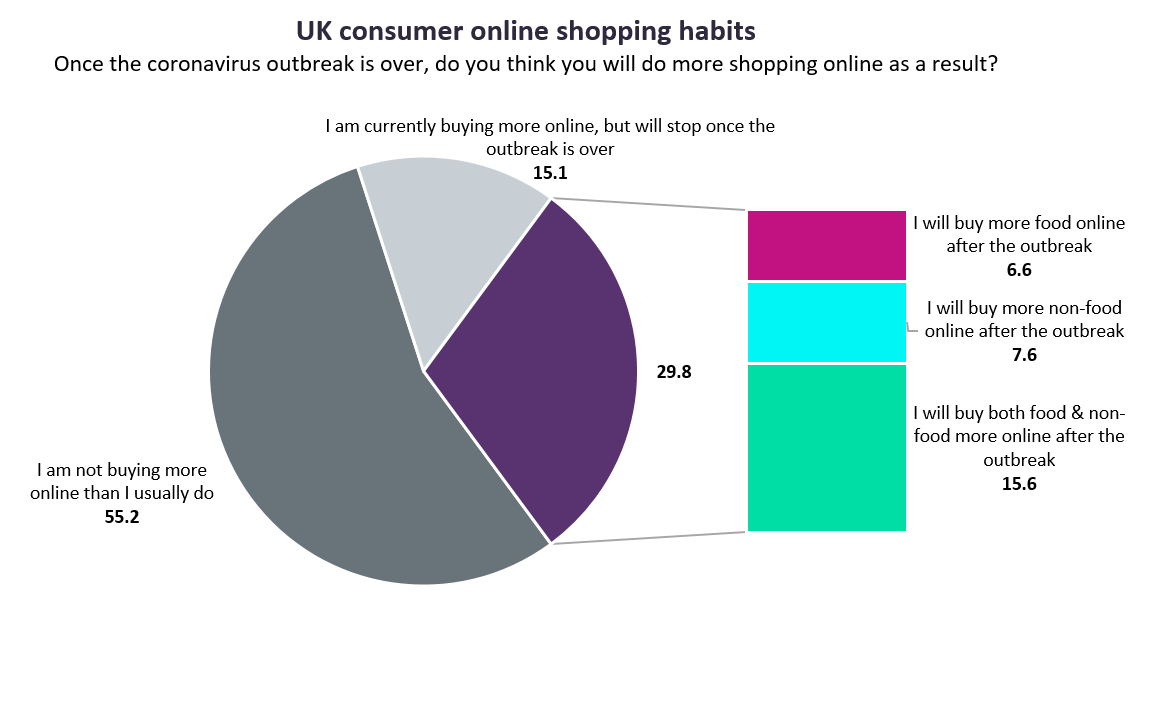 Due to the vast array of problems Covid-19 has brought to the retail industry (shop opening restrictions, significantly lower non-food demand and employment issues to name a few) the UK retail market is now set for its first nominal decline in decades, forecast to decline 5.3% (despite incredibly strong grocery growth of 10.7%) in 2020. However, with shoppers housebound, demand for home delivery options has skyrocketed, and retailers with more mature digital operations (e.g. boohoo, John Lewis, and Wayfair) have been able to capitalise (or at the very least mitigate falling demand).
This shift towards online is not a new trend. Offline retail spend only grew 2.4% from 2015-2019, with growth fuelled almost entirely by the grocery sector, physical non-food retail expenditure fell 1.8%. In stark contrast, online spend grew 36.7% over the same period. While this growth was previously expected to lessen over the course of the next decade, the arrival of Covid-19 has acted as an explosive catalyst for the channel. Online expenditure in 2020 is now expected to reach £73.2bn, when pre-Covid-19 this value was not expected until at least 2023.
The consumer data shows three out of every ten people in the UK intend to shop online after Covid-19. For retailers in the vulnerable group, this is a devastating, potentially catastrophic, figure to deal with. Some of these retailers, Aldo, Antler, Warehouse, Oasis, Oddbins and Beales to name a few, have already reached the end of their line this year, but there are many retailers that had previously adapted just enough to cling to life entering 2020. For them, coronavirus and the sudden swing towards online shopping (on top of an impending global recession) will reduce sales densities sufficiently to be a final nail in the coffin.