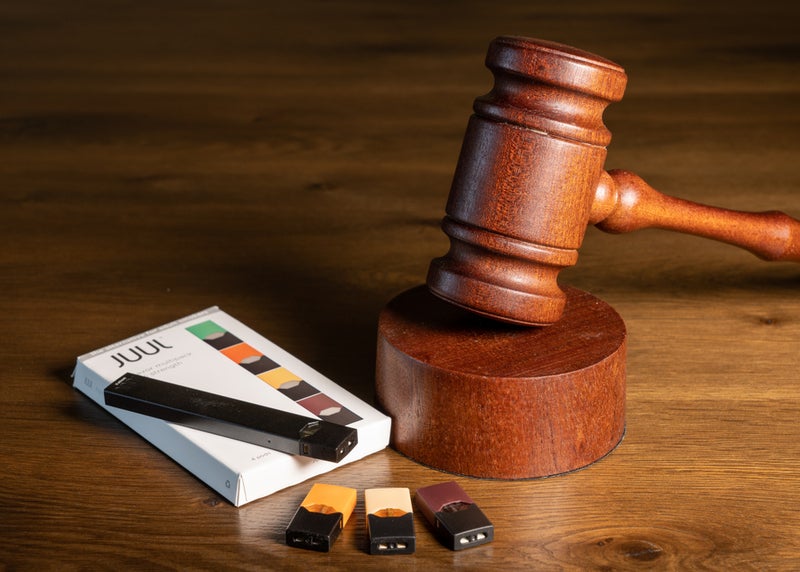 New York and other US states are attempting to bring a lawsuit against Juul, the nation's largest vape manufacturer.
The case against Juul is based around downplaying the health risks associated with vaping, as well as its marketing campaigns that appeared to appeal to younger consumers.
Juul, dominates the global e-cigarettes sales, had innovated and pushed boundaries around flavours, including sweeter flavours such as bubble-gum which naturally appeal to younger consumers. It has taken all its flavoured pods off the market in New York and discontinued its mint pods. It now only sells tobacco flavours.
The launch of e-cigarettes was initially to help smokers quit, to help wean people off for life.
There is an increasing trend for consumers to moderate – or altogether avoid – less healthy products to try and live healthier lifestyles. Vaping appeared to be the perfect solution but with recent revelations, it is evident that manufacturers are still far away from the perfect solution.
Juul has been criticised for emphasising the safety of its products, following severe health-related issues that vapers have suffered from, including lung failure. The marketing practices under fire include the use of "colourful images of attractive, young models", which NY State believes were being used to appeal to younger consumers.
Responding to the criticisms, Juul said in a statement that the company does "not intend to attract underage users". 
The statement continued: "We remain focused on resetting the vapour category in the US and earning the trust of society by working cooperatively with attorneys general, regulators, public health officials, and other stakeholders to combat underage use and convert adult smokers from combustible cigarettes."
Juul has been under scrutiny since it started advertising on social media platforms such as Instagram, using colourful packaging and 'fun' flavours such as crème brûlée, all of which are exciting for adolescent children to try. Such techniques have created an outbreak in teenagers smoking in high schools across the US, so much so that high schools have had to alter their smoke alarms in toilets to pick up on chemical changes in the air and alert administrators.
Manufacturers such as Juul have a responsibility to be transparent about the content and harm that their products could potentially create. Usage of vapes has caused an increase in hospitalisation of consumers as they have ended up with respiratory issues which have been linked to a thickening agent found in vapes. This has caused many states to sue them, as they have been marketed to seem safer than cigarettes, emphasising that they only have two ingredients, opposed to the several hundreds of toxic chemicals found in traditional cigarettes.
Last month New York banned the use of e-cigarettes everywhere that cigarettes are prohibited, indoors and out, and sale is prohibited to anyone under 21 years of age.