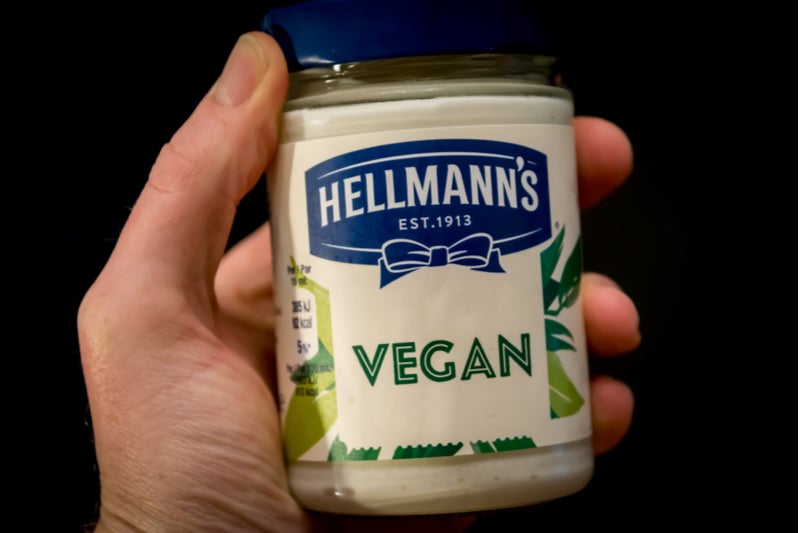 Vegan mayonnaise! Is it possible? Well yes, it is, and it is here in the UK.
Hellmann's has launched a plant-based version of its iconic mayonnaise having had a successful run in the US since 2016.
The good news is that Hellmann's – a Unilever owned brand – has stuck to the same recipe as the non-vegan mayo, the only difference being the eggs, obviously! They are replaced by maze starch.
So, is it a good idea to launch a vegan version of an iconic mayonnaise? Well according to recent successes of vegan launches, yes.
Look at UK high street bakery chain Greggs, it updated its iconic sausage roll with a vegan line earlier this year and it went viral, the hype went mainstream and the publicity did much to raise Greggs' public profile. According to a survey commissioned by the Vegan Society, vegans in the UK quadrupled in number between 2014 and 2016 rising to 600,000 people, this is still growing and does not, in terms of its retail impact, take into account flexitarians.
Vegan food is synonymous with ethical values and environmental issues, and according to Global Data's 2018 Q3 global survey, 32% of people in the UK are always or often influenced by environmentally friendly or ethical food, up from 27% in 2016, showing a rise of 5% in just 2 years. With recent campaigns and better environmental awareness veganism is sure to rise.
One thing that Greggs has over Hellman's is a substantial media campaign, this is potentially the first you have heard of the launch of Vegan Mayo and Hellmann's appears to have missed an opportunity here. That said, the reformulation will not be missed by its target audience.
Vegans want to dip too, imagine enjoying food without dipping? According to GlobalData, mayonnaise is the most popular type of dressing in the UK and Hellmann's is making it accessible to all.
According to the British Takeaway Campaign, which describes itself as an umbrella group which represents those involved in the supply and preparation of the nation's favourite foods, orders of vegan takeaways have risen by a whopping 388% between 2016 and 2018, and ingredients-wise this is good for the condiments and sauces sector.
So there is great potential for this product to do extremely well, vegans are likely to welcome its arrival and its adherents can be expected to grow.
Related Report: