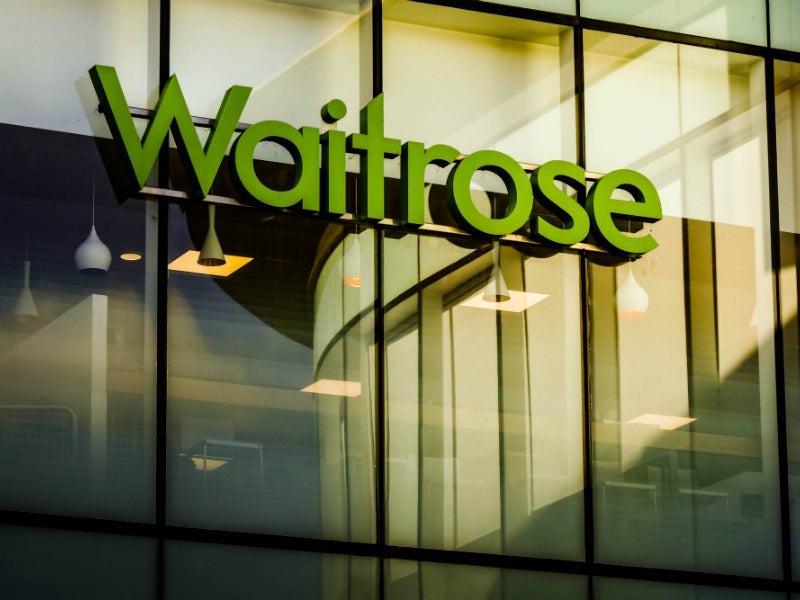 While much of the attention in the food and grocery market has been on the rise of Aldi and Lidl recently, there is another battle heating up – the mid-to-premium online sector.
Waitrose & Partners has lofty ambitions to triple its online food and grocery business over the next three years to £1bn. However, with M&S stumping up £750m to buy half of Waitrose's ex-partner Ocado's retail operation Ocado.com (completed in August 2019), and other factors preventing a swell in the online grocery market, rapidly scaling up online revenue seems a Herculean task.
 Firstly, raw data shows just how overly ambitious this is. Waitrose's online penetration was confirmed as 5% this time last year, and GlobalData estimates that its annualised online sales for 2019 are £325m.
If Waitrose expects to achieve £1bn in online sales by 2023, announcing the plans in September 2019, it will require online penetration to surpass 17% and a CAGR of 32.4%. That can happen, generously assuming Waitrose total revenue grows in line with the overall grocery market, dishearteningly higher than the 10.7% online grocery sales reported for H1 2020 or 16.7% for the seven-week Christmas period.
Waitrose has taken valid first steps to position itself for some gains in the online market. It has embarked on a number of innovative delivery experiments such as While You're Away, which is a scheme to deliver and unpack groceries, while the homeowner is out, first trialled in October 2018. Another new initiative was the 2019 expansion of quick delivery system Waitrose Rapid first piloted in September 2018 to cities beyond London after initial success in the capital.
To help with additional operational pressures as online grows, Waitrose will also open a second customer fulfilment centre (CFC) in Enfield, North London, in 2020. Recently, a further announcement from Waitrose, citing plans to roll-out its delivery service to 24 of its shops to increase national coverage shows just how seriously it is now taking its online grocery presence.
But these factors alone do not seem nearly enough to catapult Waitrose's online market share of 2.9% in 2019 to the 6.4% desired by 2023. While such adventurous delivery trials are to be applauded, Waitrose simply does not have the customer base to achieve such formidable online growth. So, for Waitrose to get anywhere near its £1bn target, it will require substantial, organic growth of its customer base.
Waitrose will be able to tempt shoppers with vouchers and introductory deals such as recent offers of £10 off for next Waitrose.com grocery shop. Unfortunately, this will not generate enough interest to be able to make an additional £675m in revenue a year.
And then there is the issue of direct competitor Ocado and the new tie-up with M&S, which will see the 4,000 SKU Waitrose range currently on Ocado replaced with 6,000 M&S products on 1st September. Ocado guarantees that 'virtually all Waitrose Own Brand products' will have a like-for-like product replacement.
M&S have invested a lot of cash to get a foothold in the online grocery market, and it will not be one that they will let slip lightly. Waitrose will be hoping that brand-loyal customers leave with them in September. However, consumer survey data suggests that it will be a low proportion that do. Of Ocado's current shoppers, only 11.6% said they would shop at Waitrose if Ocado wasn't available, with Tesco, ASDA and Sainsbury's all with effective online propositions themselves likely to make greater gains than Waitrose as a result of the change.
To succeed, Waitrose will need to pull off multiple, challenging feats at the same time. This includes converting its own physical shoppers to online customers, stealing customer share from its rivals, particularly by encouraging shoppers at the likes of Sainsbury's to trade up and move online, and accelerating CFC development to deal with the surge at a logistical level. However, given choppy management waters at JLP and the strain on the premium end of the grocery market from other factors, Waitrose has almost no foreseeable chance of achieving its self-set online goals.