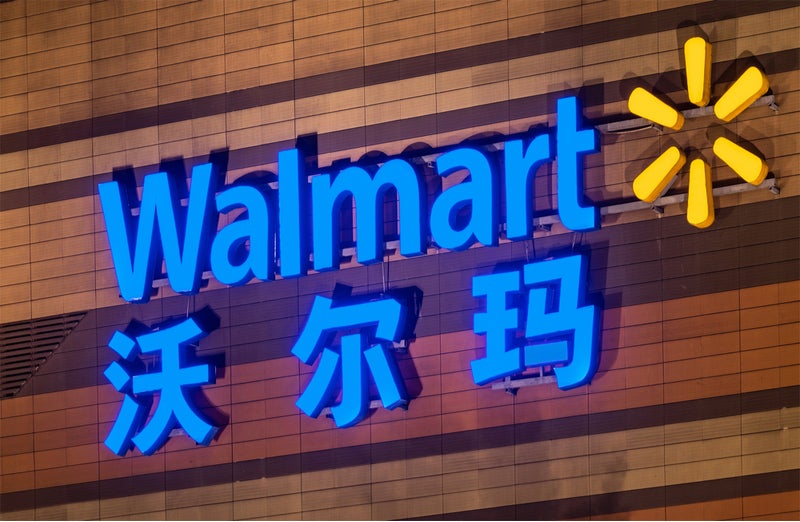 US food retail giant is investing heavily in China to upgrade supply chain logistics to fight back against domestic brands.
Walmart is betting big on fresh food distribution
On 4 July 2019 Walmart announced plans to invest $1.2 billion into distribution in China over the next two decades, which it hopes will boost grocery deliveries in the country.
China is poised to become the world's largest retail market in the coming year, with the online retail sector growing at a compound annual growth rate of 31.1% in 2013-2017.
The investment will be spent primarily on establishing and upgrading more than 10 logistics and distribution centres across the country so that the company is better equipped to serve its Chinese customers.
This move follows the company's most recent investment of $102 million to establish the South China Fresh Food Distribution Centre, which is currently able to serve 100 Walmart stores in Guangdong and Guangxi, with a daily distributing capacity of up to 165,000 cases of products.
Competition from domestic e-commerce giants
Walmart China was established in 1996 and has since grown to become a leading food retailer within the country, with 443 retail units and net sales of $10.7 billion in FY2019. However, in recent years Walmart has faced growing competition from both local supermarket chains and online rivals such as Alibaba, JD.com and Suning.com.
The Chinese e-commerce giants have already squeezed out market share from traditional and global retailers, which doesn't bode well for Walmart. Most recently, in June 2019, Suning.com agreed to buy an 80% stake in the Chinese operations of French retailer Carrefour for EUR620 million ($731 million). In November 2017, Alibaba also upped its stake in the food retail sector, investing $2.8 billion for a major stake in China's leading hypermarket retailer Sun Art Retail Group.
The departure of global giant Carrefour from China highlights the competitive nature of the market and also leaves just a handful of Western retailers within the country.
Chinese performance is positive but issues remain
According to Walmart's Q2 FY2019 earnings presentation, net sales in the Chinese market increased 4.3% and complete sales increased 1.5%, as a result of a positive underlying retail performance in both the hypermarket and Sam's Club divisions. However, the gross profit rate and the operating profit decreased.
The ongoing US-China trade war has also been a source of pain for Walmart in recent months, as the company has been forced to raise the prices of numerous products due to US tariffs on Chinese goods. Walmart even wrote to President Trump expressing the damage the trade war is causing and urging the removal of tariffs.
Walmart is also increasingly reliant on JD.com in regard to digital shopfront space and it would struggle to operate its own e-commerce platform without the cooperation of the latter.